Airlie Beach On a Budget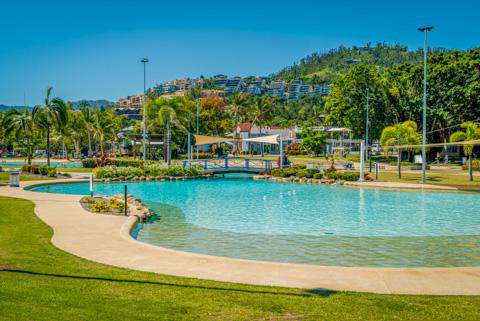 Airlie Beach, in Queensland, offers the closest port to the Whitsunday Islands on the Great Barrier Reef. It's a small town of only 25,000 and has grown out of the area's popularity as a tourist destination. It's main industry remains tourism and, as such, there are many venues set up to accommodate travelers hoping to make trips to the Whitsunday Islands and the Outer Great Barrier Reef. The town has the feel of a vacation destination. While in the past Airlie Beach appealed specifically to the backpacker crowd, it's popularity has spread and now there are facilities catering to all travel types. The area has become more commercialized and there are plenty of large resorts to choose from. Even so, you'll still find no shortage of affordable accommodation around town.
Sights
Airlie Beach itself is not the best beach destination. The beaches are overrun with jellyfish so it is best not to swim without a stinger suit to protect you. Instead, it is better to use Airlie Beach as a jumping off point to make your way to the Whitsunday Islands. There are some nice views of the harbour and the bay from the center of town. Walk along Shute Harbour Road and enjoy the atmosphere while you're in town. There is also a great man made lagoon in town. It is about two hundred metres long and fifty wide and it's been landscaped with a bridge and grass where you can relax. There is a life guard on duty during the day and it's a pleasant place to swim. There is also a Saturday morning market along the waterfront where you can pick up local produce and foods, or just wander around and enjoy the atmosphere.
Neighborhoods
The main drag in town, Airlie Beach proper, is where you'll find most of the affordable accommodation in town. This area has the highest concentration of backpacker resorts and pubs. To the west of the strip is Cannonvale. Commercial development slows in this area and Cannonvalley and Strathdickie are more rural with farming land and houses on acreage. Jubilee Pocket and Shute Harbour or other suburbs in the area.
There are two large commerical marines very close to the center of town. Abel Point has 450 berths and Port of Airlie, at the southern end of the main street, has 350. There are ferries to Whitsunday Islands that leave from the Cruise Whitsundays Maritime Terminal next to the Port of Airlie Marina. You can also catch a ferry to Hayman Island at the Abel Point Marina.
Activities
Most people use Airlie Beach as a jumping off point for trips to the Whitsunday Islands or the Great Barrier Reef. It's easy to arrange tours of these areas while you're in town and most tours leave from Abel Point Marina or occasionally from the Port of Airlie.
Food and Dining
There are plenty of restaurants around town that vary in price and quality. As a tourist destination, most restaurants in town are set up specifically for tourists and prices reflect this. Takeaway places are available for those on a particularly tight budget. If you're willing to spend a little more money for decent food then Deja Vu at Water's Edge Resort and Capers at the Airlie Beach Hotel are both recommended. For decent pub food head to Beaches, Down Under Bar & Grill or Magnums.
There's also a large supermarket behind the main Airlie Beach Street and several options are in the suburbs as well. If you arrange a sailing trip while you're in town, they often provide a meal as well.
Transportation
The best way to access Airlie Beach is by flying into the Proserpine Airport (also called Whitsunday Coast Airport). Airlines that fly to this airport include Virgin Australia, Tiger, and Jetstar. It's possible to catch a bus (must be prebooked before boarding at a booth inside the arrival gate) or taxi at the airport to Airlie Beach, and rental cars are also available. Buses and taxis are comparable in price and the ride takes about 40 minutes.
There is also a train station in Proserpine if you're traveling north or south along the coast. Greyhound and Premier bus companies run trips between Brisbane and Cairns that stop at Airlie Beach.
If you arrive in Airlie Beach hoping to make your way to the islands, Abel Point Marina is where you'll find the boats. The marina is about a fifteen minute walk away from Shute Harbour Road.
Related:
Looking for a party? Find a
hostel in Sydney
,
Melbourne
,
Cairns
, or along the
Gold Coast
.