Torquay On a Budget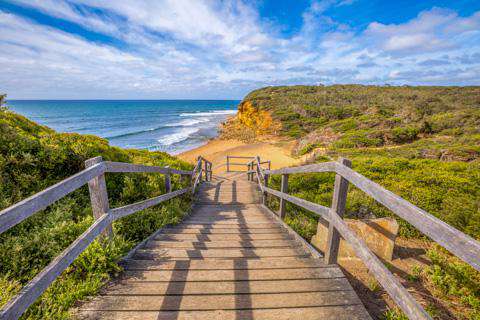 Located on the eastern end of the Great Ocean Road, Torquay is a seaside town of Victoria famous for its surfing and beaches. Surf town through and through, it is also the headquarters for the Quiksilver and Rip Curl surf gear companies, and home to the Rip Curl Easter Pro, the world's longest running surf contest held on Bells Beach.
Sights
In addition to the surfing hype, Torquay provides an access point to the
Great Ocean Road
, the most famous scenic drive of the region. At 243 kilometers long, the road was built by returning soldiers after World War I in dedication to those who were lost. It is the world's largest war memorial, and winds through varying coastal terrain past several landmarks including a number of lighthouses, state and national parks, beaches, lookouts, and unique rock formations like the
12 Apostles
.
The town itself, however, is best known for the surf beaches that surround it.
Bells Beach
in particular draws the crowds with the Rip Curl Easter Pro contest mentioned above, where surfers tackle waves up to five meters tall. The two day festival also features some of Australia's best musical talent, while other events take the stage the remainder of the year. Some of these include smaller surfing events, as well as the Australian Strongman Triathlon in February, and the High Tide Festival in December.
Winkipop beach also provides some fierce surf, while Jan Juc is cliff-lined with smaller waves. Other popular spots include the clothing optional Point Impossible or Southside beaches, as well as the family friendly Torquay Front Beach and the less sheltered Torquay Back Beach.
Neighborhoods
Torquay is a small town, but consists of a few distinct areas. Ocean Views is in the south of Torquay. Originally a grazing and farming area, the rocky and hilly landscape is now residential-having been developed in 2000. Wombah Park is in the northeast of Torquay and is also residential, while the Church Estate (once owned by the Catholic Church) is now developed and bounded by Spring Creek Reserve, Spring Creek, and Torquay Road. Zeally Bay, east of Torquay, is the district for vacationers. Named after a squatter who lived in the area back in the 1850s-on, Zeally Bay now hosts a yachting club, a fishing club, and Fishermans Beach, as well as the 4-acre public Taylor Park and a multimillion-dollar resort and plaza called the Crowne Plaza Torquay. This eastern shore is also where Torquay's famous beaches lie, modeled after English seaside resorts with grassy foreshores, shady trees, and picnic areas.
Activities
For the intermediate to advanced surfers, the best time to tackle the waves on Bells Beach and other popular surf spots is from March to October. Some beaches cater more to swimming and sunbathing, while other favorite pastimes of the town include activities like sailing, diving, fishing, and windsurfing.
Surfing enthusiast's might also want to visit Torquay's Australian National Surfing Museum, which commemorates Australian surfers and their achievements and showcases Australia's deeply ingrained surf culture through exhibitions and memorabilia. The museum also houses the Australian Surfing Hall of Fame, which includes a display of surfboards ridden by surfing legends with facts about their careers and surfing milestones.
Other activities include golfing, an assortment of tours, kayaking and canoeing, bike/motorbike rentals, and adrenaline sports like skydiving, amongst others.
Food and Dining
As a popular tourist destination, Torquay has many places to eat from fine dining in restaurants, to casual cafes, bars, and grills. You can choose from Thai, Mexican, pizza and Italian-from formal dining to laid-back right off the beach lunch spots. Many cafes and restaurants are on the Esplanade and on Gilbert and Pearl Streets, amidst the main shopping center in town.
As a region, Victoria is known for its farms and wineries offering up a diverse array of wines and cheeses to indulge in. Being a seaside town, Torquay is also a prime spot for great fresh fish and seafood.
Transportation
Melbourne International Airport is the nearest major airport. It offers regular flights from a range of overseas and domestic destinations, and is the closest capital city access point to the Great Ocean Road. Geelong, the eastern gateway to the region, is a 55-minute drive away, via the Western Ring Road and the Princes Freeway. Or you could drive right to Torquay in about 1.5 hours. Torquay is located on the eastern end of the Great Ocean Road.
Another option is to fly into Geelong's Avalon Airport, just south of Melbourne, which is home to Australia's cheapest flights to and from Sydney, Brisbane, Adelaide and Perth with Jetstar seven days a week. From here, it is about a 40-minute drive to Torquay.
You can also reach Torquay from Melbourne by public transportation, taking about 3 hours.