Noosa Heads On a Budget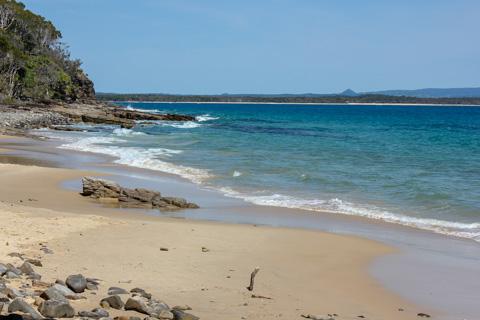 A town and suburb located on Queensland, Australia's Sunshine Coast, Noosa is best known as a destination of pleasant weather, beautiful beachside scenery, shopping, dining, and outdoor adventure. Some of the top attractions of the area include
Noosa National Park
and
Sunshine Beach
.
Sights
Noosa National Park covers about 4,000 hectares of beaches, walking tracks, and a thriving habitat of local wildlife and vegetation. There are a total of five walking tracks - some of which include one leading to the highest point in the park at Noosa Hill, and another leading to Hell's Gate, one of the park's headlands. While on these trails, visitors might come across pockets of rainforest as well as areas of open eucalypt forest, wallum heaths, pandanus palms, and grasslands. Within these habitats are a population of koalas and other mammals as well as bird species like the eastern ground parrot, glossy black cockatoo, and eastern yellow robin. From the headlands in the park, visitors are sometimes able to watch migrating humpback whales. The park is divided into four sections: Headland Section, Peregian Section, Emu Mountain Section and the East Weyba Section. For more details and ideas about what to do, check out this
guide to Noosa National Park
.
Just south of the National Park is
Sunshine Beach
- a stretch where golden sands meet turquoise waters. While beach itself offers a laid-back atmosphere for surf and relaxation, it is also just a short walk away from the boutiques, cafes, and restaurants that line Duke Street just inland from the shore.
Noosa's Main Beach, to the west of the park is another prime location for seaside activities. It runs along Hastings Street which is lined with amenities including cafes, restaurants, shops, and a visitor information center, among other things.
Neighborhoods
The name Noosa is applied to the areas including Noosa Heads, Noosa Junction, Noosaville, and Noosa Civic. Noosa Heads is the resort area that contains Hastings Street and the main tourist area behind Hastings Street. Noosa's Main Beach runs parallel to Hastings Street. Noosaville is located alongside the river, and is a bit quieter, while Noosa Junction is the business area. On the western end of Hastings Street are the Noosa Woods and Noosa Spit (a recreation area and home to the Noosa Botanic Gardens), while Noosa National Park is on the eastern end, and Noosa Lions Park is just to the south. Noosa Lions Park is an open, grassy area which is often used as a staging area for several large community events which include the Noosa Triathlon, Noosa Food and Wine Festival, Noosa Winter Festival, and Noosa Classic Car Show.
Activities
Noosa is a home base for a number of great tours including wildlife and eco-tours of the immediate area as well as organized tours to Fraser Island just north of Noosa.
Walking the trails of Noosa National Park is also popular for enjoying its lush scenery, spotting koalas, or taking an ocean dip at one of its many beaches. The
Fairy Pools of Noosa National Park
are also a great attraction to see. Fishing from Noosa is great year round with seasonal changes in species, while boating is also available with opportunities to hire a sailboat or motorboat along the Noosa River. Other common activities include scuba diving, kite surfing, surfing (and surf lessons), as well as shopping, dining, or taking a local cruise.
Food and Dining
Noosa Heads is a place renowned for its cuisine as much as its pleasant weather. For the foodies, Noosa is especially thriving during its annual
Food & Wine Festival
(held in May) when Australian and international chefs take over the town to give cooking classes, present gala dinners, and guide visitors on local food trails. As a seaside location, Noosa also has a number of restaurants serving fresh fish and seafood. Options from the sea are available from fine dining entrees to fast food like fish and chips. For those seeking some iconic Australian foods, Vegemite is a vitamin-rich, somewhat bitter yeast spread which is often thinly spread on buttered toast. Other unique items include a kind of chocolate biscuit called Tim Tams, fairy bread which is basically white bread buttered with sprinkles, a chocolate covered sponge cake called lamington, and macadamia nuts. Noosa also has dining options to satisfy international flavors from European to Mediterranean to Japanese and more. Most dining options can be easily found along Hastings Street and Duke Street.
Transportation
By plane, the nearest airport is the Sunshine Coast Airport, located about 30 kilometers south of Noosa Heads. From the airport, visitors can take the 622 bus to Noosa Junction, rent a car, or hire a taxi (usually around $80 to Noosa).
Another option is to fly to Brisbane Airport (about 135 kilometers south). From here, the best way to reach Noosa Heads is to pre-book a transfer service, as a taxi from Brisbane to Noosa can be over $400.
By train, the nearest stations to Noosa are at Eumundi, Cooroy, Nambour, and Pomona with a connecting bus or taxi required.
By car, drive north from Brisbane along the Bruce Highway. Greyhound buses also serve Noosa on a route between Cairns and Brisbane.