Las Vegas On a Budget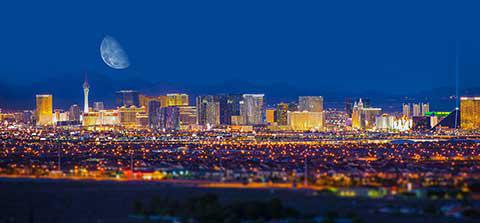 Las Vegas has long been the gambling capital of the United States. Known as "Sin City," it is a hot spot for bachelor and bachelorette parties, but in recent years it has seen a dramatic increase in weddings and business conferences. It is the largest city in the state of Nevada and one of the most visited and well known cities in the country. It is located in the Mojave Desert in South Nevada and has a very arid climate with very hot and dry summers. The average high in July is 104 degrees Fahrenheit, but as many people like to say "its a dry heat." Winters are cooler and pleasant with highs around 60 degrees Fahrenheits. Snow is very rare but the surrounding mountains are often topped with snow during the winter months.
Las Vegas is no longer the budget destination it once was, but it is possible to still find some decent deals if you travel here during the week or stay away from the main "strip". On weekends, prices rise dramatically. It will also save you a lot of money if you find a hotel that is a block or two from the strip. You don't want to stay too far away though, particularly if you don't have access to a car, as the strip is where most of the activities are.
Sights
Las Vegas is known for its glitzy and glamorous hotels, many of which are over the top. These hotels are an attraction in and of themselves. In recent years the city has attempted to clean up its image and several of the new hotels, including the Wynn and the Rio, are more elegant and high end. Some of the classic hotels remain favorites however. Definitely pop your head into the
Venetian
, with Venice like canals and real gondola rides. Also check out New York, New York, with props that create the image of a New York Street.
Whatever your interest, Las Vegas truly is a Disney World for adults. With so much to see and do in addition to the casinos, it would be quite easy to spend at least
3 days in Las Vegas
to make sure you see everything. The city offers amusement park rides, theatre experiences, nightlife, and more.
Neighborhoods
Las Vegas can be divided into 14 neighborhoods. Paradise is where you'll find the Strip, UNLV and McCarran International Airport. Downtown Las Vegas is centered around Fremont Street, about a mile from the Strip, and is where you'll find vintage Vegas. Other neighborhoods around the city include Summerlin, Centennial Hills, Green Valley, Nellis Air Force Base, Chinatown, Sunrise Manor, Paradise Palms, Aliante/Sun City, Whitney, Spring Valley, Henderson, and Blue Diamond.
Activities
While gambling is the obvious activity in this city, there are a surprising variety of activities you can enjoy if betting your money away isn't your style. There are countless shows you can see with some of the most popular being "Blue Man Group" and "Cirque du Soleil." Other attractions include Indoor Skydiving or Helicopter tours. You can also book trips to the Grand Canyon and Hoover Dam from Las Vegas.
Many of the large hotels also have plenty of other activities (some of which are free). You can visit the White Tiger habitat at the Mirage, pay a little bit of money to enjoy the
Caesars Palace pool
for a great swim, see the Shark Reef Aquarium at Mandalay Bay, watch the fountains and lights in front of the Bellagio at night, and see the amazing light-up "ceiling" on the old area of Fremont Street. Other popular sights include the Adventuredome at Circus Circus, the Botanical Gardens at the Bellagio, and The Mob Museum.
Nightlife is also a huge draw to Las Vegas, as the city never sleeps. Every major hotel and casino has some sort of nightclub or two. Bars are plentiful as well. Whether you want to dress up all fancy or go casual, Vegas has something for everyone. And keep an eye out for all of the couples that just got married, too.
Vegas is a very popular place to elope
, after all.
Plenty of nearby places in the region are also accessible from Las Vegas, including the Hoover Dam, some national parks, and good hiking spots. For more ideas, check out this
guide to day trips from Las Vegas
to help plan your trips.
Food and Dining
Las Vegas has vastly improved it's image as a top food city in the United States. Many of the country's top chefs have moved here and opened restaurants, meaning your food selection is endless. You can truly find world class restaurants with gourmet food selections. If you're a "foodie" then Las Vegas is becoming a new hotspot to try the newest culinary trends.
Las Vegas also made the all-you-can-eat buffet a mainstay. Like everything else in the city, buffets in Las Vegas are taken to the extreme. The high end hotels usually have the most expensive and most impressive buffets, with budget hotels offering cheaper counterparts. You can usually save a few dollars by enjoying the buffet on a week day or at lunch, although the selections may not be as good.
Transportation
If you're planning to spend all of your time on the Strip, then you can
easily walk
between the casinos. Many are connected so that you don't even have to go outside, while others have convenient bridges to cross the streets. Still, the Strip is actually just under two miles long, so the walk can be long and tiring in the summer heat. The
Las Vegas Monorail
is a comfortable and reasonable option for traveling around. It runs along the east side of the Strip and there are stops at or near several hotels as well as the Las Vegas Convention Center. A one way ticket is $5 and a one day pass is $15. If you're traveling with a few friends, it may be cheaper to take a taxi or Uber/Lyft.
Buses are a cheap and good option as well. They travel both up and down the Strip and to and from downtown. The buses are also air conditioned, which makes for a refreshing break during the summer months. There are actually two routes along Las Vegas Boulevard. The Deuce is a London style double-decker bus and the Express is a long accordion style bus. You can buy a two hour pass for $6.00.
Taxis are also a good option in Las Vegas. They are relatively cheap but when there is a lot of traffic, prices can creep up quickly and walking is often the same speed. It is required that the taxi driver use the meter and take the shortest route. There is an extra charge if you're picking up a taxi at the airport.
Related:
Looking for a
party hostel in Las Vegas
or
San Diego
? Traveling alone to
NYC
or
LA
? Want a budget hostel in
San Francisco
?