Reno On a Budget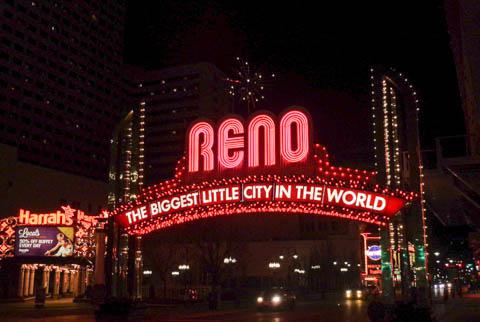 In the northwest area of Nevada, Reno sits at the base of the Sierra Nevada mountain range. After Las Vegas, it's the second most popular tourist destination in the state of Nevada. You'll find some nice resorts, elaborate casinos, nice restaurants and unique opportunities for entertainment throughout the city.
The city, referred to as "The Biggest Little City in the World", has a population of about 235,000. It's part of the Reno-Sparks metropolitan area, which has a population of about 440,000.
Reno is located in the rain shadow of the Sierra Nevada mountain range. The city has a steppe climate with light to moderate snowfall in the winter months. Precipitation is most common during the winter and spring, but the city averages about 300 days of sunshine a year. Average temperatures are 35 degrees Fahrenheit in December and 75 degrees Fahrenheit in July.
Sights
Gambling is a popular way to spend time in Reno. Some of the city's more impressive and popular casinos include the recently built Silver Legacy, the vibrantly pink Eldorado, the family oriented Circus Circus, the original Harrah's Reno, the tropical themed Atlantis, and the largest option, the Grand Sierra Resort.
Popular places to visit within Reno that are not casinos include the Nevada Museum of Art, Wingfield Park, shopping and dining on California Avenue, the University of Nevada at Reno, Rancho San Rafael Park, Victorian Square, and Idlewild Park.
Neighborhoods
Although many of the area's top attractions are outside of town, it's worth spending time in Reno's downtown as well. Just outside of the main casino area, California Avenue is a nice area to explore with many small shops and restaurants. The University of Nevada, Reno, has a pleasant campus to walk around as well. South Wells Avenue is a Latino area with interesting shopping and dining opportunities.
It's not hard to find cheap hotels in the area as there are plenty of chain options such as the Best Western, Motel 6, and Comfort Inn.
Activities
As a tourist destination, Reno hosts some popular festivals and events. Some of the more famous options include the Reno National Championship Air Races in September, the Great Reno Balloon Race, also in September, Hot August Nights, the Reno Rodeo in June, and Reno is Artown in July. Reno is also the closest major city to the Burning Man Festival, held every year in Black Rock City. It's a great place to pick up extra supplies as you are likely to pass through town on your way to the event. You're also likely to receive a discounted rate on your hotel if you choose to stay in Reno for the night instead of Black Rock City.
Other activities in the area include mountain biking, road biking, and kayaking. If you're an outdoor enthusiast, you won't have to venture far for any number of outdoor activities.
Skiing options within a few hours drive of Reno include Mount Rose, Heavenly, Sugar Bowl, Diamond Peak, and Squaw Valley.
Food and Dining
There are plenty of diners, breweries, and pubs around town that offer cheap meals and drinks. Popular restaurant options include pizza, burgers, Italian food, Mexican food, and even Indian or Thai. You'll also find some decent restaurants in many of the casinos, although some may seem extravagant or overpriced.
Transportation
Reno can be accessed by two freeways. I-80 travels east to west and US 395 travels north and south. Having access to a car is important to visit most of Reno and the surrounding areas. Many of the city's must-see sights are located outside of town and no public transportation is available. You'll find most national car rental agencies available at the Reno-Tahoe International Airport.
Reno does have a bus system called RTC RIDE. The most popular route, bus #1, has been replaced with two new services. RTC RAPID is an express bus that has a limited number of stops. RTC CONNECT is the local version of this route. These services run through downtown and offer access to restaurants, shops, and many of the city's casinos. Much of the city's downtown can be explored on foot, but in general, a car is recommended to get a true feel for the city.
Related:
Looking for a
party hostel in Las Vegas
or
San Diego
? Traveling alone to
NYC
or
LA
? Want a budget hostel in
San Francisco
?