Honolulu On a Budget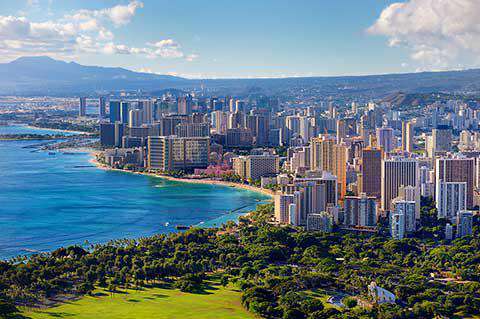 Hawaii's capital city of Honolulu, on the island of Oahu, is the state's center for government, finance, and transportation. It's also the home of Waikiki Beach, one of the most famous beaches in the state of Hawaii. Nearly one million people live in this Honolulu metropolitan area. This is almost 80% of the state's population. The city is not the relaxed Hawaiian destination that you might be searching for, but is instead a fast paced, cosmopolitan city. In addition to attracting many tourists every year, you'll also find international businesses, military defense and a diverse culture and population.
Honolulu has a tropical savannah climate that has fairly consistent temperatures throughout the year. Highs usually range between 80 and 90 degrees Fahrenheit and lows are between 65 and 75 degrees Fahrenheit. The summer months are the driest and the winter months make up the rainy season although even during the rainy season, sunny days are very common.
Sights
The most popular destinations in Honolulu are, of course, Waikiki Beach and
Pearl Harbor
.
Pearl Harbor is located in Western Honolulu and was made infamous by the December 7,1941 attack by Japanese forces which killed more than 2,000 people. The site is still functioning as a navy base and today there are several memorials found there as well as the USS Arizona Memorial.
Waikiki Beach is a white sand beach that has many hotels and tourist amenities. Diamond Head Crater is in the background. This is a great beach for swimming, sunbathing, or any number of water sports.
Other nice beaches in the area include Hanauma Bay, Halona Beach Cove, Sandy Beach and Makapu'u Beach. There are also some great viewpoints in the area including Nu'uanu Pali Lookout, Pu'u Ualaka'a Park, and Diamond Head.
Neighborhoods
Honolulu is split into several districts. The downtown area has the harborfront as well as the state's government buildings and many of the area's museums. Waikiki is where the tourists flock. It has white sand beaches, highrise hotels, and crowds of sunbathers and surfers enjoying the atmosphere. Manoa-Makiki gives you a view of more tropical scenery in the Koolau Mountains. It's also home to the University of Hawaii. Eastern Honolulu is more residential in nature and has some nice beaches and snorkeling areas. Western Honolulu is where you'll find the city's airport as well as the military memorials of Pearl Harbor.
Activities
Outdoor recreation opportunities are plentiful in and around Honolulu. Do make sure you get out of town and enjoy some hiking. The views in Hawaii are absolutely breathtaking and the natural scenery is unlike anywhere else. Many people take a surfing lesson while they're in the area. Waikiki Beach is a great place to try surfing for the first time. There are also luaus and traditional hula shows that many visitors enjoy seeing. Concerts, clubs and bars are also abundant around town.
Food and Dining
Food in Honolulu can be expensive, but there is a diversity of options available. Seafood and sushi options are plentiful, as are other Japanese dishes. A favorite Hawaiian chain restaurant is Zippy's, which is comparable to Denny's. It's a favorite of the locals and prices are reasonable if you're on a budget. Chili is particularly popular at this restaurant. Other dining options around town include burger joints, Korean restaurants, cafes, and bakeries. The quality of the food can vary so it is best to avoid heavily trafficked tourist destinations and instead find out where the locals eat.
Shaved ice is another Hawaiian specialty. Waiola is the oldest and one of the best places to try it. The flavors are surprisingly diverse with some unique options available.
Transportation
Most visitors to Hawaii at least pass through Honolulu as it has the state's largest airport. Hawaiian Airlines is one of the most popular as it serves most of the major cities in the U.S. with routes to Hawaiian cities. Consider flying
Business Class on Hawaiian Airlines
if you want a nice upgrade.
Many of these visitors choose to spend at least a few days exploring the city and its nearby beaches.
Renting a car
during your time here will make your visit more efficient and enjoyable, particularly if you plan to visit some of the more outlying areas or explore the whole island of Oahu.
If you're planning to stay only in Honolulu, there is a decent bus system so a car is not necessary. Traffic can be frustrating, so if you can avoid driving in the city itself that is for the best. The public bus service, called TheBus, offers a decent number of routes around town. It is also possible to catch an intercity bus to other towns on Oahu. The Circle Island Route, #88A, goes around the entire island.
Within Waikiki there is the privately operated Waikiki Trolley that runs three lines for tourists. The Green trolleys run every 35 minutes around Diamond Head to Kahala Mall. The Red Trolley runs every 40 minutes and connects the downtown, Chinatown, and Hilo Hattie. The Pink trolleys run every 10 minutes and go to Ala Moana Mall.
You can pick up a taxi at Honolulu International Airport that will take you to Waikiki Beach for about $40 excluding a tip.
Related
Looking for a
party hostel in Hawaii
or
Miami
? Traveling alone to
LA
or
New Orleans
? Want a budget hostel in
NYC
?