Kauai On a Budget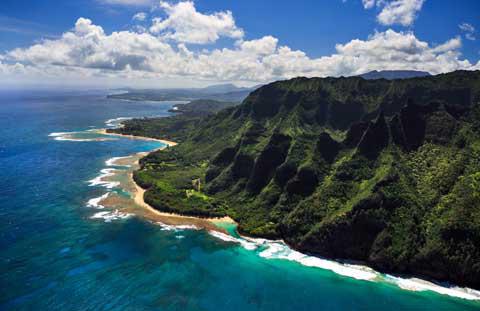 Hawaii is certainly a bucket list destination, but what if you want to do it without being surrounded by tourists? You want the adventure of the land of volcanoes and less of the kids in water wings. Then Kaua'i is the island for you.
Kaua'i, or the "garden island," is full of tropical forests, little villages and even more laid back lifestyle – if you can imagine. It's a smaller island at 560 square miles with a population of only 68,000.
With more coastline miles than any other island, Kaua'i is the result of massive erosion forming awe-inspiring sights like the Waimea Canyon and Na Pali Coast. The island experiences more rainfall every year – keeping it lush and green all year.
You'll feel like you've walked into another world in Kaua'i. Because of height restrictions, this island's buildings are no taller than the coconut trees. So if you're looking for an escape from civilization, you'll want to head straight for Kaua'i.
Sights
Even if you're escaping the typical Hawaii experience, no trip to the islands is complete without a beach trip. Consistently voted one of Hawaii's best beaches is Hanalei Bay. This spread of four different, sandy beaches is perfect for activities like stand up paddle surfing or just lounging with a good book.
With all that extra rainfall, the island of Kaua'i is home to some of the most beautiful botanical wonders. The Allerton Garden is covered in waterfalls, pools and statues while the collection of flowers at the McBryde Garden will make you feel like you've found your very own floral oasis. For a more traditional Hawaiian garden, head over to the Limahuli Garden and gaze out at the beautiful colors native to this land.
To fill your afternoon, take a drive northwards from Kalihiwai. You'll be met with jungles hanging over rivers, ocean views and the greenest of green pastures.
Scenic drive Kalihiwai – jungles over the river, beside the ocean, green fields with horses grazing under tropical fruit trees,
Neighborhoods
Kaua'i is mostly divided up based on the prevailing trade winds. The north and east sides of the island are known as the "windward" side of the island since that's where the winds blow onto the shore, while the south and west sides of the island are known as the "leeward" side of the island.
Activities
Who says you can't have it all on vacation? Planning a trip with little ones can make that a tough goal to achieve. Luckily, Lydgate Beach Park has everything to keep them – and you – entertained. With lifeguard-staffed beaches, playgrounds, shallow lagoons for swimming, a paved path for walking, bicycling or even rollerblading, this little spot will have the whole family occupied.
For the adventurers, there are varying degrees of challenges to choose from. Maha'ulepu is an easily accessible undeveloped coastline where you can look down from cliffs to see wonders like rocky beaches being pounded by massive waves. It's a rugged spot for the explorer seeking a quiet spot to get back to nature.
If you've been hiking for a while and are ready to up your game, go over to the Alaka'i Swamp to get your fill of rainforest wildlife.
But if you're ready for the ultimate fitness challenge make your way to Na Pali Coast. It is legend for those in the hiking community and it's only accessible by helicopter, boat or the treacherous hike. This route is definitely not for beginners.
Food and Dining
Like the rest of Hawaii, Kaua'i has the simple "plate lunch" available most everywhere. However, if you're planning on heading out for one of the many hiking excursions available, there won't be very many places to eat. Pack a picnic lunch plenty of water! Roadside stands may have snacks along your journey, but save the restaurants for dinnertime.
Transportation
While there is a bus system that runs around the island, it won't take you to most of the tourist destinations. Renting a car is always your best option, but remember, Kaua'i doesn't have one road going around the entire island. The island is also very biker friendly with paved paths everywhere. Renting a bike may provide a more efficient and interesting option for your group.
Related:
Looking for a
party hostel in Hawaii
or
Miami
? Traveling alone to
LA
or
New Orleans
? Want a budget hostel in
NYC
?