Big Island of Hawaii On a Budget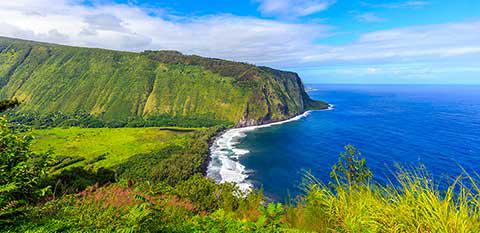 What comes to mind when someone says, "Hawaii"? Probably sandy beaches, coconut drinks and lazy days of tanning. It's a dream destination for those who want to get away, but the island of Hawai'i, or the Big Island as it's most commonly called, has so much more to offer than a place to catch up on your latest novel.
At 93 miles across, and a population of 185 thousand, the Big Island was once a large exporter of sugarcane. After its final plantation closed in 1996, tourism became the backbone of Hawai'i Island's economy. More recently, the Big Island has become the focus for sustainable tourism – visiting a place as a tourist and trying to make only a positive impact on your destination.
Sights
If you are headed to Hawaii with one goal in mind – beaches – then the Hapuna Beach should be at the top of your list. It's one of the most iconic beaches in the state.
However, if seeing the sites is more your style, you can begin by visiting the Pu'uhonua O Honaunau National Historical Park – also known as "Place of Refuge." It's a great spot to begin your education of Hawaiian culture and traditions. For an easy jaunt to awe-inspiring waterfalls, make your way to Akaka Falls State Park. Visit during the seasonal rains for the best views. For a more challenging adventure to breathtaking sights, visit the Waipi'o Valley – accessible by foot or horseback. Once there, you'll stand speechless, simply swept away by the black beaches, waterfalls and wild horses.
For a beautiful end to the day, head to one of the island's sacred locations, Mauna Kea. With tons of telescopes, you'll be amazed by the world's clearest stargazing.
Neighborhoods
The Big Island is divided into six districts called moku.
Hilo is the district in east Hawaii. This part of the island gets more precipitation than most other areas of the island. If you're looking for waterfalls and rainforests, you're likely to find them in this lush area of the island.
The district known as Kona, located in the west of the island, is warmer with less rain. While there are many beaches, the waves are much less intimidating – making it the perfect spot for beginner surfers, snorkelers, paddlers or anyone interested in trying out water sports. It's also a great spot for dolphin and whale watching.
The northwest region known as Kohala, is the land of resorts and golf clubs. It's full of tourists, but the artificial, vibrant landscaping against the black volcanic surface provides everyone who visits with stunning views.
Hamakua is the northeast district covered in rolling hills ending in stark cliffs with cascading waterfalls, and the southeast region of Puna is where you'll find the longest erupting volcano - going strong since 2013. Many tourists don't find their way to the southern region of Ka'u, but it is an up and coming area worth checking out.
Activities
Your first adventure has to be a hike through the Hawai'i Volcanoes National Park. This trek through smoking craters, rainforest, desert and lava lakes will show you the true geological marvels of Hawaii. Follow that lava flow on your next hike in Puna. Walk along the black crust to see the lava spilling into the ocean – creating a mile high steam rise as the magma mixes with the water below.
A helicopter ride will give you the best view of the tall waterfalls spilling over the cliffs of Hamakua, while kayaking in Kealakekua Bay will take you to the best snorkeling in the state. The rainbow fish in Kealakekua aren't the only sights to behold underwater. Turn on your diving lights for a spectacle of manta rays. Their ten foot wing spans will overwhelm you as you gracefully swim with these amazing creatures.
Food and Dining
Hawai'i is home to some of the most inventive chefs – turning local eats into innovative dishes seeped in Hawaiian culture. You can never go wrong with a classic poke (salad of raw fish) or seafood entree. Outside of the resorts and hotels, however, finding a quality restaurant isn't a simple feat. Seek out any local market to find the freshest, most delicious fruits the island has to offer – from Ka'u oranges to Poha berries.
Transportation
Public transit is limited – you'll likely need a car to get to most destinations. Plan on renting or taking taxis everywhere.
You should remember that rental cars are booked months in advance, depending on the season. If you're planning on staying in one town, another option is renting a moped or bicycle.
Related:
Looking for a
party hostel in Hawaii
or
Miami
? Traveling alone to
LA
or
New Orleans
? Want a budget hostel in
NYC
?