Goa On a Budget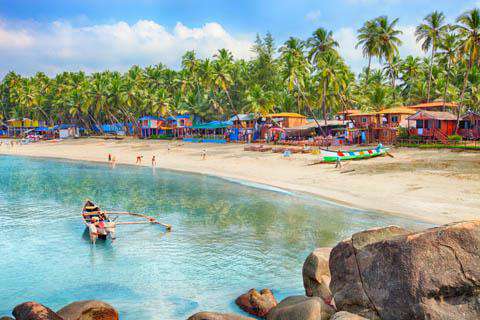 Goa is a small but important state located on the west coast of India known as a popular beach resort and vacation area.
A large Portuguese influence can be found in Goa in the form of architecture as well as the cuisine, as it was formerly a Portuguese colony. Because of Goa's Portuguese history, there is a distribution of religion among the people, making it quite different than other states in India. About sixty-five percent of the population is Hindu, while about twenty-four percent is Catholic. Goa is one of the most peaceful states in India, with a very low crime rate. The best time to visit Goa is between November and February, as this is when the weather is most comfortable.
This is a popular tourist destination both for the Indian population as well as for tourists from around the world. The warm climate, beautiful beaches, friendly people, fun activities, and cultural diversity make it a popular destination for many types of travelers.
If you're a budget backpacker or a family or a couple looking for a romantic getaway, Goa has something for everyone. Check out
this site for some amazing deals
on
nice resorts in Goa at discount prices
.
Sights
Many galleries and museums can be found all over the state of Goa. The
Goa State Museum
, the Kala Academy and the Central Library are all located in the city of Panaji. The
Naval Aviation Museum
is in Vasco de Gama, where you can see many vintage aircrafts.
Beaches are plentiful in the state of Goa. Arambol Beach is located in North Goa where you can part take in many thrilling water sports, get a massage, shop at the market or just take in the beauty of the horizon, especially at sunset. For even more ideas, check out this
guide to solo travel in Goa
. Palolem Beach is located in South Goa, there are many cliffs and islands off the shore. Chapora is a fishing beach, where there are also ruins of an old fort.
Churches and cathedrals are plentiful in Goa due to its Portuguese history.
Bom Jesus Basilica
was built in 1605 with a distinct baroque style of architecture. Se Cathedral was built in 1619 and is one of the largest churches in all of Asia. The church is dedicated to St. Catherine of Alexandria. The cathedral serves as a memorial of the victory of the Portuguese over the Muslim rulers.
Naturally, many temples can also be found in Goa. Shree Manguesh Shantadurgai Prasanna is one that has been dedicated to Lord Shiva. This temple is located in Priol.
With so many things to do, anyone can spend plenty of time here. For more ideas, see this guide to
the best things to do in Goa
for your next trip.
Regions
There are two main regions of Goa: North Goa and South Goa. Each region is then separated into further talukas. The northern talukas are Bardez, Bicholim, Pernem, Ponda, Sattari and Tiswadi. The southern talukas are Canacona, Mormugao, Quepem, Salcette and Sanguem. The main cities in Goa are Panaji, which is the state capital, Margao, Vasco de Gama, Mapusa and Old Goa, which houses many of the historic churches and monuments.
Activities
Diving is a great activity off of one of the many beaches in Goa. Kite surfing and paragliding are also very popular beach activities among tourists. There is a
butterfly conservatory
in Goa, in Rajnagar. This conservation project is open to visitors where you can witness many butterflies as well as a rainwater-harvesting project. There is a flea market in Anjuna worth visiting as well as many discos and pubs, perfect after a long day of exploring.
There is an international music festival that happens at the end of January at Baga Bridge. The festival lasts for two days and has many rock and jazz bands.
It's also possible to do many more things in Goa, such as ride in a hot air balloon, stay on a houseboat, visit Portuguese mansions, go bungee jumping, and more. Check out this
list of offbeat things to do in Goa
for more ideas.
Food and Dining
The most traditional Goan meal consists of rice and fish curry. The cuisine in Goa incorporates local and Portuguese flavors. The cuisine in Goa mostly consists of seafood, more specifically pomfret, tuna, shark, mackerel, crab, prawns, lobster, mussels and squid. For a sweet treat, Bebinca is very delicious. It is made of coconut milk, egg yolk and flour. Many of the beaches have restaurants that serve traditional food, which is much better than the fancy, upscale restaurants. Feni is a type of liquor that is brewed in Goa. The two types of feni are cashew and coconut; these brewing techniques were learned during the time that Goa had Portuguese rulers.
Transportation
There is one airport in Goa, called Dabolim, which is located in Vasco de Gama. Many international flights will arrive in Mumbai, though. Domestic flights are more common to arrive at the Dabolim Airport. From there, a taxi is the best way to get into the town of Vasco de Gama, unless your hotel offers free shuttles. Taking a bus is another great option to get to Goa. There are many buses that travel from major cities in India to Goa. Indian Railways connect Goa with direct trains from Delhi, Ahmedabad, Mangalore, Mumbai, and more.
As far as getting around, keep in mind that Goa is a state, not a city. So for each city within Goa, there are different means of transportation. Motorbike, bus, car and foot are the best ways to get around each city.
Related
Looking for a
hostel in Delhi
or
Goa
? Heading to
Kathmandu
or want a
party in Tel Aviv
?