Gujarat On a Budget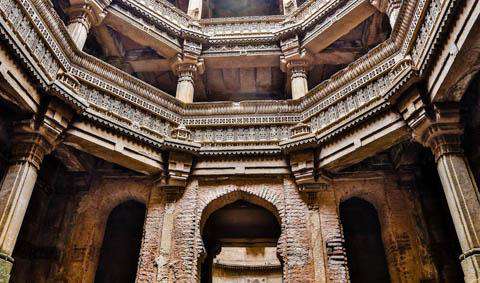 Gujarat is a state in the western region of India characterized by its varied terrain from flatlands to sacred hilltops as well as a number of important cultural sites. It is a region significant to the history of the spiritual leader
Mahatma Ghandi
and has many urban centers and villages which display the area's thriving culture.
Sights
One of the top religious sites to visit is the Somnath Temple on the coast of Gujarat. A popular pilgrimage and tourist destination, it is believed to be the first among the twelve 'jyotirlinga' shrines of Shiva in India. A few other important sites include the Ashardham Hindu temple complex in the capital city of Gandhinagar, the Dwarka temple which is believed to have been built by Lord Krishna himself, and the nearly 1000-year-old Modhera Sun Temple on the bank of the river Pushpavati.
As the home of Mahatma Ghandi from 1917-1930, Gujarat additionally features Ghandhi's living quarters at the Sabarmati Ashram in the suburbs of Ahmenabad. Also in Ahmenabad is a stunning collection of antique and modern Indian fabrics at the Calico Museum of Textiles, as well as some insight into local culture, philosophy, and religion at the Lalbhai Dalpatbhai Indology Museum.
Beyond religion and culture, the state also has a vast array of natural habitats worth visiting, from the White Desert or 'Rann' of Kutch to places like Gir Forest National Park which serves as a sanctuary for wildlife like the Asiatic lion.
Regions
Gujarat is generally divided into three main regions: Saurashtra, Kutch, and Gujarat (which is subdivided into North Gujarat, South Gujarat, and Central Gujarat). Saurashtra is a peninsular region, jutting out from Gujarat into the Arabian Sea. It is mostly flat with a few cities of interest, wildlife sanctuaries, and temple-topped hills like Shatrunjaya and Girnar. Kutch is the largest district of Gujarat, known for its distinct culture and customs including the Kutch Mahotsav, a festival which features colorfully dressed dancers, traditional music, performances, and local crafts like jewelry and embroidery. The Rann of Kutch is also well known to the region as a seasonally marshy saline clay desert - a unique habitat for flora and fauna of the area. The region of Gujarat (and its three sub-districts) contains the three biggest cities of Gujarat state - Ahmedabad, Surat, and Vadodra. Ahmedabad is the state's commercial capital, Surat is known as the 'diamond city' where the majority of the world's diamonds are cut and polished, and Vadodra is known as the 'cultured city' with the greatest international influence. The state's administrative capital is Gandhinagar, and is often thought of as the greenest capital in India.
Activities
Any of the sights mentioned above can be visited on one's own itinerary or via tour for a more guided experience. In addition to these sightseeing opportunities, Gujarat is also a region known for its fairs and festivals which offer opportunities to experience traditional clothing and dance, performances, handicrafts, and more. The Modhera Dance Festival, the International Kite Festival, and the Rann Utsav desert festival are all widely popular as are more traditional religious celebrations like the Navratri Festival, the Tarnetar fair, and the Rath Yatra. Other activities include taking a ride on the Royal Orient Train, a safari at one of the national parks, or hiking in any of the natural areas.
Food and Dining
Cuisine of Gujarat is largely vegetarian due a significant following of Jain culture and philosophy which also entails vegetarianism. It is rare to find any meat dishes in the region, though some communities do include seafood, chicken, and goat in their diet. One traditional meal is the Gujarati Thali which consists of an assortment of dishes arranged as a platter served for lunch or dinner. This often includes items like flatbread, dal (made of lentils, peas, and beans), kadhi (thick gravy from chickpea flour with vegetable fritters), rice, and other small bites made from vegetables and spices ranging from spicy to sweet. Curry dishes are also very common as are small snacks like pakora, which involves deep frying, and side dishes like yogurt and chutney. Major cities like Ahmedabad will have a diverse array of local flavors from small bites at road side stalls to restaurants serving traditional fare. Be aware that alcohol is forbidden in Gujarat, though visitors may apply for an alcohol permit.
Transportation
The Sardar Vallabhbhai Patel International Airport in Ahmedabad is the only international airport in the region. It operates regular flights to and from London, New York, Chicago, Singapore, Muscat, Kuwait, Doha Qatar, Sharjah, and Dubai. There are also domestic flights available to and from hubs like Mumbai, Delhi, Chennai, Hyderabad, Bhopal, Indore, and Kolkata.
India is additionally well-connected by rail. Trains frequent the main cities of Gujarat (like Ahmedabad, Vadodara, and Surat) with routes to and from Bombay, New Delhi, and other big cities in India several times per day.
By road, Gujarat can be reach via National Highway 8 from places in north India, National Highway 6 from Nagpur and other parts of Vidarbh, or National Highway 59 from parts of central India.
Related:
Looking for a
hostel in Delhi
or
Goa
? Heading to
Kathmandu
or want a
party in Tel Aviv
?