Madhya Pradesh On a Budget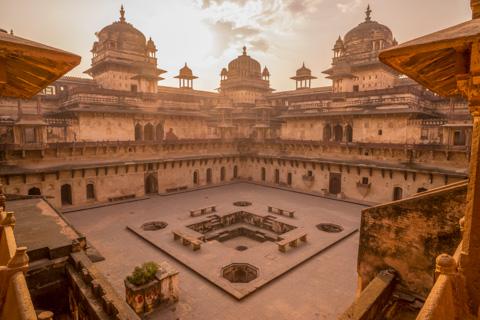 Translating to "central region," Madhya Pradesh is a state centrally located within the plains of India. While it is not a major tourist hub, the region has plenty to showcase in regards to the history, art, religion, and culture of central India.
Sights
All throughout the region there is plenty to see and do, from temples and monuments which speak to a religious past to bustling cities that combine the old and new into a culture of its own. There are even a number of national parks which offer a glimpse into some of the region's natural wonders and wildlife.
As far as temples go, one of the best destinations in the state is the town of Khajuraho. It is home to impressive groups of Hindu and Jains which have been designated an UNESCO World Heritage Site for their intricate rock carvings and insight into the philosophy of Indian aesthetics. The erotic sculptures of the complex depicting Kama Sutra are some of the most unique. Other popular spots include the Kandariya Mahadeva Temple, Lakshmana Temple, Chaturbhuj Temple, and Javari Temple. Mosques and temples can also be found in the region's major cities in addition to a few palaces and other monuments reminiscent of an ancient past.
For an escape from the grandeur of antiquity and bustle of modern city life, visitors can also escape to one of the state's national parks.
Kanha National Park
, for example, is home to a wide array of flora and fauna with animal species including tiger, elephant, jackal, fox, porcupine, python, hare, monkey, mongoose and leopard, amongst many more. Other parks of Madhya Pradesh include Bandhavgarh National Park, Panna National Park, Satpura National Park, and Pench National Park. Bhimbetka is another unique attraction, a UNESCO World Heritage Site featuring rock outcroppings with ancient shelters and cave paintings.
Regions
The state of Madhya Pradesh has five major cities - Indore, Bhopal the capital, Gwalior, Jabalpur, and Ujjain - and is further segmented into a number of districts and divisions. Beyond the cities, towns, and villages, much of the state is agricultural with wheat, corn, peas, grain, cotton, and soybeans serving as some of the most important crops. Indore is the commercial capital of Madhya Pradesh, situated on the Malwa plateau along the banks of the Saraswati and the Khan rivulets. Remnants of its ancient past mesh with a thriving modern culture, making the city one of the more popular places to visit within the state. Bhopal, the capital city of Madhya Pradesh, also offers a good mix of the old and the new. As the heart of the old kingdom, the city is rich with heritage and history with unique Mughal architecture and winding lanes amidst old city markets. Each of the state's cities has something unique to offer in art and culture from both a rich past and prosperous present. The more general regions of the state include the Bhopal-Narmadapuram Division, Northern Madhya Pradesh, Western Madhya Pradesh, Jabalpur-Sagar Division, and Eastern Madhya Pradesh.
Activities
Sightseeing amidst the temples and exploring the cities are some of the most popular activities while visiting central India. Visitors can admire the intricacies of ancient architecture or get lost along the winding alleys of bustling city markets while shopping for local handicrafts, produce, and unique souvenirs. Outside of civilization, the area's national parks offer great opportunities for hiking nature trails or booking a safari.
Food and Dining
Throughout the region, cuisine will consist of delicacies available all over India in addition to some local specialties as well.
Dal bafla
is a common meal in the region, consisting of a steamed and grilled wheat cake dunked in rich ghee (butter) which is eaten with daal (split lentils, peas, or beans) and ladoos (small round sweet made with flour, milk, and sugar). Another dish common to central India is poha (or flattened rice) usually eaten for breakfast with jalebi (fried ringlets of dough soaked in sweet syrup). The city of Bhopal is best known for its meat and fish dishes like rogan josh, korma, keema, biryani, pilaf, and kebabs; Gwalior is famous for chaat (savory snacks), locally called bedmi (usually a kind of breaded snack stuffed with spiced lentils served with curry); and the street food of Indore is renowned, especially at the night market called Sarafa market.
Transportation
By plane, Madhya Pradesh is best connected via Devi Ahilya Bai Holkar Airport in Indore and Raja Bhoj Airport in Bhopal. These are the first and second busiest airports in the state. Both are served by Air India and Jet Airways with links to places like New Delhi, Ahmedabad, Hyderabad, Chennai, Kolkata/Calcutta, and Mumbai.
Indore and Bhopal are also major hubs for railway transportation. Connections to some Indian cities via rail include Mumbai, Pune, Nagpur, Delhi, Jaipur, Agra, Ahmedabad, Vadodara, Howrah, Bhopal, Ujjain, Gwalior, Bhind, Jabalpur, Bilaspur, Khandwa, Lucknow, Varanasi, Patna, Ambala Ct, Jammu, Dehradun, and Trivandrum.
Being a landlocked state, centrally located in India, Madhya Pradesh also has a number of national highways for road transportation.
Related
Looking for a
hostel in Delhi
or
Goa
? Heading to
Kathmandu
or want a
party in Tel Aviv
?