Udaipur On a Budget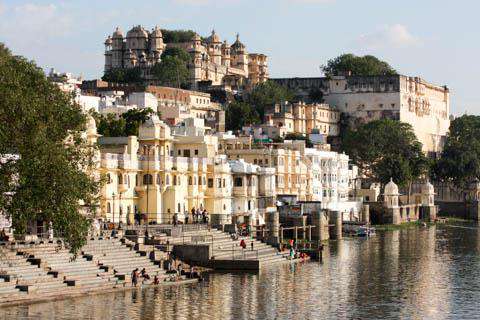 Udaipur, also known as the "Venice of the East," is becoming increasingly popular as an Indian wedding destination as well as with travelers searching for a romantic and picturesque city, rich with history, scenic areas, and palaces.
The "City of Lakes" is located in south of Rajasthan. There are a total of ten lakes in the lake system, which are connected and sustain water for drinking, irrigation and industrial use, which contributes to another reason for Udaipur's booming tourism: alcohol.
Udaipur has ideal climate and available water to support a liquor plant while a number of other Indian states ban the consumption of liquor altogether. Many local tourists, such as those from the neighboring dry state of Gujarat on the west, visit Udaipur specifically for this reason, especially considering that Gujarati alcohol prices are much higher and liquor must be purchased through the black market. It's no wonder why Udaipur is the destination for celebrations and vacation.
Udaipur has tropical weather and three main seasons, which are summer, monsoon, and winter. Winter, which takes place between September to March, is the most pleasant time to visit for sunny and warm days and cool nights.
Udaipur was also made famous in the James Bond film
Octopussy
. Several local hotels show the film nightly.
Sights
Udaipur has numerous palaces, religious landmarks, gardens museums, lakes, and other natural scenic areas to keep anyone busy, and this city should definitely be on any
Rajasthan itinerary
Take a boat ride on Lake Pichola to see the must-visit and historical places of the city or simply sit on the bank and enjoy the sunrise or sun features carvings set.
Get back to nature at the
Udaipur Gardens
for a stroll through lush greenery for a sense of peace and serenity from the otherwise dry brushlands of Rajasthan.
The
City Palace
, which took a span of 400 years to build, is the biggest royal complex in the state and is full of history and culture, featuring the crystal gallery, stained glass and carved windows, numerous courtyards and a museum containing sculptures and antiques. As with many tourist sites, note that there's an extra charge to bring in a camera.
Just a short walk from the City Palace is the largest temple in the city, Jagdish Temple, dedicated to the Hindu god Vishnu. The three-story temple features intricate carvings and decorated ceilings and painted walls.
On the southern island of Lake Pichola, Jag Mandir Palace was originally built by Maharana Karan Singh as a hiding place for Prince Khurram, featuring the eight elephants carved out of white marble.
Turn up the romance at the white marble Lake Palace, initially meant to be a summer getaway for royalty, it has since been turned into a top-notch hotel. Take in the dreamy aura created by the vastness of the palace's beautiful architecture in the middle of the lake.
The Monsoon Palace, originally built to watch for incoming monsoons, overlooks Fateh Sagar Lake and is an ideal place to get a panorama of the lakes, palaces and countryside.
For a cultural experience at an affordable price, visit Bagore Ki Haveli, a townhouse on the bank of Lake Pichola and watch an hour-long Rajasthani folk dance performance and puppet show starting at 7 p.m.
Neighborhoods
There are cities and towns surrounding Udaipur that are great for day trips. Delwara is a small town that's about thirty kilometers north of Udaipur where you can experience the lifestyle and culture of a traditional Indian village. About sixty kilometers away, Jagat Village is worth taking a day trip to as you can see the Jagat Temple that is renowned for the intricate and ancient carvings on its exterior.
A bit further away is Ajmer, which is an ancient town that is famous for its shrine of Khwaja Ajmer Sheriff and its Brahma Temples. Bundi is another ancient town that is further away but very worth visiting. The town is inhabited by tribesmen and is known for its holy wells and historic fortresses.
Activities
After exploring so many palaces and temples, the adventurous traveler may be ready for an excursion to the
Kumbhalgarh Wildlife Sanctuary
, which protects many species of endangered wildlife.
Just 3 kilometers outside of Udaipur, Shilpgram, an arts and crafts village, is a wonderful place to visit to learn more about history, culture and rural handicrafts from all over the country. Camps and workshops are held here to spread awareness and share the art of embroidery, pottery, weaving, mirror works, and folk music.
Immerse into Indian music by learning to play the sitar, tabla, or flute with Prajapati Musical Instruments. Whether you're a novice or a seasoned musician, you will be sure to enjoy the teacher, Suresh's music instruction and concert.
Udaipur will keep shopaholics occupied at traditional markets such as Bapu Bazaar, Chetak Circle, Suraj Pole, Nehru Bazaar, Bada Bazaar and Chand Polethe, where they can find fabrics, jewelry, shoes, and handicrafts such as paintings, marble articles, silver arts and terracotta Modern shopping is also available at Durga Nursery Road, Shakti Nagar and Sudkhadia Circle, as Udaipur further develops a shopping mall culture.
There are some cultural shows that happen in the town of Udaipur. The Dharohar Dance Show, which includes a marionette puppet show, live music with traditional instruments, and folk dancing. This takes place at Bagore-ki-Haveli and costs 100 Rupee.
For a different kind of cultural experience, learn how to cook naan, masala chai and curries with a cooking class. Several options are available.
Enjoy Cooking Class
has great options for where you can choose which ingredients you like and dislike. There is also a meditation room and many different types of teas to taste during your class. Also,
Shashi's Cooking Class
is another place to try your hand at traditional Indian cooking. She offers group classes, which are run out of her own personal kitchen.
You can take a bicycle tour of Udaipur with
Art of Bicycle Trips
, which includes aspects of Indian art, heritage, and culture. Horseback riding around Tiger Lake is another great activity. Krishna Ranch offers half and full day options as well as multi-day safaris where you camp overnight.
Food and Dining
If you enjoy spicy food, then Udaipur is the perfect place for you. The city is famous for its mirchi bada and kachori, which are delicious, spicy snacks. Other specialties include lentils and rice (Dal Baati Churma), onion balls (Pyaz Kachori), and dumplings with curry (Gatte Ki Sabzi).
Other regional specialties include laal maas, the famous red meat curry made with mutton, which is a specialty of the idyllic open-air restaurant, Ambrai, set on the bank of Lake Pichola. Bhuna kukda is a chicken dish marinated in Rajasthani spices and Each of these and other local recipes can be tasted at the Taj Lake Palace Hotel.
Hari Garh Restaurant serves Indian and Asian fare overlooking Lake Pichola with excellent service and delicious food at reasonable prices.
Try the legendary and local-loved Natraj Lodge, which serves vegetarian Indian fare and is famous for its quick service and bottomless thalis.
Grassland Cafe is the place to be for simple cafe fare such as sandwiches, smoothies, and coffee as well as free wifi.
If you're ready for a break from local food or just more options, Savage Garden offers hearty Western cuisine in addition to its Indian food. Try the falafel and homemade pasta; the arrabiata will be sure to pack a punch with Udaipur's use of chili.
Satisfy your sweet tooth with diljani, a sweet originally from Udaipur and sold at the JMB, a large sweet shop in the Bapu Bazaar, also known for its vegetarian savory kachoris and mirchi vadas.
Transportation
Udaipur is accessible by air via daily flights from the New Delhi and Mumbai airports. The Dabok Airport is 25 kilometers from the city center. Because there are no buses between the airport and the city center, your best bet is to hire a taxi from the airport or arrange for hotel pickup. You may also hire a private car such as Uber or Ola, another Indian ride-sharing mobile app.
If you're coming by private car from the north, make a stop at the magnificent Ranakpur Jain Temple, said to be the most breathtaking of all Jain temples, as it's constructed completely out of marble.
Although more time-consuming, buses are also available from neighboring cities; check redbus.in for listings and costs.
Udaipur is also connected to major Indian cities by rail. Though it may take just as long as the bus (if not longer), the train may offer more in terms of comfort. Check irctc.gov.in for listings.
Within the city, autorickshaws (tuk-tuks), Ubers, and taxis are available. However, you may find that walking is the best way to see Udaipur, especially when it comes to the numerous narrow alleyways.
Related:
Looking for a
hostel in Delhi
or
Goa
? Heading to
Kathmandu
or want a
party in Tel Aviv
?