Pondicherry On a Budget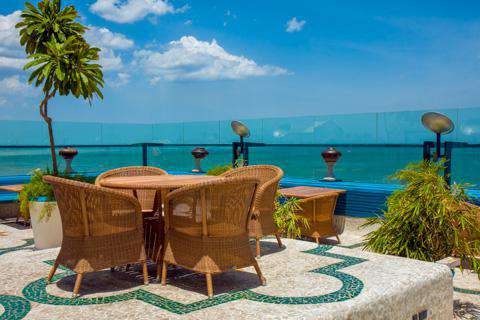 Located on the eastern coast of India in the state of Tamil Nadu, Pondicherry has a long and interesting history of trade and war as the largest French colony in India. Today the French influence in the city remains, especially in the old quarters. This being said, Pondicherry very much embodies and east-meets-west culture.
Sights
With a history rooted in its colonial beginnings, Pondicherry is a great place to experience old world architecture. Remnants of the past are visible in the French Quarter with colonial villas, tree-lined streets, and an overall sense of all that is French. For more history, visit the Pondicherry Museum which houses a collection of sculptures, handicrafts, and archaeological findings from the Arikamedu Roman settlement as well as items from the French colonial time such as furniture and coins, amongst other things.
The Arulmigu Manakula Vinayagar Temple is another common place to visit, built before the 15th century and dedicated to Bhavaneshar Ganapathy-a form of Lord Ganesha, who is known as the remover of obstacles. A beautiful architectural example, the shrine is located about 400 meters from the Bay of Bengal in White Town. Another highly revered religious site is The Basilica of the Sacred Heart of Jesus, situated on the south boulevard of town-a stunning example of Gothic architecture and stained glass windows. Other notable sights include Eglise de Notre Dame des Anges, Immaculate Conception Cathedral, and Varadaraja Perumal Temple.
Neighborhoods
Pondicherry's French legacy is preserved in its French Quarter (also known as White Town, Black town, and Indian Town). As the name suggests, this part of the city is heavily under French influence with remnants of its colonial past in the grid-pattern tree-lined avenues, architecture consisting of mustard-yellow villas, chic boutiques, and a general aura that is distinctly French. The seafront is also a popular place for visitors and locals to frequent. Goubert Ave (Beach Rd) is a great place to take a stroll right along the coastline, with the French Quarter located just inland from here. The promenade runs along the Bay of Bengal and passes several statues, including a 4 meter-high Gandhi Memorial. Auroville, located just north of Pondicherry, is another interesting place to experience. Established as an experimental town in 1968, the goal was to create an international community of peace and unity. Auroville is currently inhabited by individuals from over 40 different nations.
Activities
Beyond the history and architecture mentioned earlier, the beaches of Pondicherry are worth visiting as well. Paradise Beach is a vast shoreline complete with dense palm groves, located about 8 kilometers from the city center. It can be reached by boat from Chunnambar Boat House. Serenity Beach is another treasured shoreline, quieter and more secluded than others in the Bay of Bengal.
Additionally there is the Botanical Garden, featuring six gorgeous fountains, a large aquarium with ornamental fishes, Japanese rock, dancing fountain, and a children's train. Established in 1826, the garden has grown to encompass 22 acres with over 1500 species of plants.
Other activities include city tours, shopping, dining, and experiencing the culture of Pondicherry.
Food and Dining
South Indian cuisine usually consists of (mainly vegetarian) dishes eaten with steamed rice. The traditional way of eating a meal involves being seated on the floor with the food served on a banana leaf, using the fingers of the right hand to eat, no utensils. Cooking of the Tamil Nadu area is famous for using a variety of spices to add flavor to main ingredients like rice, lentils, and legumes. One common dish, Biryani, is a type of fried rice with masala cooked with vegetables or meat. Special varieties include Ambur biryani, served with dhalcha (a sour brinjal curry), and Dindigul biryani which uses a little curd and lemon juice to get a tangy taste. Coffee and tea are the staple beverages. In addition to these South Indian delicacies, there is also some French influence to the cooking in Pondicherry, given its roots as the largest French colony in India. Located on the coast, the city's seafood is also very good.
Transportation
The best way to reach Pondicherry is to travel by road from Chennai, located about 160 kilometers (99 miles) north of the city. The journey takes about three hours along the East Coast Road (ECR), which is very scenic. Another option is to take National Highway 45, also known as Grand Southern Trunk (GST) Road. Both routes are toll roads and take about the same time. One can get a bus from CMBT in Koyambedu or from Thiruvanmiyur or Guindy. Taxis are also available from Chennai Airport.
By train, Pondicherry is connected to Chennai by an electric broad gauge railway line through Villupuram.
Related:
Looking for a
hostel in Delhi
or
Goa
? Heading to
Kathmandu
or want a
party in Tel Aviv
?