Haridwar On a Budget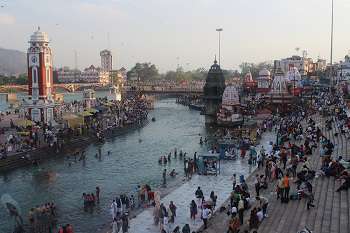 A spiritual journey is not complete without a trip to Haridwar as it is the lands of legends and tales cleansed by the Holy Ganga and regarded as the Holiest places for washing of sins. Haridwar is located on the foothills of the Himalayas making the place a truly memorable experience. After making a Haridwar Darshan, you will find most of your answers regarding the unknown and uncertainties. Rishikesh is very close to Haridwar, for waking the adrenaline rush in you. One can plan out so many activities to do in Haridwar for a fun filling vacation.
Sights
Soak in the quietness of the atmosphere at Haridwar by sitting near the Ghats. This is one such place holding the confidence of spiritual seekers all over the globe for so many years. The city of Haridwar is popularly known for its ancient temples and shrines. The temples and Ashrams are filled with travelers from different parts of the world coming here to seek blessings of the Almighty. You must witness the evening Aarti at Har Ki Pauri by the Ganga Ghats which is so sublime and mesmerizing. With all the Diyas lighting up space, it overpowers the darkness and brings light to everyone's lives. Some of the best places to visit in Haridwar are listed as under:
Mansa Devi Temple
The
Mansa Devi Temple
is for the Hindu pilgrims on their road to Haridwar Darshan Trip. Mansa Devi is believed to be a form of Shakti that emerged from Rishi Kashyap. The Mansa Devi Temple is situated at a hilltop giving beautiful views of the city. The other temples of Chandi Devi Temple and Maya Devi can be seen completing the trio of Siddhpeeth in Haridwar.
Vishnu Ghat
The Vishnu Ghat is dedicated to Lord Vishnu and is at walking distance from the Haridwar Railway Station. It is one of the quietest and serene places to visit here for spending time with oneself and getting lost in the worldly activities of nature. Vishnu Ghat is also the cleanest Ghat in Haridwar. It has so many staying options and Vishnu Ghat is a must on your itinerary.
Har Ki Pauri
When you are in the city of Legends, Har Ki Pauri cannot be missed at any cost. The early morning dips in the Ganga during the Shravan months are so enthralling and captivating. People can be seen here all through the year coming to cleanse their souls. It is at this place that the Ganga enters the plains after exiting from the Mountains. The Ardh Kumbh Mela and the Kumbh Mela are the largest fairs organized here. You can find Ganga Aarti being done here every morning and evening, which you can be a part of.
Birla Ghat
The Birla Ghats is considered to be one of the oldest Ghats in Haridwar making it rank at the top in the list of attractions. Birla Ghat is so quaint and there is a saying that taking a dip in the holy waters of Ganga here is known to wash your sins and so many devotees come here every year to wash off all their sins. You can find security barriers everywhere here so that nothing uncertain occurs here.
Summer is the best time to visit Haridwar from March to June. The temperatures are hotter but it even makes sightseeing worthy. The Annual Magh Mela is also celebrated in the summer months with the biggest Ganga Aarti at Har Ki Pauri during the summers.
Activities
With so many temples and Ghats, Haridwar is truly a paradise to connect with the Almighty. Everything is so peaceful and serene here that you will want to stay some more time here. Taking a trip to Haridwar will be worth it because it has everything your heart wants to know.
Shopping in Haridwar
Being one of the
best offbeat places to visit in Uttarakhand
, shopping turns out to be so much fun in Haridwar. Here, you can find so many religious kinds of stuff. The Bara Bazar is one of the ideal shopping destinations that should be on your list whenever you are visiting Haridwar. Rudraksha seeds, handicrafts are some souvenirs you can take home. You can also shop for sweets here that taste awesome. You can also get many cute souvenirs here for your loved ones. Getting lost in the busy bustling streets is so amazing!
Things to do near Haridwar
Apart from spiritual sightseeing, you can visit Rishikesh, which is 40 minutes away from Haridwar for engaging in some fun activities. Rishikesh is an exciting location near the Ganga. Camping, bungee jumping, and Ganga boat riding are some of the
best things to do in Rishikesh
. The Laxman Jhula, Neelkanth Mahadev Temple, Shivpuri, etc. are some other attractions on the way to Haridwar.
Accommodations in Haridwar
While in Haridwar, you can choose between hotels, homestays, and Oyo rooms depending on your budget. If you are planning for a lavish stay, you can opt for Bungalows by Airbnb with all facilities for a comfortable stay.
Food and Dining
Apart from serving as a cultural Abode, Haridwar is also a foodie's paradise. The street foods from Papri Chat to the spicy and tangy Chole Bhatures are mouth-watering making you crave more. Places like Devpura and Ranipur have numerous stalls serving lip-smacking North Indian foods. Rasmalai, Jalebis, Kulhar Wala Milk, Flavored Kulfi, Aloo Puri are some worth tasting dishes in Haridwar. The items are cooked in rich flavors with a combination of delicate spices.
Transportation
Jolly Grant Airport is the nearest to Haridwar with many state types of transport buses and private cabs and taxis available for transporting people from different parts of cities to Haridwar. Bus rides are also available at economical fares. If you are planning to travel by train, the Haridwar Railway Stations connects to all major cities in India.