Himachal Pradesh On a Budget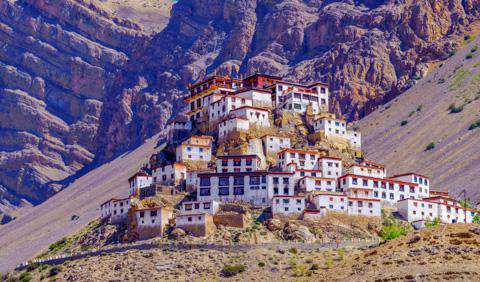 With a name that translates to "abode of snow," Himachal Pradesh is a state in north-western India with opportunities for experiencing the Himalaya mountain range. Visitors come to the region to experience the mountain scenery, engage in Tibetan culture, and learn about the region's ancient past.
Sights
With its close proximity to the Himalayas, the state of Himachal Pradesh is not lacking in striking mountain scenery with charming hills and valleys. Dalhousie, located in the western part of the state, is a hill station famed for such a backdrop. The area actually consists of five hills called Balun, Tehra, Kathlog, Patreyn, and Bakrota - all with churches and quaint colonial architecture. Kullu Valley is also known for its scenery, situated along the banks of the Beas River. Also known as "Vally of the Gods," Kullu is home to a number of ancient temples and festivals as well as a handicraft culture of woven wool products. Spiti Valley and Lahul Valley are also very scenic with rolling foothills and temples of their own.
There is plenty to see in the urban areas of the state as well. Shimla, the state capital, is best known for Jakhu Temple which offers mountain views from its location just above town. This temple, populated by monkeys, is said to be the place in the Ramayana where the monkey god, Hanuman, rested during his journey to the Himalaya Mountains. The Ridge offers another view over the city, and is also a hub for the cultural and social scene. Another popular center of activity is The Mall, which has shops, restaurants, bars, and more.
Regions
Himachel Pradesh is generally divided into twelve districts - Bilaspur, Chamba, Hamirpur, Kangra, Kinnaur, Kullu, Lahul and Spiti, Mandi, Sirmaur, Shimla, Solan, and Una. Its state capital is Shimla, a popular summer destination nestled in the foothills of the Himalayas. Other popular hubs include the small town of Bir for its Tibetan community and Buddhist monasteries, Dalhousie for its Victorian charm, Dharamsala as the home of the Dalai Lama and India's largest Tibetan communtity, and Manali as a hill station close to the mountains. Jogindernagar, Keylong, and Bilaspur are also well-visited locations in Himachel Pradesh as well as Sundernagar and Mandi.
Activities
At the base of the Himalayas, Himachal Pradesh is a popular base camp region for trekking, climbing, and skiing amidst the rugged terrain of the tallest mountains in the world. Visitors are also attracted to the region to learn about the Buddhist religion. There are many cultural and religious sites to visit, where anyone can attend worship or even classes about Buddhism. Some of the cities, like Dharamsala, offer lessons in the studies of yoga, meditation, healing practices, paragliding, cooking, and thangka painting. Many others also come to Dharamsala to meet, or at least see, the Dalai Lama. To meet "His Holiness" is a spiritual experience for Buddhists and memorable to all who respect the religion. It is not always easy to have this chance as the Dalai Lama travels frequently and private audiences are carefully chosen (applicants must supply detailed information about themselves and why they wish to see "His Holiness"). He does give scheduled public teachings, though they are often crowded.
Food and Dining
Cuisine of the Himachal Pradesh region is simple but nutritious, consisting largely of chicken and mutton with vegetables which include pumpkins, potatoes, beans, and beetroots. Some staple meals of the region include thukpa (noodle soup usually with chicken and vegetables), skyu (thumb-sized pieces of kneaded dough cooked in a kind of soup), and momos (dumplings). Other specialties comprise of khambir (a whole wheat local bread baked into a pan shape), butter tea (salty tea churned with butter), and chang (a light local brew of beer). These dishes are common throughout the mountainous regions of the Himalayas. Momos are a popular street food, served steamed or fried and stuffed with spiced potato, cabbage, spinach, radish, or carrot with chili sauce on the side. Any of the noodle dishes are also staples. Any of the popular destinations will have a variety of dining options from traditional to international flavors.
Transportation
The geographical location of the state makes transportation somewhat difficult. By plane, the main airports in Himachal Pradesh include the Kangra Airport (serving Dharamsala), Shimla Airport, and Kullu-Manali Airport - all which offer flights to and from Delhi.
There is very little rail connection except for the Kalka-Shimla railway track which is also a UNESCO World Heritage Site.
Bus is probably the most practical and cheapest way to enter the region with three routes coming from Delhi:
Delhi-Chandigarh-Shimla-Kaza
Delhi-Chandigarh-Bilaspur-Mandi-Manali-Keylong-Leh
Delhi-Chandigarh-Kangra-Dharamsala or -Chamba
Related:
Looking for a
hostel in Delhi
or
Goa
? Heading to
Kathmandu
or want a
party in Tel Aviv
?