Jammu and Kashmir On a Budget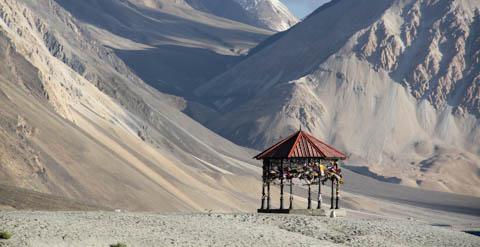 Jammu and Kashmir is the northernmost state of India. It is a mountainous region of the northern Himalayas with sweeping valleys, stunning lakes, and snow-capped scenery dotted with temples. While the region has been known for a border dispute with Pakistan, the unrest has been quieting and tourism is beginning to make a comeback. The area typically draws trekkers, those hoping to visit sacred temples, and others looking to experience Himalayan culture.
Sights
At the heart of Jammu is the Raghunath Temple, dedicated to the Hindu Lord Shri Rama. The interior walls of this temple are strikingly covered with gold, while surrounding temples in the complex are related to other gods from the Ramayana. Other Jammu landmarks include Bahu Fort and the Mubarak Mandi Palace.
In Srinagar, of the Kashmir Valley, the the Mughal Gardens are very famous, complete with terraced lawns, cascading fountains, and bright flowerbeds with boxes painted with a panorama of Lake Dal in front of them. The lake is noted for its houseboats and a unique floating vegetable market where vendors sell produce right from their boats on the lake. Other popular sights of the district include Hazratbal Mosque, Jamia Masjid Mosque, a mosque and shrine called Ziarati Hazrati Youza Asouph, and Shankaracharya Mandir - a Hindu temple dedicated to Lord Shiva on a hilltop. Just on the outskirts of Srinagar, there is also Parihaspora, a place of ruins of the palaces of Kahmir's Buddhist and Hindu rulers and Buddhist places of worship. Gulmarg is another unique destination. Surrounded by dense forest, this place is famous for its golf hikes with a beautiful highland golf course, as well as a ski resort holding the world's highest gondola.
On the other side of the state, Leh, of Ladakh, offers a picturesque hub for trekking and visiting temples nestled in the Himalayan Mountains.
Regions
Jammu and Kashmir is generally characterized by three regions: Jammu, Kashmir Valley, and Ladakh. The region of Jammu is the winter capital of the state, mostly situated in the in the Shivalik range of the Himalayas with temples amidst the stunning natural scenery of mountains and hills. The Kashmir Valley is also known for its beautiful landscapes, often called a paradise on earth with abundant gardens, lakes, and streams amongst the mountains. Srinagar is the central hub of this district, sometimes called the "Kashmiri Venice" due to its proximity to lakes and waterways like Dal Lake. Ladakh sits in a very mountainous area focused on natural scenery, Buddhist temples, and trekking opportunities. Its main town is Leh - a picturesque hub for exploring the district. There are a number of hotels, guest houses, and restaurants as well as plenty of opportunities for shopping at local bazaars and markets.
Activities
Adventure tourism brings many visitors to the region for activities like trekking into the high altitude lakes and peaks of the Himalayas. White water rafting on the Zaskar and Indus rivers is also common and can be organized from Leh in the region of Ladakh, as are activities like camping, fishing, biking, and wildlife watching. Additionally, visitors come to Jammu and Kashmir to learn more about the Buddhist religion and culture by visiting the region's temples. Shopping is, of course, another draw. Popular items with tourists include pashmina garments, locally handmade woolen socks, gloves, caps and sweaters, prayer wheels, Buddhist masks and Thangka paintings, Tibetan silver and traditional jewelry with turquoise, as well as handwoven rugs.
Food and Dining
Cuisine of Jammu and Kashmir largely consists of rice and meat, typically chicken or mutton. Most restaurants throughout the state will follow a mix of Kashmiri, Indian, Mughlai, and 'Indianized' Chinese tradition. Some of the local dishes of the Srinagar area include things like rogan-gosht (meat cooked in red gravy), gushtaba (soft meatballs cooked in natural yogurt), rishta (soft meatballs in gravy), tabakmaaz (deep-fried lamb ribs), and kanti (small chunks of meat cooked with onions). Meals of the Leh area vary slightly to include Himalayan favorites like thukpa (noodle soup usually with chicken and vegetables), skyu (thumb-sized pieces of kneaded dough cooked in a kind of soup), and momos (dumplings). As far as drinks go, tea is the predominant beverage. Kahwah is a traditional green tea recipe from Kashmir made from green tea leaves with saffron strands, cinnamon bark, and cardamom. Another favorite includes a pink salted tea called 'noon chai' or 'sheer chai.'
Transportation
By plane, flights operate mainly to Srinagar and Leh. Sheikh ul Alam Airport, commonly known as Srinagar Airport, offers international service with flights operated by Jet Airways, Jet Konnect Indigo, SpiceJet, Go Air, Jet Lite, and Air India (each flying once or twice a day). Planes also fly year-round to Kushok Bakula Rimpochee Airport in Leh. Flying is the only option in the winter season. Air India, Jet Airways, and GoAir have daily flights from Delhi and Air India flights are also available from Srinagar and Jammu. Be aware that luggage weight restrictions are strict and enforced at this airport.
By bus or other vehicle, there are two ways to get in by land - via Jammu and up to Srinagar or via Manali in Himachal Pradesh and up to Leh.
Currently, a railway is being built to connect the state of Jammu and Kashmir with the rest of the country. Commonly referred to as the Kashmir Railway, the project's official name is the Udhampur Srinagar Baramulla Railway Link (USBRL).
Related:
Looking for a
hostel in Delhi
or
Goa
? Heading to
Kathmandu
or want a
party in Tel Aviv
?