Delhi On a Budget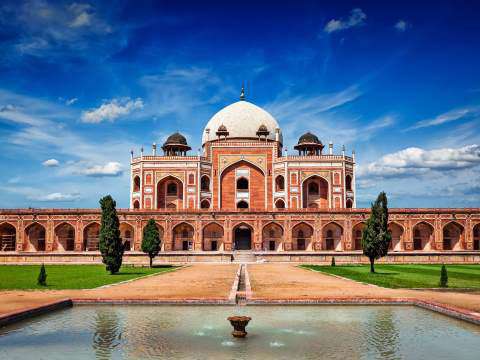 Delhi is the largest city in northern India and is officially the country's capital. The city has a population of 11 million with the metropolitan population reaching over 16 million. The city is similar in landscape to the rest of its surrounding area. It is very flat with the river Yamuna flowing on the eastern side of the city. The Aravalii Hills are in the western portion of the city. The city's history dates back to the 6th century BC and it has served as a capital for various kingdoms and empires.
The climate in the area is quite extreme, making it difficult to determine the best time to visit the area. The weather can be unbearably hot between April and June. The monsoon rains hit the city between July and September so the roads can be flooded and traffic congestion impossible to navigate. It gets surprisingly cold in December and January and fog can be extreme. Most people generally agree the best time to visit the city is either between February and March or October and November when weather is at its most pleasant.
Sights
There are countless sights around the city. Some of the most famous include the
Red Fort
, Humayun's tomb, and Qutub complex. Museums in Delhi include
Kiran Nadar Museum of Art
, Gandhi Smriti, the International Dolls Museum, the National Museum, the
National Railway Museum
, Nehru Memorial Museum, the Tibet House, and the National Handicrafts and Handlooms Museum. Monuments in Delhi include Rajpath, the India Gate, Jantar Mantar, Raj Ghat, Purana Qila, Tughlaqabad Fort, and Azaad Hind Gram. There are also countless temples and religious sights spread throughout the city.
Neighborhoods
Delhi is a large and sprawling city. It can be divided into the six districts: South Delhi, East Delhi, North Delhi, West Delhi, Central Delhi, and Old Delhi. Central Delhi is where you'll find Connaught Place and Khan Market. Old Delhi was the capital during the Mughal period and has the Kashmere Gate, Chandni Chowk, and Chawri Bazaar.
Activities
Just walking around Delhi can be an experience in and of itself. There are interesting neighborhoods that are worth exploring and the city's colors, sights, and scents all make for an adventure.
One of the best experiences in Delhi is to visit the numerous shopping areas around town. These can be a great place to
buy a souvenir from India
. Head to the Chatta Chowk, or covered market,
Connaught Place
, Paharganj market, Rajouri Garden Market, or Lajpat Nagar which all offer unique experiences. Also make sure you sample a variety of different restaurants and street food stalls throughout town. Soaking up as much of India's culture as you can is really the best way to experience the city.
Food and Dining
Food in Delhi is excellent. There are restaurants for all budgets. Street food is ubiquitous and delicious. Do make sure you find a place that prepares the food fresh and uses good hygiene practices. There are great restaurants in the Bengali Market near Connaught Place. This area is particularly known for its chaat. Chaat is a North Indian street snack that is comparable to tapas. They typically involve a deep fried pastry shell that is filled with potatoes or lentils among other things.
If you're looking for a break from Indian food, there are plenty of international restaurants around Delhi. Prices and food quality may vary. There are also a wide range of fast food restaurants including McDonalds, KFC, Subway, and Pizza Hut. These can typically be found within shopping malls.
Transportation
You're likely to begin or end your trip in Delhi as the city has the area's largest airport, the Indira Gandhi International Airport. Security is tight after terrorist attacks in the country, so even if you have purchased an e-ticket, you will be required to have a printed copy of the document so that you can enter the airport. These rules are taken quite seriously.
You have many options to travel around Delhi. There's a good metro system that is relatively smooth and efficient, but it can get very crowded, particularly during peak hours. Do keep an eye on your belongings as pickpockets are abundant. It is best not to carry valuables in your pockets when you travel by metro. Other options to navigate the city include rickshaws, buses, and taxis. The bus system might seem overwhelming at first but if you have access to a good map it's a great way to reach most points around the city.
It's best to approach travel in Delhi as an adventure. The traffic is horrible and chaotic and trips may take significantly longer than you expect. If you plan to take a taxi or rickshaw, negotiating the price in advance is a must, and drivers may quote a starting price that is ten times the going rate.
Related:
Looking for a
hostel in Delhi
or
Goa
? Heading to
Kathmandu
or want a
party in Tel Aviv
?