Karnataka On a Budget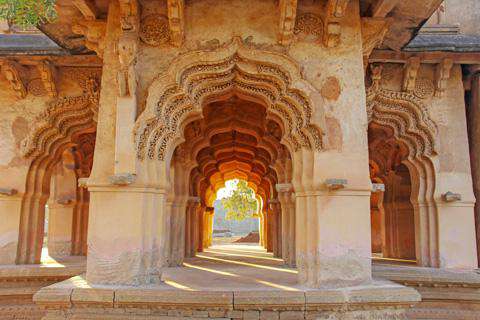 Karnataka is a state of southern India consisting of some of the country's most beautiful beaches along its coast and an inland area of mountains, valleys, and farmland. Visitors come to the region to experience the flavors and culture of south India, see its many ancient temples, and admire its natural features and wildlife.
Sights
Mysore Palace in the city of Mysore is one of the area's most impressive examples of architecture. With marble sculptures, paintings of the royal family, intricately carved rosewood doors, and ceilings inlaid with ivory exhibit a time of wealth and extravagance. Also in Mysore are parks and gardens like the Sri Chamarajendra Zoological Gardens, as well as a number of temples.
For more impressive temples and a wealth of history, visitors can also experience the town of Belur. Chennakesava Temple is perhaps the most impressive, dedicated to Lord Vijayanarayana, one of the twenty four incarnations of Vishnu. Other temples include the ruins of the Vijayanagar Empire in Hampi (a UNESCO World Heritage Site), the Badami Cave Temples, Shravanabelagola (an impressive Jain temple), and the Shri Marikamba Temple in Sirsi.
For an escape from the grandeur of antiquity and bustle of modern city life, visitors can also escape to the more scenic natural areas and national parks of the region. The Nandi Hills is one such place featuring sweeping plains and vineyards, as is Bandipur National Park which serves as a sanctuary for tigers and elephants. Other nature and wildlife areas include Nagarhole National Park, Bhadra Tiger Reserve, Anshi National Park, and Bannerghata Park.
Regions
Karnataka is generally divided into five regions - Cauvery Basin (Southern Karnataka, which includes Mysore), Central Karnataka (the region around Bangalore), Karavali (Karnataka's coastal region), Northern Karnataka (Gulbarga Division), and Northwestern Karnataka. Bangalore is the state capital and India's third largest city. It encompasses an area called Old Bangalore which dates back to the 9th century as a place called Bangaluru. The city has plenty of landmarks, both modern and ancient, some of which include the ISKON Temple and the UB City shopping center. Mysore is another popular city best known for its palace and mythical history. Other city hubs include Hubli, Mangalore, Belgaum, Bellary, Shimoga, Hassan, Udupi, and Tumkur.
Activities
In the state of Karnataka, activities range as far and wide as the landscape from stunning beaches along the coast to hiking in the mountainous regions inland. Some of the popular beaches include Karwar, Gokarna, Murudeshwar, Malpe, Ullal, and Mangalore, while activities like scuba diving are also available just offshore. Inland, the mountains lie to the west and are prime destinations for trekking featuring dense forests crossed by streams, rivers, and grasslands. Safaris and elephant rides are also available in some of the state's natural areas. Other outdoor activities include cycling, rock climbing, kayaking, camping, and cave exploration.
With a history rich in antiquity, Karnataka also has plenty of sightseeing opportunities in the more populated cities, towns, and ancient ruins of the state. Temples, like the ones mentioned above (and more), offer unique glimpses into centuries-old practices and traditions. The cities are also central hubs for transportation, shopping, dining, and entertainment.
Food and Dining
The food scene in Karnataka is typical of south Indian cuisine - largely consisting of rice, flatbreads, chutneys, pickles, snack foods, and both vegetarian and meat dishes. Meals are prepared in a variety of ways from curry sauces based in coconut milk to red gravies or white gravies, all usually served with rice. On the coast of the state, seafood is also common with dishes consisting of prawn, crab, pomfret, bangda, and surmai (kingfish). Seafood is often served in curries, pan-fried dishes, and pilaf. Herbs and spices used in much of the cooking include items like garlic, onion, coriander leaves, ginger, curry leaves, green chilli pepper, turmeric, mustard seeds, coriander, cumin, dried bay leaves, chili powder, cinnamon, cloves, black pepper, cardamon, and nutmeg. Local fare can be found throughout the state with great options for sampling in the major cities, like Bangalore, where street food is also popular.
Transportation
By plane, Karnataka has two airports which offer international flights to and from the region - the Bengaluru (or Kempegowda) International Airport in Bangalore and the Mangalore International Airport. Both are served by Air India, Jet Airways, IndiGo, and Spice Jet, while Bengaluru is additionally served by Air Arabia, Air France, Air Asia, British Airways, Qatar Airways, and Lufthansa, amongst others.
The major cities of Karnataka are also well-connected by rail with the station in Bangalore as the most important terminal.
Bus services are also available.
Related:
Looking for a
hostel in Delhi
or
Goa
? Heading to
Kathmandu
or want a
party in Tel Aviv
?