Bodh Gaya On a Budget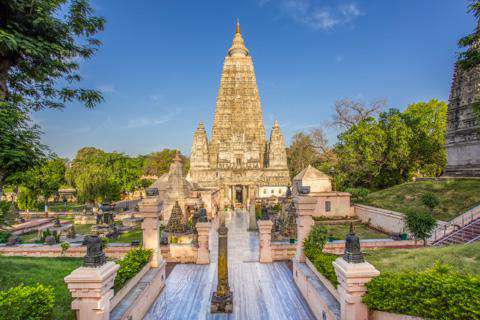 Located in the state of Bihar in the northeast of India, Bodh Gaya is the most respected place and pilgrimage destination for Buddhists. Bodh Gaya is believed to be the site where Buddha Shakyamuni achieved enlightenment while meditating under the famous Bodhi tree.
Prince Gautama Siddartha was born in the sixth century, B.C. in what is modern-day Nepal. Siddartha lived a comfortable life of extravagance as he was born the son of King Suddhodana of the Sakya clan, but after witnessing human suffering, Siddartha decided to give up all of his possessions and embarked upon a quest to seek knowledge and the solution to such suffering. It is underneath a Pipal tree near the city of Gaya, that it is believed he began to meditate until he became enlightened. Today, a descendent of the original Bodhi Tree is located in the Mahabodhi Temple Complex in the city of Bodh Gaya.
Weather in Bodhgaya is generally warm throughout the year, with daytime highs in the 90s during summer and nighttime lows in the high 40s during winter. Because Bodhgaya is centered around religious sites, pack light layers and plan to dress modestly. Remember that you'll be expected to take shoes off at all temples, so sandals may be easier to wear and a good time-saver.
Sights
Bodhgaya (or Bodh Gaya) is a small town known mostly for its UNESCO World Heritage Site, the
Mahabodhi Temple Complex
, which is the holiest of pilgrimage destinations for Buddhists. Inside the Mahabodhi main temple complex, you can see the golden Buddha statue on the diamond throne, the Mahabodhi stupa, the Bodhi tree, Muchalinda Lake, beautiful sculptures, paintings and scriptures. Check out the Cankamana, which marks the footsteps of Buddha as he walked back and forth around the temple complex.
Nearby, there are also many monasteries and temples of the various countries which practice Buddhism, such as those of Cambodia, Burma, and Vietnam. Each temple is built in its own culturally-influenced style of its native country. The Mahabodhi Chinese Temple, Shechen Tennyi Dargyeling (Tibetan temple), are within walking distance of the Mahabodhi Temple and Indosan Nipponji (Japanese temple), Royal Bhutan Monastery, and Thai Monastery are just a short rickshaw ride away. The Metta Buddharam Temple is one of the newer monasteries and can be visited even during construction. This one is remarkably different with its beautiful all-white Thai elements.
Be sure to visit the 25-meter high Giant Buddha Statue at Daijokyo Temple, one of the stops on the Buddhist pilgrimage circuit. Located about 11 kilometers north is Vishnupad Temple, believed to be built upon the footsteps of the Hindu Lord Vishnu. Hindus come to this religious site especially to perform Pind Daan, a sacred ritual in memory of their beloved who have passed, to ensure that they attain salvation in the afterlife.
History and religion buffs and devout Buddhists may also be interested to visit Dungeshwari Cave Temples, about are 12 kilometers northeast from Bodh Gaya. Also known as the Mahakala Caves or Sujatha Sthan, these are three caves which contain shrines for Buddhists and one for Hindus, where Buddha meditated. While the caves themselves are not impressive, visiting this site is more about the experience and understanding Buddha's life than it is about seeing a breath-taking tourist destination. This is a special place to Buddhists because it is believed to be the site where Buddha was offered kheer by an untouchable woman to help him regain his strength on his quest to enlightenment.
Food and Dining
Om Restaurant is well-known for outstanding Tibetan food in large portions and low prices. While the atmosphere may be lacking, diners keep returning for Thukpa and Thentuk soup. Dine at Siam Thai Restaurant for a taste of Southeast Asia. With beautiful, temple-like ambiance, a clean dining room, and delicious Tom Yum soup and pad Thai, the moderate prices may be worthwhile.
Hidden away in a small alley, Mohammed's Restaurant is a simple eatery which serves a variety of quality Indian, Chinese, Tibetan, Thai, and western fare at reasonable prices. Mohammed's also offers a solid internet connection and people return for their momos, cakes and pies.
Be Happy Cafe is a breath of fresh Western air if you're missing comfort foods like pizza, salads, and cakes. Prices are higher than typical local restaurants, but you're getting a break from spicy Indian food.
Run by a Tibetan family, Tibet Om offers Chinese, Tibetan, Nepali and Indian fare at low prices perfect for the budget traveler. This restaurant is definitely a no-frills kind of place, but more importantly, it's clean with friendly service. The delicious momos and sandwiches made with Tibetan bread are must-try items.
Accommodation
Travelers who wish to enjoy luxuries such as a swimming pool and modern amenities can find these creature comforts the Maha Bodhi Hotel, Resort and Convention Center. Mid-range hotels, such as Hotel Bodhgaya Regency and Hotel Bodhgaya Gautam and Bodhgaya offer basic amenities, such as air conditioning and include delicious meals.
Besides low-range hotels, budget travelers can also take advantage of staying at one of the many monasteries in Bodh Gaya. Go easy on your wallet while enjoying an immersive cultural experience. While a monastery will not be a luxurious accommodation, it undoubtedly exposes visitors to what BodhGaya is all about - touching base with the roots of the Buddhism. Most monasteries allow visitors to stay for donations and also provide simple meals.
Some places, such as the Root Institute are the perfect retreat for meditation, offering basic rooms as well as Tibetan Buddhism, meditation and yoga courses.
Transportation
Bodh Gaya's nearest airport is Gaya Airport, which is about five kilometers away from the Mahabodhi Temple Complex. Patna airport is the second closest airport at about 110 km away from the city. Patna is well-connected to Kolkata, Delhi, and Mumbai with several flights operating daily.
To get in and around the city, take a taxi, rickshaw, or rent your own car. Be careful or avoid driving into town from Patna, as the roads are rocky and narrow and the drive takes three hours.
To get to Bodh Gaya by train, the nearest train station is Gaya, which is about 17 kilometers away from the city. Several buses also serve Bodh gaya and are run by the Bihar State Tourism Corporation in addition to private buses. Buses go to and from Patna,
Varanasi
, Nalanda, Rajgir, Kolkata, and Bhutan.
Bodh Gaya is a small enough town that you won't need to drive much; a short rickshaw ride will be enough to see the main sites and the center is easily walkable.
Related:
Looking for a
hostel in Delhi
or
Goa
? Heading to
Kathmandu
or want a
party in Tel Aviv
?