Uttar Pradesh On a Budget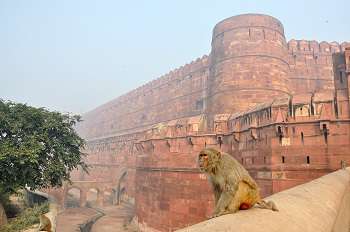 Uttar Pradesh is a state in the northern plains region of India. The vast region has an ancient and interesting history which has even been said to have inspired two great epics of India, the Ramayana and Mahabharata. It is most famous for the Taj Mahal, located in Agra - the tourist capital of the region.
Sights
The best known site in all of Uttar Pradesh is the
Taj Mahal in Agra
. Built between 1631 and 1648 by order of the Mughal emperor Shah Jahan in memory of his favorite wife, the landmark is a massive mausoleum crafted from white marble. While it is one of the most recognizable monuments in the world, seeing the place in person is a whole different experience. The grounds of the complex include several other beautiful buildings, reflecting pools, extensive ornamental gardens with flowering trees and bushes, and a small gift shop. Other well-known sights in Agra include the Agra Fort (a palace and defensive structure built out of red sandstone) and Fatehpur Sikri (which has one of the largest mosques in India and well-preserved courtyards and palaces). All three are UNESCO World Heritage Sites.
In the capital city of Lucknow, the Bara Imambara and Bhool Bhulaiya tomb complex is an interesting place to explore. Built in 1783, the place offer a labyrinth of old Mughal architecture that is very easy to get lost in, but well worth the visit.
Most of the holy cities (like Allahabad and Varanasi) are also major sites for spiritual pilgrimages. Many come to
Varanasi, for example, on a journey looking to bathe in the sacred waters of the Ganges River
. Dating back to the 11th Century BC, it is also one of the oldest continuously inhabited cities in the world. Centuries old temples make up the backdrop, as many come and come again to perform their holy rights at the edge of the historic river on stairs (called ghats) which lead right into the waters.
Regions
Uttar Pradesh is divided into five regions - Awadh (central), Doab (west and southwest between the Ganges and Yamuna rivers), Northern Bundelkhand (southwest), Purvanchal (southeast), and Rohilkhand (north). Lucknow, located in the central region of Awadh, is the state's capital city. With a very rich cultural and historical past, Lucknow has been at the heart of North Indian culture for many centuries. It thrives in areas of art, cuisine, dance, culture, music, and more. Other significant cities include Agra (tourist capital of India and home to the Taj Mahal), Allahabad (holy place where three rivers meet), Ayodhya (birth Place of Lord Shri Ram and Lord Rishabhdev), Kanpur (known for its leather works), Mathura (birth place of Lord Krishna), Sarnath (site of the Buddha Sakyamuni's first teaching after enlightenment), Varanasi (known for the sacred practices by the river Ganges), and the historic cities of Bareilly and Jhansi.
Activities
Most people who visit Uttar Pradesh come to experience the rich culture and heritage of India as well as important landmarks like temples, monuments, and palaces. Exotic markets and bazaars are fun get lost in where you might wander the day away amidst the lively bargaining culture - perhaps walking away with a souvenir of your own. There are plenty of interesting neighborhoods in the cities to explore, plenty of flavors to sample, and plenty of tours and museums for those interested in a more guided experience. Smaller villages are also fascinating to visit, offering unique perspectives on traditional life with the local peoples.
Food and Dining
Cuisine of Uttar Pradesh is largely influenced by Mughal and Awadhi cooking. The state is known for its use of mutton (sheep meat), paneer (a kind of fresh cheese), and rich spices including cardamom and saffron. Some of the more popular dishes found in the region include kebabs (marinated and grilled meats), dum biryani (made with a mix of spices, rice, and meat), as well as a number of mutton dishes. Snacks like chaat (savory fried snacks), samosa (fried or bake snack with a savory filling), and pakora (anything deep fried) also originate from Uttar Pradesh. Lucknow, the capital city of Uttar Pradesh, is especially popular with food lovers due to the variety available. It is a good place to find refined Muslim Indian food, while Varanasi is another foodie city more famous for Hindu Vegetarian styles like chaat (mentioned earlier), tikka, and kachori (spicy snack).
Transportation
By plane, the international airports of Uttar Pradesh include Gorakhpur Airport, Agra Air Force Station, Allahabad Airport, Bareilly Airport, Amausi Airport in Lucknow, Varanasi Airport, and Taj International Airport in Noida.
By train, India has one of the longest rail networks in the world. Operations are run by Indian Railways with stations located at just about every major destination. There are more than 400 stations throughout the state of Uttar Pradesh.
Related:
Looking for a
hostel in Delhi
or
Goa
? Heading to
Kathmandu
or want a
party in Tel Aviv
?