Odisha (Orissa) On a Budget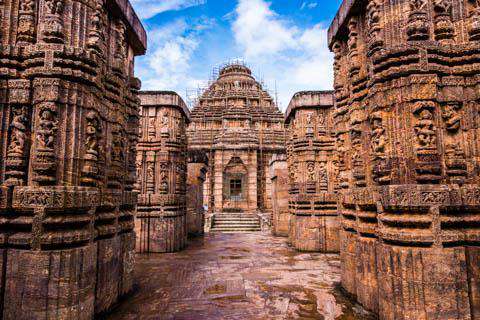 Formerly known as
Orissa
,
Odisha
is a state in eastern India located on the Bay of Bengal. It is best known for its many ancient Hindu temples and tribal cultures, as well as being a destination for beaches and eco-tourism due to its abundant greenery and wildlife.
Sights
First and foremost, Odisha stands out due to its massive number of ancient temples which beautifully portray architecture distinct to the region. One of the best known of these is the Lingaraja Temple at Bhubaneswar, thought to have been built by the Somavamsi Dynasty in the 9th century and still an active site today where Shiva is worshipped as Harihara, a combined form of Vishnu and Shiva. The Konark Sun Temple is another sought out destination as an UNESCO World Heritage Site. The complex was built in the 13th century in the shape of a gigantic chariot with elaborately carved stone wheels, pillars, and walls. The Jagannath Temple of Puri is another of the best known temples, as well as an important pilgrimage destination. It is particularly visited by devotees of Supreme lord Sri Krishna and is one of the 'Char Dham' pilgrimages that a worshipper is expected to make in his or her lifetime. These temples and hundreds more dominate the skylines of Odisha and are central to the region's culture.
With about 500 kilometers (311 miles) of coastline, Odisha is also home to many beautiful beaches. Some of these include Chandipur Beach, Gopalpur-on-Sea, Konark Beach, Astaranga Beach, Talsari Beach, Pata Sonapur Beach, Satpada Beach, Baleshwar Beach, Paradeep Beach, Satabhaya Beach, Gahirmatha Beach, Puri Beach, Ramachandi Beach, and countless others. In addition to beachfront, the state also hosts an abundance of lush green forests, hills, and valleys with picturesque lakes, waterfalls, and rivulets that make Odisha and ideal habitat for a wide variety of flora and fauna. Due to this abundance, many visit the region to experience the natural wonders that the place has to offer.
Regions
The state of Odisha is generally divided into four regions: Coastal Odisha, West Odisha, South Odisha, and Central Odisha. Coastal Odisha is home to destinations like
Bhubaneswar
– the state capital and transportation hub
Brahmapur
– also known as 'Silk City'
Kendrapara
– famous for Balabhadra temple
Balasore
– the old city of Odisha including Chandipur Beach, Panchu Lingeswar, Khirochora Gopinath temple
Puri
– popular tourist destination known for Jagganath temple and Golden Beach
West Odisha encompasses
Simlipal National Park
and a few cities, South Odisha is home to the town of Sunabeda (often referred to as the 'Kashmir of Odisha' as an ideal summer destination), and Central Odisha houses locations like Angul (an industrial hub, also called 'Aluminium city' distinct from the state's predominantly natural environments).
Activities
From sightseeing temples and major cities to escaping to the wilds of natural scenery, there is plenty of opportunity in Odisha to experience a diverse array of activities. While the temple sites offer a range of culture and history to be explored, the outdoors present another grounds for adventure in the wilderness. Take a glimpse into the past of the region's cityscapes or breathe in the fresh air of Odisha's greener habitats, the region offers the best of both worlds. The cities are prime locations to sightsee, explore traditional streets and architecture, visit museums, and explore outdoor markets, while the lush countryside offers insight into remote villages as well as a setting for hiking and wildlife watching.
Food and Dining
Cuisine of Odisha is less spicy and uses less oil than other regional Indian cooking. Rice and mustard oil are staples in most dishes as well as ingredients like plantains, jackfruit, mango, tamarind, and papaya. Also widely used in Odia cuisine is a blend of five spices known as panch phutana, which consists of mustard, cumin, fenugreek, aniseed, and kalonji. Fish and seafood like prawn and lobsters are commonly prepared into curry dishes on the coastal areas of the state, while freshwater fish is available from rivers and canals. In addition to curries, some other common dishes include those based in rice or roti (a kind of flatbread), dal (made from lentils, peas, and beans), chutneys, and saaga (or salad greens). Yogurt is also often used in dishes, while many traditionally sweets are made from a kind of soft cheese called chhena. Dishes like these can be sampled throughout the state, with plentiful options especially in the city areas.
Transportation
The city of Bhubaneswar in eastern Odisha is well connected by air, rail, and road to the rest of India. Biju Patnaik International Airport, located in the city, is the sole international airport throughout the state. It is served by Air Asia, Air India, Go Air, Indi Go, and Vistara with destinations including Bangalore, Chennai, Coimbatore, Delhi, Hyderabad, Indore, Kolkata, Mumbai, and Visakhapatnam.
By train, major cities of Odisha are well connected to all the major cities of India by direct daily and weekly operations. Most of the railway network in Odisha lies under the jurisdiction of the East Coast Railway with headquarters at Bhubaneswar, as well as some parts under South Eastern Railway and South East Central Railway.
To get around within the state, taxis and auto-rickshaws are available.
Related:
Looking for a
hostel in Delhi
or
Goa
? Heading to
Kathmandu
or want a
party in Tel Aviv
?