La Rioja On a Budget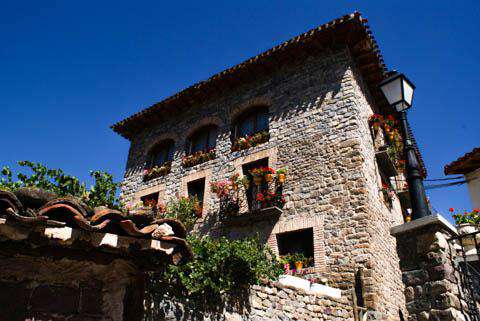 La Rioja is an area in northern Spain located in the Iberia peninsula. It is not as commonly known as some of the bigger cities, but it is a great place to visit. The area has more than 500 wineries, and though the area may not be well known as a tourist location, the name is often recognizable for its quality wine. La Rioja is full of natural beauty and Spanish culture. Because it is not as touristy as some of the larger areas of Spain, you are more likely to get a more genuine idea of real Spanish life and culture by visiting this region. The La Rioja area is nestled between cities like Burgos, Bilbao, San Sebastian, Pamplona and Zaragoza, so you are never far from the more popular northern cities.
Sights
One popular sight in the area is the Catedral de Santo Domingo de la Calzada. It is a spectacular gold painted Cathedral and corresponding museum that attest to the wealth of the area.
The Monasterio de Yuso, also known as El Escorial de La Rioja, has many wonders and treasures in its museum. It is one of the most popular monasteries in the area, the other being the Monasterio de Suso which stands above the caves where San Millán once lived. It is believed that a Monk once wrote the first Castilian words ever penned in this monastery.
The Iglesia de San Bartolome from the 13th Century is a spectacular church with beautiful architecture and is worth a visit.
Regions
Logrono is the capital city of the region and is located on the Ebro River. It is the center of trade in La Rioja. It is a bit area for wine and popular for Tapa's bars. Logrono is currently moving up in popularity as a top culinary location as it's local menus are gaining recognition.
Haro is a town in the northwest of La Rioja. It is a top destination for the quality red wine that the area is known for. Haro holds a yearly wine festival where locals come and hold a wine battle for the coveted title of best wine. It has some significant architectural structures as well, including the main entrance of the Santo Tomás Church, the work of Felipe Vigarny, numerous palaces, and the old town, which was declared a Historic-Artistic Site in 1975.
Activities
Vivanco is a must for wine lovers. You get the opportunity to tour the winery either before or after a tour of Museo de la Cultura del Vino (Museum of the Culture of Wine), where you'll learn the history and culture of wine and the various production processes.
A popular festival in the area, Fiesta de San Mateo, starts the Saturday before September 21st every year and goes for a full week. It doubles as a harvest festival and is a time when all of La Rioja comes together to celebrate as they participate in grape crushing ceremonies.
Food and Dining
Pintxos (Tapas) are popular in this area, and one of the best places to try some is at La Taberna de Baco in Logrono. They have more than 40 different plate options and are a popular stop among the locals.
For a unique dining experience, check out Bodega la Petra. At this restaurant you will have the opportunity to dine in a cave house, which are homes built by natural caves carved into the gorges around Arnedillo. They are famous for their superior meat dishes, but have a great selection of vegetarian dishes as well.
In Haro, the best restaurant is actually a group of three restaurants, known as Beethoven. All restaurants in this group have a great menu selection offering top quality regional dishes.
Transportation
The closest airport to the La Rioja region is
Bilbao
airport. This airport is both an international and regional airport and provides easy access to the region. The easiest way to get there from the airport is to hire a car, though there are bus and train options as well.
La Rioja is a region, not just a town, so getting around here can be tricky depending upon where you want to go and what you want to see. The best way to get to see all of the region is by car. You will have the option of going and seeing any of the area that you'd like and can get easily from town to town. There are buses and trains that connect the major towns in the region, though, so getting around is still possible without having a rental car.
Related:
Looking for a party in
Barcelona
or
Madrid
?
Traveling alone to
Granada
or
Seville
?
Find a
Contiki tour
to Europe.
Train and Bus Prices
The best prices for buses and trains in Spain
can be found on Omio
(formerly
GoEuro
). They let you search across all train, bus, and plane routes throughout the region.