Logrono On a Budget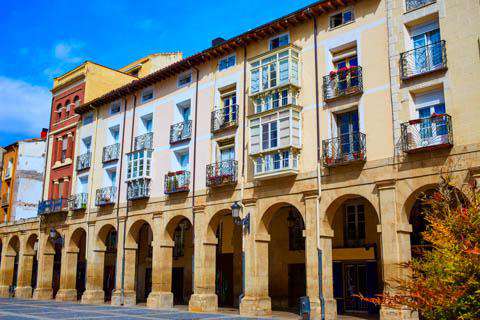 Logrono, Spain is in the northern portion of Spain located on the Ebro River. It is the capital city of the La Rioja region. It is the center of trade for Rioja wine, which is primarily what the area is known for, and the city also produces wood, metal, and textile products.
Logrono is a regal, traditional Spanish city. It has a gorgeous old quarter with quaint, narrow streets. It is much less touristy than many of the larger cities in Spain, but it is a fairly populated city with almost 200,000 inhabitants. It gained some popularity for its recent role in HBO's
True Blood
. Logrono is a beautiful, small, historic city that is well worth a visit
Sights
There are numerous churches to visit in the city with various architectural designs and styles, as well as many beautifully crafted stone bridges arching over the Ebro River. One church worth visiting is the Catedral de Santa Maria de la Redonda, which started out as a Gothic church before being turned into a full Cathedral in the 16th Century.
Another popular sight that is well worth a stop is the Museo de la Rioja. The Museo de la Rioja is a museum located in the center of Logrono, and offers an extensive look into Riojan history.
Centro Tematico del Vino Villa Lucia is another museum worth visiting if you're interested in wine. It is located just outside of Logrono and has an impressive collection including high quality wine from local producers. Museum visits are by guided tour only and include tasting.
Neighborhoods
Though Logrono is the capital city of the La Rioja region, it is still relatively small for a major city, so it really isn't broken up into specific neighborhoods. There is the city center area, which contains most of the food, wine, and shopping options in the city. There is also an area referred to as Old Town, which is where many of the historical sights such as churches and other architectural structures can be found.
Activities
The Rioja Trek is a great activity for wine lovers. It is located just outside of Logrono and offers a three hour wine experience. On this tour, you will get to visit a vineyard and bodega and actually get to participate in the process of making some wine, and you get to keep the bottle you make! The same company also offers wine tasting, family friendly related wine activities, as well as some trekking and hiking in the mountainous regions nearby.
Logrono is also home to the regions Wine Harvest Festival. It is a big time of celebration in the region and everyone celebrates by coming together and throwing wine at each other (all in white shirts).
Logrono is a city rich in history and tradition, and one of the biggest traditional things to do in this area include the pilgrimage of the Camino de Santiago, or the way of St. James, which includes a journey to
Santiago de Compostela
where the remains of St. James can be found. Logrono is one of the most important stops on many common routes to Santiago.
Food and Dining
One of the best reasons to visit this area, and Logrono specifically, is for the food. It has some of the best food in Spain and is well known for its pinchos, which is Northern Spain's take on tapas. You can find about 50 of these pinchos bars within a block radius, each of them offering a few specialties to avoid big competition and allow people a variety of choices. A few options worth a look are the Bar Lorenzo and La Aldea, which have great specialty dishes, but because each pinchos bar has their own style and selection, it's good to look around to see which one is more appealing to you (or better yet, try a few different ones and share with someone as this area is generally very reasonably priced.
Transportation
Logrono does have its own airport, but it is small and the cost is much higher than flying into one of the larger nearby airports.
Bilbao
airport is the closest reasonably sized airports, but Logrono is also accessible from Madrid airport. Logrono also has a recently renovated train system which is reachable from most destinations. The bus system is also very well connected to most major cities and so Logrono can be easily accessed from many places without a rental car.
The city does have a decent bus system to reach most destinations within the city, but most of the major destinations are reachable within a 30 minute walk in the city area. In addition, if you're interested in biking, the city has a great system of bike lanes throughout the majority of the city.
Related:
Looking for a party in
Barcelona
or
Madrid
?
Traveling alone to
Granada
or
Seville
?
Find a
Contiki tour
to Europe.
Train and Bus Prices
The best prices for buses and trains in Spain
can be found on Omio
(formerly
GoEuro
). They let you search across all train, bus, and plane routes throughout the region.