Ezcaray On a Budget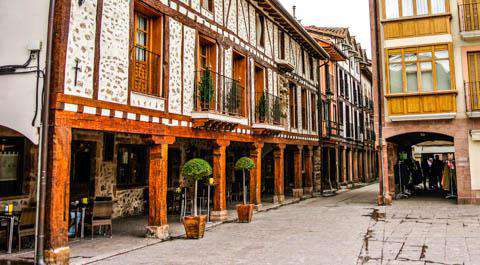 Ezcaray, Spain is a great place to go if you are looking for a scenic, relaxing, and peaceful destination. It is located in the Sierra de la Demanda mountains on the banks of the Oja river. Because of the mountain range nearby, it is also a great place for mountaineers. Ezcaray is a small town with big charm and momentous possibilities. It is located right at the base of the San Lorenzo peak in the Oja valley in the La Rioja region of Spain. The town has a population of less than 2,000, so it is a far cry from big city life, but that's part of what makes it such a gem to visit. Some say it is one of the best locations to get an authentic feel of real Spain without the big touristy populations. Its sheer beauty has also been compared to something out of a fairy tale.
Sights
Ezcaray has many stone structures and bridges in the area, which provide for great sight seeing and photo opportunities, specifically the bridges over the Oja river. Plus the environment itself is something to take in and enjoy. In the surrounding area you will find mountains, streams, and forests all beautiful in their own right. Whether you're up for hiking the mountains, or would rather just enjoy looking at them, they make a tremendously stunning sight.
Standing in the center of town, you will find the church of Santa Maria la Mayor, which was built between the 12th and 14th centuries. The church's Aragonese Gothic style is unique in La Rioja. The cylinder type towers of the church give it an appearance of a medieval fortress and palace. It has been declared a historic-artistic site and is definitely worth a visit. The downtown area, though much smaller than many bigger European cities, has a feel of authenticity and is a great place to experience some of the best of Spain.
Neighboring cities to Ezcaray include Santo Domingo de la Calzada, Pradoluengo, Belorado, and Banos de Río Tobia. And, of course, there is the surrounding natural landscapes which aren't specifically part of the town, but are definitely part of what gives the town the special atmosphere it has.
Activities
The mountainous region provides some of the best activities in the area. In the winter, it is a great place to visit because of its status as a top skiing destination. The Valdezcaray ski resort is located nearby and is a prime destination for many ski lovers.
In the summer time, the same mountain range provides numerous hiking opportunities. The trails vary in levels of difficulty and no matter which path you choose, it will be a gorgeous and worthwhile adventure. There are also many other outdoor activities to be had, such as fishing, water sports, horseback riding, and even hot air balloon rides.
Food and Dining
For a small town, Ezcaray has some excellent dining options. Many of the restaurants serve wine from local wineries in the La Rioja region, which are high quality and well-known options.
One restaurant in this small town, El Portal, has even earned its own Michelin star, and many say that a trip to this restaurant alone makes the journey to Ezcaray worth it. But El Portal is not the only local restaurant worth mentioning. Ezcaray has many restaurants worth visiting, including, Restaurante Echaurren Tradición, Restaurante El Portal de Echaurren, and EL RINCÓN DEL VINO – Ezcaray, all of which serve great local cuisine and wine options.
Transportation
To get to Ezcaray, the nearest airports are into
Bilbao
, an international airport about 75 miles away, or Logrono airport, which is a regional airport, but has connecting flights to larger airports such as Madrid or Barcelona. Once you arrive at the airports, the easiest way to get to Ezcaray is by hiring a car as there are no real direct public transportation options to Ezcaray. If you choose not to rent a car, there are options that go to other towns where you can transfer to get to Ezcaray. There is bus service to Ezcaray from Logrono, Santo Domingo de la Calzada, and Haro, with connections to all major cities in Spain.
There is no real public transit system in Ezcaray, as it is a relatively small town. Renting a car is your best option if you would like to have motorized transportation during your stay, but it is possible to get around the small town on only foot traffic.
Related:
Looking for a party in
Barcelona
or
Madrid
?
Traveling alone to
Granada
or
Seville
?
Find a
Contiki tour
to Europe.
Train and Bus Prices
The best prices for buses and trains in Spain
can be found on Omio
(formerly
GoEuro
). They let you search across all train, bus, and plane routes throughout the region.