Aberdeen On a Budget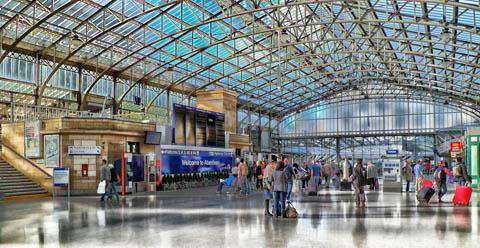 Aberdeen is a commercial city on the East coast of Scotland, rich in culture and Medieval history. Known primarily for their oil, gas and fishing industries, Aberdeen combines both quaint accommodations with modern shops and restaurants. This city provides a taste of everything Scottish: from their traditional restaurants, to the architecture dating back over 300 years, and their pristine golf course.
Aberdeen's climate is oceanic, allowing for them to have more mild winters that result in short days and cold nights. Come summer, days can last as long as 18 hours and stay around 60 degrees Fahrenheit, with mostly overcast skies-perfect for golfing and walking tours.
Sights
The city of Aberdeen is, in itself, a sight to see. Dating back to the Medieval times, you'll find many granite buildings still standing, such as Provost Skene's House from the 17th century and the Marischal College from the 16th century. Walk North through the town and make your way to Brig o'Balgownie, a bridge from the 13th century that crosses the River Don, and is even featured in Lord Byron's poem, Don Juan.
You can't leave this coastal city without taking some time to visit the harbor; you can get a good view from the Maritime Museum, or just take a walk down there. You'll find plenty of restaurants and bars around the area, so take a sunset stroll and then pop into a pub for an evening pint.
Neighborhoods
The most popular neighborhood in Aberdeen is their city center, The Green. The main street here is Union Street, where you'll find dozens of pubs, restaurants, and shopping options. This is also the area where you'll find the majority of tourist destinations, such as His Majesty's Theatre.
On the east end of the harbor, you'll find the Fooddee, or Fittie as locals call it, area. This neighborhood dates back to the Medieval times when they built homes specifically for the fishing community of Aberdeen. Now, it's an eclectic neighborhood that combines the old granite buildings with more modern ones, making it a great place for a scenic walk.
Just an hour train ride away is Balmoral Castle located in the Cairngorms National Park, which also happens to be the summer home of Queen Elizabeth. When the Queen is not in residence, you can tour the castle for 11.50, which grants you access to the vegetable gardens, the special exhibitions in the stable area, and the Ballroom. When you visit the castle, you can also take some time to tour the Park, and even take a safari tour!
Activities
Aberdeen boasts a large stretch of gorgeous beaches where you can take a relaxing stroll along the North Sea. Start on the North end of the beach and work your way South to Codona's Amusement Park complete with roller coasters, a Ferris wheel and indoor bowling.
If you've come to Scotland during the warmer months, check out the Royal Aberdeen Golf Club, located on the coast just north of the River Don. This golf club lays claim to being the sixth oldest golf club in the world and has hosted numerous golf championships. While the club is private, visitors are welcome; prices vary by season and course.
If you're looking for a classic Scottish Castle, look no further than Dunnottar Castle in the scenic Stonehaven Village, just an hour train ride south of Aberdeen. You can tour the village, then take a walk from the harbor to the castle for some incredible views.
Food and Dining
Thanks to Aberdeen's varying cultures and increasing popularity, the majority of restaurants here are modern and sleek, offering takes on Italian, French, Turkish and Scottish cuisine. Be prepared to call ahead for reservations to many of these restaurants. If you're in the mood for something more local, take a walk along Union Street and pick up some of the freshest fish and chips around!
Of course, no day in Scotland is complete without a pint. Union Street is the place to go for over a dozen bar and pub options ranging from the traditional Scottish pub to more modern, upscale, bars. You can even head to one of the 15 whiskey distilleries in the area for a night of tastings!
Transportation
Aberdeen is a great walking city though buses are the easiest-and least expensive-option for getting around. You can purchase weekly or single day tickets from the post office. Taxis in Aberdeen are a huge tourist trap; they're known to be some of the most expensive in all of the UK. Try your best to stick to walking and buses, or look into local apps that may provide cheaper car transportation options.
When taking day trips outside of the city, use ScotRail, the country's train system that will take you exactly where you need to go. Tickets can be purchased online or at the train station. During busy periods, try to purchase your ticket online to be sure to get a seat.
Related:
Traveling
alone to London
or
Edinburgh
?
Looking for a party and need a
hostel in London
?
Find a
Contiki tour
to Europe.