Orkney Islands On a Budget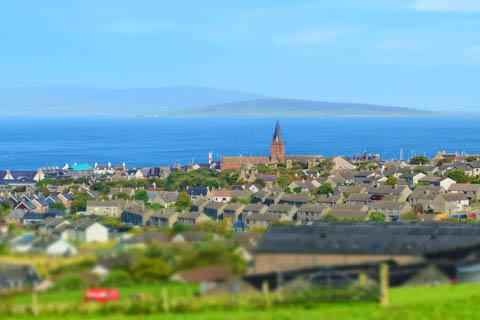 The Orkney Islands are located off the north coast of mainland Scotland, offering incredible sights and activities set against the Atlantic Ocean. Having been inhabited for over 5,000 years, Orkney is an archaeologist's dream as ancient relics are discovered all the time, meaning there are endless places for tourists to explore. The best time to visit Orkney is from May-October, when temperatures tend to stay between 50-65° Fahrenheit and rainfall is at it's lowest. Although, with their location on the sea, rain and heavy winds are very common, so be sure to always have waterproof clothing and shoes around!
Sights
Begin exploring Orkney with a trip to Skara Brae, a 5,000-year-old Neolithic village that was only discovered in 1850 after a major storm opened up the site. There is a path that overlooks Skara Brae where you can admire the ancient stone work then wander through the replica of the village at the Skara Brae Museum. At the museum, book a tour for Maeshowe, a 5,000-year-old burial cairn. Once inside of Maeshowe, marvel at the perfectly engineered architecture and the 900-year-old Norse graffiti carved into the stones. Near Maeshowe is the Ring of Brodgar, an ancient stone circle which originally had 60 stones, although only 36 remain today. As the site has not been fully excavated, it is still a mystery as to what exactly the ring was used for.
Also, one of the most visited sights in the area is the Roman Catholic Italian Chapel, constructed by prisoners of war during World War II. It is said to be one of the
most beautiful churches in Europe
, and shouldn't be missed.
Neighborhoods
Orkney has over 70 islands that are divided between the North Isles, Mainland, and South Isles. As only 20 of the islands are inhabited, with a total population of around 11,000 people, there are some islands that are of more interest to tourists than others. The main island of interest is Mainland Orkney, home to the capital city, Kirkwall. This is one of the best places to set up base when traveling Orkney as it offers plenty of accommodation and restaurants. Key cities on the Mainland include Stromness and St. Margaret's Hope, both of which are ferry ports to enter Orkney through.
Other major islands include Hoy, Rousay, and Westray. Hoy is home to the famous sea stack, the Old Man of Hoy, which you can reach from the North Hoy ferry point. Rousay is a beautiful island with much historical significance; you'll find ruins, cairns, and artifacts that go all the back to the Neolithic Period. Finally, there is Westray, another historically important island that features a lovely lighthouse and the 15th century Lady Kirk Church.
Activities
Orkney is ideal for all sorts of outdoor activities, including scuba diving, kayaking, hiking, and cycling. For a scenic hike, head to the Old Man of Hoy, a sea stack located on the northern part of Hoy Island. The six-mile hike to the sea stack begins at the North Hoy ferry point and traces through the beautiful landscape to the cliff side. You can either admire the sea stack from the cliff, or wander down the natural steps to the base. If you prefer a more leisurely walk, head to the Brough of Birsay where you use a causeway that's only accessible at low tide to walk to the small island of Birsay. You can walk the entirety of the island, stopping at the lighthouse and Neolithic settlement on your way around. Just be sure to watch the water levels as the sea covers the causeway during high tide.
Food and Dining
Orkney's food culture places a strong emphasis on using locally grown produce and meat, especially beef and North Ronaldsay lamb. Seafood is also very popular on the island, especially hand-dived scallops, lobster, and crab. There are a few distilleries on Orkney, including The
Scapa Distillery
and Orkney Brewery, where you can get incredible whisky. For the most restaurant options, look to the city of Kirkwall where you'll find the fantastic Kirkwall Hotel Restaurant and the delicious The Reel.
Transportation
Orkney Islands Car Rental Prices
Compare prices across all major rental companies:
To get into Orkney, you can take a domestic flight from mainland Scotland to Kirkwall or take a ferry from mainland Scotland. The two major ferry companies are Pentland Ferries and Northlink Ferries, both of which are car ferries so you can easily bring your car onto the island.
One of the easiest ways to get around Orkney is by car as attractions on the island are spaced fairly far apart. If you need to rent a car, you'll likely find cheaper prices and more options if you rent it from mainland Scotland, then ferry the car over to Orkney. If you prefer not to drive, you can use the local bus service which ranges in cost depending on how far you ride. Outside of Kirkwall and Stromness, there aren't many designated bus stops, meaning you just flag down the bus when you see if in smaller villages!
Related:
Traveling
alone to London
or
Edinburgh
?
Looking for a party and need a
hostel in London
?
Find a
Contiki tour
to Europe.
Train and Bus Prices
The best prices for buses and trains in United Kingdom
can be found on Omio
(formerly
GoEuro
). They let you search across all train, bus, and plane routes throughout Europe.