Saint Andrews On a Budget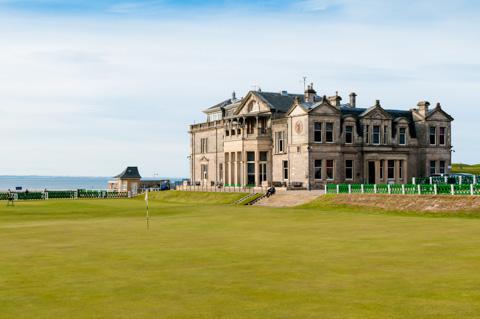 Saint Andrews is a small town on the east coast of Scotland, facing the North Sea. It is best known as the home of golf and host to the oldest university in Scotland, University of Saint Andrews.
Sights
Founded in 1413, the University of Saint Andrews grew out of the cathedral, and has flourished today into a bustling university of about 7,000 students. One of its most famous alumnus is Prince William, who attended in the early 2000s, but the campus is also known for its magnificent historical architecture. The 16th century St. Salvador's chapel is one such landmark, located within the historic Quadrangle of St. Salvator's College on North Street. On South Street there is also the historic quadrangle of St. Mary's College, which features buildings like Lower Parliament Hall, the School of Psychology (which was formerly the University Library), and a famous tree on the right hand side of the quad that was planted by Mary Queen of Scots.
There are also a number of historic landmarks outside of the university. Visitors can explore the
ruins of Saint Andrews Castle
overlooking the sea, home of the Bishops of Saint Andrews before the Reformation. The structure was also a fortress and prison before it was left to ruin in the 17th century. Also nearby are the remnants of Saint Andrews Cathedral and Saint Rule's Tower. There is a museum that tells the history of the cathedral and visitors can climb the tower for spectacular views of the town.
Other attractions include the Saint Andrews Botanic Garden, Saint Andrews Preservation Trust Museum and Gardens, both of which featured beautifully landscaped gardens, as well as an Aquarium, British Golf Museum, Saint Andrews Museum, and the Pier and Harbor area.
Neighborhoods
Saint Andrews is small enough to navigate on foot. In fact, many visitors park just outside of town and take a bus in because parking directly in town can be difficult and expensive. The cobble-stoned Market Street is the town's central thoroughfare and is lined with plenty of tourist-friendly shops and dining options. Running parallel to Market Street are North Street and South Street, which also have access to tourist shops and restaurants. The Links, located alongside the golf course on the north end of town, is more of the same, though mostly golf-themed. Generally, shops around Saint Andrews sell Scottish souvenirs, golf paraphernalia, and wool products. Visitors can also find University of Saint Andrews merchandise at the University gift shop. Additionally, there are plenty of restaurants, five supermarkets for groceries, a butcher's ship on Bell Street, a fishmonger on Market Street, and a famous bakery on Church Street.
Activities
In addition to the historic lure of the university and surrounding castle ruins, Saint Andrews also draws visitors for its association with golf. The main golf course can be difficult and expensive to access, so golf enthusiasts should contact
The Royal and Ancient Golf Club
(one of the oldest in the world) well in advance. However, there are many other golf courses that serve great alternatives for playing. The famous Old Course hosts the Dunhill Cup each October and the Open Championship every five years.
Saint Andrews also has access to a handful of beaches. West Sands and East Sand are the largest and second largest respectively, and are both accessible from the Scores, while Castle Sands is the smallest and is located just below the castle.
Additionally, Saint Andrews can be experienced via sightseeing tours, ghost tours, golf trips, and other group and guided activities. There's plenty to keep you occupied here, it's not just all about golf. Check out this great
guide with 24 things to do in St. Andrews
for more information.
Food and Dining
Saint Andrews is a great place to sample traditional pub fare-items like fish and chips, bangers and mash (sausages and mashed potatoes), stews, soups, and just about any kind of meat pie you could ask for (often called pasties). A few additional specialties in the UK include black pudding (black sausage), steak and kidney pudding, pickled eggs, and plenty of coffee and tea shops. One particularly tasty snack in Saint Andrews is "chips and cheese"-steak fries smothered in salt, vinegar, and melted cheese-the perfect pub grub to accompany any cold brew. Being a popular tourist destination, however, Saint Andrews also has international options to please any palette, including Chinese, Indian, Italian, and Thai. In addition to pubs and bars, there are plenty of cafes, delis, takeaway, and food shops, as well as both casual and fine dining.
Transportation
The nearest major international airport to Saint Andrews is at Edinburgh, located about 51 miles (83 kilometers) away. From the airport, visitors can arrange a car, take a direct bus (operated by Stagecoach Fife), or hop on the train to the nearby town of Leuchars and then take a bus or taxi to Saint Andrews. The station in Leuchars also receives trains from London Kings Cross, making the airports in London another way of travel en route to Saint Andrews.
Train and Bus Prices
The best prices for buses and trains in United Kingdom
can be found on Omio
(formerly
GoEuro
). They let you search across all train, bus, and plane routes throughout the region.