Southampton On a Budget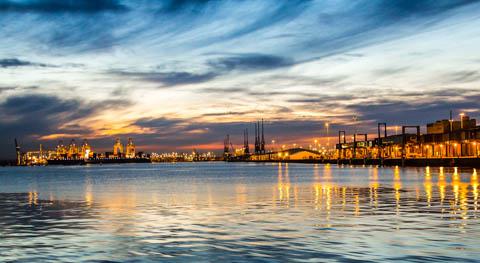 A port city on the southeast coast of England, Southampton is a relatively large city in England. It is home to two universities so much of the population is generally young and there are no shortage of activities around town. The town dates back to the Roman and Saxon times and you can see some of the Roman ruins in a suburb named Bitterne Manor. During the Sazon times, the city was Britain's premier trading post. The city put up a protective wall during the Middle Ages and some remains of this wall can still be seen around town. The architecture throughout Southampton is quite modern, in large part because much of the city was destroyed during World War II.
The climate in Southampton is oceanic, and comparable to that found throughout the United Kingdom. It is slightly warmer than the rest of the country because it has a low elevation and is sheltered from harsh weather.
Sights
There are a couple of sights around town including the Bargate, which is a medieval gatehouse, and the Central Parks, which are enjoyable to walk around. There are also a good number of museums around town, with some of the more interesting ones being the Museum of Archaeology, the Maritime Museum, and the Medieval Merchants House.
Neighborhoods
In Southampton's city center you'll find the West Quay shopping area. If you're in town on a Friday then head to this area for market day. It's about a hour's walk from this area to Ocean Village. Ocean Village is predominantly made up of houses and apartments along with some interesting pubs and restaurants. To the north of the city center is Portswood and the university. There is no good beach around town, but a nearby option is Calshot.
Activities
There is also no shortage of activities around town. With a large student population, there are many theaters around town where you can take in a show. Several popular ones include the Mayflower, the Nuffield Theatre, and the Turner Sims Concert Hall.
Every year Southampton also plays host to the Southampton Boat Show, which is interesting to attend if you happen to be in the area.
Food and Dining
If you're looking for a good place to eat, your best options are to head to either Oxford Street, High Street or Bedford Place. Oxford Street tends to have the more expensive restaurants that are absolutely delicious, but may cost more than you're looking to spend. The area has a very European atmosphere and there is plenty of outdoor seating. This is a great area to dine on a nice day when you can enjoy the sunshine.
High Street has a good mix of both restaurants and pubs. There are some good, but somewhat expensive international restaurants. These include Thai, Italian, Japanese, Chinese, Greek, and Indian options.
Bedford Place has a diverse selection of options with many different ethnic restaurants and some affordable fish and chips options as well. They are a good value if you're on a budget. There are international options that include Chinese and Mexican at the south end of the road. As you move further down the road you'll find many curry houses and late night kebab and chip shops that cater to the student crowd.
You'll also find plenty of fast food restaurants spread out all around town. If you're desperate for a McDonalds or any other chain, then you're likely to find it somewhere in Southampton. There are also plenty of pubs and bars, many of which cater to the young student crowd, which keeps them lively and cheaply priced.
Transportation
The city is somewhat sprawling in nature, and while there are some facilities catering to cyclists, the options are quite limited. There are a few bike routes, but they are not well connected. Biking is possible in the city center. You can walk through some parts of town as well. It's possible to walk from the Bedford Place student area at the northern edge of the city's center to the waterfront. Much of this route is designed specifically for pedestrian foot traffic.
If you want to fully explore the city and you don't have access to your own car, then you're likely to spend most of your traveling time on the bus system, which is actually quite good and reliable. Buses usually run every ten minutes during the day. Most routes start in the city center and radiate out from there. There's also a free shuttle bus from Central Station to Red Funnel Ferry terminal that is run by the City Link services. The shuttle has drop off points at West Quay Shopping Centre and High Street. It runs every 15 minutes between the hours of 7:30 am and 6:30 pm and then every half hour until 10 pm.
Related:
Traveling
alone to London
or
Edinburgh
?
Looking for a party and need a
hostel in London
?
Find a
Contiki tour
to Europe.
Train and Bus Prices
The best prices for buses and trains in United Kingdom
can be found on Omio
(formerly
GoEuro
). They let you search across all train, bus, and plane routes throughout the region.