Columbia River Gorge On a Budget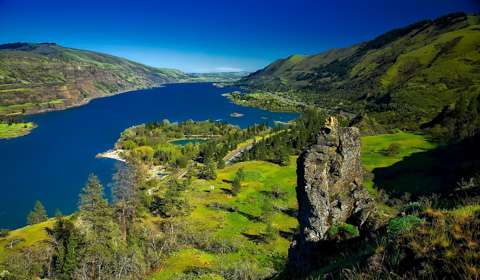 Columbia River Gorge is a popular destination in the Cascade Mountains in the Pacific Northwest. The region's close proximity to Portland, which is just 30 minutes away, makes it a popular weekend destination.
The gorge is formed by the Columbia River, with an 80 mile stretch designated as a National Scenic Area. The area has many beautiful cliffs with a number of tall waterfalls and its protected status means that most new development must occur within one of the already established towns.
Sights
There are a number of attractions spread throughout the Columbia River Gorge. Many destinations are along the Historic Columbia River Highway, which is a 20 mile stretch of US Highway 30 that dates back to 1915 and weaves its way through the gorge passing by impressive waterfalls and beautiful forest. There are a number of trails and viewpoints along the way.
Multnomah Falls
is the most visited in the area. It's an impressive sight with two major drops. The upper falls is 542 feet and the lower falls is 69 feet.
At one viewpoint you'll find the
Vista House
, which has a few exhibits and grounds that you can wander around.
Several towns in the area have museums that are worth exploring. The Columbia River Gorge Discovery Center is located in The Dalles. You can also visit the Bonneville Dam visitor center which has exhibits and an observation area. There are also tours, nature trails, and a picnic area.
And of course, spend some time in
Hood River
.
Neighborhoods
The Columbia River Gorge Scenic Highway
has a number of places to stop, most notably
Multnomah Falls
, which is the most popular waterfall in the area. The area has impressive views and beautiful hikes of varying difficulty that you can enjoy.
Another popular stopping point is
Crown Point Vista House
, which offers impressive views and a unique octagonal building. It looks out over the gorge with spectacular panoramic views.
The Dalles
is one of the oldest settlements on the west coast and it offers a fascinating history with museums, restaurants, and inns that you can stay at.
Activities
The Columbia River Gorge is all about natural beauty. There are a number of outdoor activities that visitors can enjoy including fishing, hiking, and even windsurfing because of the area's strong winds. Camping is also a popular activity in the area with a number of campgrounds around.
The Hood River Valley is known for its fruit orchards and wine vineyards. Spring is a great time to visit if you want to see them in full bloom. Visitors often enjoy wine tasting and visiting orchards in the area where they can sample a number of fruits.
Another fun activity is a visit to the historic fish hatchery at Bonneville Dam. While there you can learn about the process of how small fish grow into fully grown rainbow trout.
Food and Dining
There are a number of good local restaurants in the Columbia River Gorge area, particularly in the nearby towns. It's also fun to pick up some fresh fruit and pack a picnic for your drive along the scenic highway.
Transportation
Columbia River Gorge is about half an hour from Portland, Oregon. You really have to have your own car to explore the area. The scenic highway along Route 30 can get a bit congested during weekend summer months, but the views and hiking are well worth the trouble.