Georgia On a Budget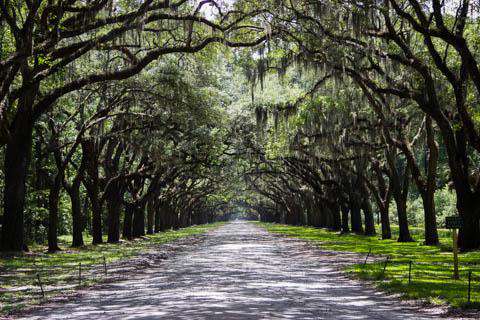 Founded in 1733, the U.S. state of Georgia was the last of the 13 original colonies that became the first 13 U.S. states. Though Georgia has a long history, most of its historic sites hone in on the Antebellum and Civil War eras and the civil rights movement. With a scenic coastline, Appalachian Mountains in the west, plus both rural and city areas, the state of Georgia also has one of the most diverse landscapes in the American south.
Sights
Being a state full of changing landscapes, the scenery alone encompasses some of the most stunning sights in Georgia. The Appalachian Mountain Trail, for example, runs through the northern part of the state with opportunities for many stunning views of the topography. Also located in this region are the Amicalola Falls, the largest waterfalls east of the Mississippi River. The region of rolling mountains changes to farm country dotted with cities as you travel further south. Georgia as a whole is a mix of the old and new-countryside full of fresh air and barbeque, and the cities full of bustling entertainment and history at every turn. Then, there is the coastline, stretching scenically along the Atlantic Ocean. Savannah, of course, is the best known historic port while places like Saint Simons Island, Jekyll Island, and Cumberland Island make for popular vacation destinations on the beach.
The city of Atlanta is home to many attractions including the headquarters of CNN and Coca-Cola, the largest aquarium in the world, Centennial Olympic Park, Georgia State Capitol, Fox Theatre, and Zoo Atlanta. Just outside the city, there is also Stone Mountain which is a massive dome-shaped mountain that hosts laser shows on Saturday nights and a cable car to the summit.
Regions
The largest and capital city of Georgia is Atlanta. Home of Coca-Cola, the city exists as a mix of the old and new with sleek skyscrapers balanced by southern traditions. Atlanta is dotted with peach trees and pleasant parks, yet it is bustling with people around every corner and is home to one of the busiest airports in the world. It is a modern city full of shopping, entertainment, dining, and things to do. Savannah, on the other hand, is the old south-historic and thriving with traditional charm. It was Georgia's very first city, and exists today with blocks of historic homes surrounded by shady oaks draped with Spanish moss. The old port of the city still lies along the Savannah River, paved in traditional cobblestone roads and radiating with old southern charm. Other prominent cities in Georgia include Athens, Augusta, Blue Ridge, Columbus, Dalton, Macon, and Valdosta.
Activities
With the Appalachian Mountains running through Georgia's northern lands, Georgia is a popular destination for hiking trails within and along the mountain chain. Springer Mountain marks the southern terminus of the Appalachian Trail, running all the way north to Baxter State Park in Maine. The trails here offer many opportunities for viewing wildlife and hiking to overlooks, whether you wish to take a day trip, weekend campout, or backpack the entire trail up to the state of Maine.
Other ways to experience Georgia's natural wonders exist along the coastline at places like Okefenokee National Wildlife Refuge and the Cumberland Island National Seashore. These are the home to many species of water bird like egrets, herons, and cranes in addition to other swamp life like toads, frogs, turtles, lizards, snakes, and alligators. The Georgia coast is a popular place to dip in a canoe or kayak, or relax on one of many sunny beaches.
Of course, Georgia's cities have much to offer in the busier range of activities-sightseeing places of history, attending shows and performances, endless shopping, eclectic dining, museums, galleries, and a varying collection of elegant architecture. There are also a few plantations worth a visit, another major part of Georgia's history.
Food and Dining
In most of the southern United States, barbequing is a favorite pastime-and Georgia is no exception. All types of meat are prepared grilled and smothered in thick sauce, but pork is traditionally the most common in the state. Barbeque festivals are also held throughout Georgia. Meals like these are often accompanied by corn on the cob, and sometimes cornbread. Brunswick stew is another more traditional mix of tomatoes, lima beans or butter beans, corn, okra, other vegetables, and meat into a thick soup. Fried chicken remains another favorite dish, while seafood becomes more common closer to Georgia's coast on the Atlantic. Other well known and loved foods in the state include pecans, peaches, and peanuts-and they are often baked into pies and cobblers.
Transportation
The main airport in the state of Georgia is Hartsfield–Jackson Atlanta International Airport, located in the capital city, Atlanta. It is served regularly by Air Canada, Air France, Alaska Airlines, American Airlines, British Airways, Delta, Frontier Airlines, KLM, Korean Air, Lufthansa, Qatar Airways, Southwest, Spirit Airlines, Turkish Airlines, United, US Airways, and Virgin Atlantic.
As far as driving goes, all of the major interstates pass through Atlanta. I-75 runs northwest-southeast, I-85 runs southwest-northeast, and I-20 runs west-east. I-95 runs along the east coast of the state in a north-south orientation, and passes near Savannah.
Related:
Looking for a
party hostel in Las Vegas
or
San Diego
? Traveling alone to
NYC
or
LA
? Want a budget hostel in
San Francisco
?