Jekyll Island On a Budget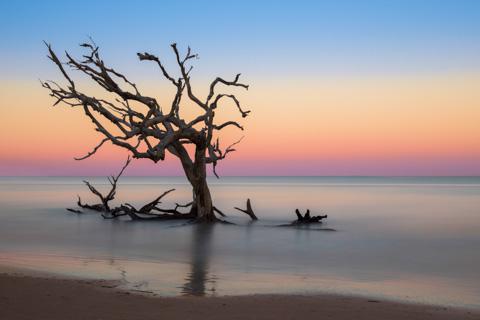 Jekyll Island, located just off the coast of the U.S. state of Georgia, has become a popular vacation destination for beach-goers and adventure seekers alike as one of the state's "Golden Isles." The historic district is full of late nineteenth-early twentieth century buildings to explore, and the places left to nature are full of beauty and are inhabited by an array of local wildlife.
Sights
Like on any island, Jeckyll Island is known for its beaches-Driftwood Beach being the most popular. Located on the north end of Jekyll Island, the place is full of weathered trees and branches that make for a unique photo opportunity. The beach extends from the Clam Creek Picnic Area to the Villas By The Sea Resort and Conference Center and is only a short walk away from the Jekyll Island Campground. Also in the northern vicinity of the island are the ruins of Horton House which was built in 1742, and stands as one of the oldest surviving buildings in the state.
The southern end of the island is known for Glory Beach whose boardwalk passes through a variety of natural habitats ranging from ancient dunes to freshwater sloughs. It is also home to the South Dunes picnic area, and the St. Andrews picnic area which is a popular location to see fishing birds and dolphins surfacing for air. Great Dunes Park is another good waypoint for beach access.
Neighborhoods
The Jekyll Island Historic District is one of the main hubs on the island, the centerpiece of the district being the Jekyll Island Club Hotel. It was private club on Jekyll Island founded in 1886, and was frequented by some of the world's wealthiest families, including the Morgans, Rockefellers, and Vanderbilts. It was opened and closed as a resort over the years, and was designated a historic landmark in 1978. Today it operates as a hotel and is surrounded by many other historic buildings constructed in the same era. Some of these buildings are available for rent, while others now exist as museums, galleries, or bookstores. Some opportunities for dining, shopping, and the Jekyll Island Museum are also located here. The historic district hugs the shore of the Fancy Bluff Creek to the west, while the Jeckyll Island Golf Course sits to the east.
Activities
As far as activities go, both mini and regular golf are popular throughout the island with many different courses and challenges for players of all abilities. Fishing of all sorts is also common, including freshwater lake fishing, surf fishing off of the beach, and charter offshore trips. Crabbing and shrimping are also popular amongst visitors. Walking and biking trails are available almost everywhere, and the Summer Waves Water Park makes for a family fun day enjoying its waterslides and attractions.
If you are looking to get a little closer to nature, there are a few places on the island that offer dolphin and whale watching tours. The Georgia Sea Turtle Center, located in the historic district, is a premier marine life rehabilitation, research, and education facility that offers hands-on activities for all ages. It is a great way to spend the day, learning a bit more about the coastal ecosystem and the critters that inhabit it. The Tidelands Nature Center offers a similar kind of experience-in addition to kayak tours, canoe rentals, and guided nature walks.
Food and Dining
Most dining options are located along the eastern side of the island, and being an island, fresh seafood options make up much of the available cuisine. Driftwood Bistro further north offers a casual setting of low country cuisine and local shrimp dishes, plus a seasonal outdoor bar that is popular with vacationers. Other laid back seafood eats can be found at a place like Tortuga Jack's, while Latitude 31 is known for a more refined experience with a raw bar and dinner items like shrimp & grits, seafood crepes, and scallop & mussel linguini. Other options at Latitude include sherry crab bisque, fish & chips, dungeness crab legs, shrimp po boy, and lobster rolls. Satisfying, casual eats on the island can be found at places like Love Shack BBQ Shrimp & Yardbird, Club Cafe, and Red Bug Motors Pizza.
Transportation
Jeckyll Island Airport is open to the public, though planes are privately owned. The nearest major airport is probably the Jacksonville International Airport in Florida, which is served by Air Canada Express, Allegiant Air, American Airlines, American Eagle, Delta Airlines, Delta Connection, JetBlue Airways, Silver Airways, Southwest Airlines, United Airlines, and United Express. It is located about 65 miles south of Jekyll Island, via I-95.
By car, the only route on or off of Jekyll Island is by the Downing Musgrove Causeway (GA State Route 520). The Causeway can be accessed from Brunswick via US Highway 17 South and from I-95 by Exit 29 and travelling North on US Highway 17. There is a fee of $6.00 USD to enter the island, annual passes available.
Related:
Looking for a
party hostel in Hawaii
or
Miami
? Traveling alone to
LA
or
New Orleans
? Want a budget hostel in
NYC
?