Savannah On a Budget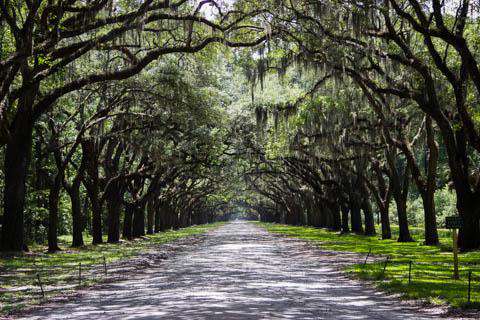 Savanah is a reasonably priced city by U.S. standards. With a wide range of accommodation and food options, it's possible to experience this historical city on a cheaper budget, or, if you like, to live it up in luxury without spending an inordinate amount of money.
The oldest city in the U.S. state of Georgia, Savannah sits right on the Savannah River, a historic commercial port dating back to the Thirteen Colonies. The old port of the city still lies along this river, paved in traditional cobblestone roads and radiating with old southern charm. Savannah is also known for its many small parks, tunnels of oak trees and magnolias draped in southern moss, romantic horse-drawn carriages, as well as some of the most ornate antebellum architecture to be found in the south.
Whether you are interested in the past of a historically prosperous seaport or wish to enjoy the enchanting atmosphere that it still holds, Savannah is a quaint destination full of beauty with an arsenal of historic appeal to match.
Sights
Just wandering the streets alone from park to park will bring you past some of the most charming sights of the city. Little neighborhoods enclose each little park making them seem like courtyards for the grand architecture surrounding them. Tall trees draped in southern moss provide a magical kind of shade from the heat of the day as you journey through the city.
Forsyth Park
, located at the city's center, encompasses 30-acres lined with paths and athletic areas. It is popular spot for local events and weekly farmer's markets. In addition to the parks and historic houses, Savannah is also home to many museums, the breathtaking Gothic-Revival Cathedral of Saint John the Baptist, and the picturesque Bonaventure Cemetery, which has captured the imagination of writers, poets, photographers and filmmakers for more than 150 years.
Neighborhoods
The Historic District of Savannah is the place to see if you are looking to experience a little piece of old southern charm. With cobblestone streets, beautiful colonial architecture, and Spanish moss lined avenues, you could spend the day getting lost in another time and place. One famous home in the district is the birthplace of Juliette Gordon Low, the founder of the Girls Scouts, located at 10 East Oglethorpe Avenue.
The Old Port of Savannah on River Street is a charming cobble-stoned district lined with shops, cafes, bars, and restaurants with waterfront views. This area of the city caters to tourists and so is the place to find whatever souvenir you are seeking from t-shirts and knick-knacks to postcards and salt water taffy. River Street also has a thriving nightlife.
Activities
The long list of
things to do in Savannah
starts off with visiting Savannah's Historic District, the
Cathedral of St. John the Baptist
, Forsyth Park, and Bonaventure Cemetery. All of these attractions can be seen on foot with a group or on an adventure of your own. As mentioned before, the city is full of history and historic homes that now house museums like the birthplace of Juliette Gordon Low, the Owens Thomas House, and the Scarborough House which is now home to the Ships of the Sea Museum. Being an old town with a rich history, another fun activity is to book a ghost tour of Savannah. Usually held at night, these tours give insight to the spookier side of the city's history.
If you want to see another side of Savannah's past, the
Wormsloe Historic Site
offers a look at the grounds of an old cotton plantation on the outskirts of the city. After a drive down the 1.5-mile oak avenue, visitors are welcome to explore the ruins of Noble Jones' fortified house, a museum, and a demonstration area interpreting colonial daily life. While the historic site encompasses a whopping 882 acres, the Wormsloe House that stands today and its surrounding acreage are still owned by the descendants of Noble Jones and closed to the public.
Food and Dining
Savannah cuisine is a rich mix of exotic influences, brought in by the spice trade and from the slave trade as well—slaves who settled from the Savannah River south, Gullahs, from the Carolina Low Country, mixed with Scots, Moravians, Germans and French. From seafood stews and gravy and grits to barbeque briskets and fried chicken, Savannah eats are hearty and homey and good for the soul. The restaurants that draw the most crowds are located on River Street; however, there are also a few gems located inland like
Mrs. Wilkes
, A.lure, Circa 1875, and Wiley's Championship BBQ. As far as dessert goes, look no further than Leopold's Ice Cream.
Transportation
Savannah Car Rental Prices
Compare prices across all major rental companies:
Arranged on a perfect grid perpendicular to the Savannah River lined by River Street, Savannah is an easy city to navigate on foot. However, if you are looking for public transportation to find your way, the best method is on the Dot. Dot is Savannah's fare-free Downtown Transportation system. It allows users to Ride the rails on the historic River Street Streetcar, and hop on the ferry to Hutchinson Island and the Savannah International Trade & Convention Center.
The express shuttle operates every 20 minutes or less, serves 11 stops around the Historic District, and connects to municipal parking facilities, visitor centers, streetcar and ferry.
The River Street Streetcar operates Thursday-Sunday - 12noon - 9pm, and the Savannah Belle Ferry runs daily 7am-midnight.
Chatham Area Transit Authority also provides public transportation, shuttles, and bus services throughout the city.
The nearest airport to the city is the Savannah/Hilton Head International Airport, where rental cars, shuttles, and taxis can be procured for travelers.
Related
Looking for a
party hostel in Las Vegas
or
San Diego
? Traveling alone to
NYC
or
LA
? Want a budget hostel in
San Francisco
?
Train and Bus Prices
The best prices for buses and trains in United States of America
can be found on Omio
(formerly
GoEuro
). They let you search across all train, bus, and plane routes throughout Europe.