Bar Harbor On a Budget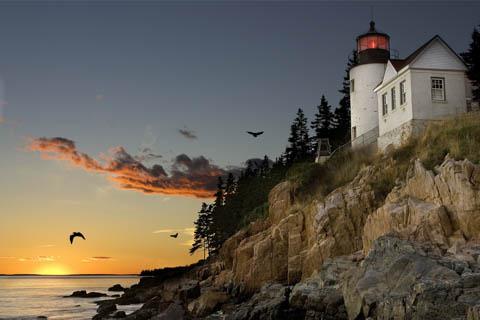 Bar Harbor is a seafront town located on Mount Desert Island just off the coast of Maine. The Wabanaki Indians who seasonally fished, hunted and gathered berries, clams, and other shellfish in the area, called it the 'clam-gathering' or 'clambake' place. Eventually the area was settled by Europeans who established industries in fishing, lumbering, shipbuilding, and agriculture. Its maritime scenery even attracted artists of the Hudson River School like Thomas Cole, and the area soon became a seasonal resort for the affluent, comparable to that of Newport, Rhode Island.
A drought and wildfire in 1947 destroyed many of the homes on millionaires' row, a few historic grand hotels, permanent homes, and a great deal of the neighboring Acadia National Park. Fortunately, Bar Harbor's business and historic district were spared, where several former summer homes now operate as historic inns.
Today the town is thriving with many quaint shops, museums and galleries, places to eat, and its proximity to Acadia National Park. Whether you wish to enjoy the charm of a historic seaside town, or prefer to explore the rugged landscape of the surrounding area, Bar Harbor provides a comfortable home base for travelers seeking a getaway.
Sights
The best way to see the history of Bar Harbor in action is to take a walking tour. A historic walk will take visitors past 25 magnificent structures-some on the National Historic Register-dating as early as 1860. Tours usually start near the center of town from the Village Green, and in just a few miles, take tourists past elegant mansions, historic churches, and refurbished public buildings. Many important stops are indicated by signs titled Museum in the Streets.
Beyond the town's center, there is much to see in nature and wildlife in the surrounding areas. At low tide, a sand bar from town to Bar Island is exposed and open to pedestrians as the water retreats. Visitors can walk across to Bar Island, while many use the sandbar for shell-collecting or as a kayak launch. Then, there is of course Acadia National Park, which encompasses more than 47,000 acres woodland, rocky beaches and glacier-scoured granite peaks like Cadillac Mountain, the highest point on the United States' East Coast. The mountain looms over Bar Harbor as one of the natural focal points, and the area is home to wildlife like moose, bear, whales and seabirds.
Neighborhoods
The streets of Bar Harbor are lined with specialty and shops and galleries, featuring handcrafted Maine items from jewelry to maple syrup, as well as the works of local artists. There is a selection of outdoor outfitters to gear you up for any adventure from hiking in Acadia to kayaking on the coast, many stores selling practical Maine clothing, and yet others that feature designer trends. Antique shops will take you on another kind of adventure, while specialty stores will reel you in with the lure of kitchen accessories, tea supplies, soaps, candles, and other quirky gifts. As mentioned before, the town is also home to many historic buildings that still stand today, giving Bar Harbor the charm of another time and place.
Activities
In addition to the great shopping and historic appeal, downtown Bar Harbor comes alive in the summer and autumn months due to its draw for the outdoor enthusiasts. The town provides a certain refuge for those looking to experience the rugged landscape of Acadia National Park. Outdoor activities in Acadia include hiking along trails or carriage roads, biking along the carriage roads, bird watching, and mountain climbing, yet many also enjoy a simple walk along the oceanfront trails on the outskirts of Bar Harbor.
Another way to see the outdoors is to enjoy touring the sights by sea. Boat tours from the harbor include whale-watching trips, a sunset cruise, a naturalist-led ride among the neighboring islands, an old-fashioned sail, or even a trip on a lobster boat. While many of these tours are keyed in on specific sights, it is not unlikely to catch sight of wildlife like puffins, whales, lobster, seals, or island seabirds. Kayaks are also available for rent for those who wish to explore the waters and see native critters at their own pace.
Food and Dining
As far as food goes, Maine is known for three things: clam chowder, blueberry pie, and lobster rolls. Being situated on an island, you won't find seafood any fresher. Restaurants in Bar Harbor often serve entrees that were caught that very day, straight from the bay. While a lobster dinner may have you hooked, Bar Harbor also features pub fare, international flavors, farm-fresh cuisine, and fine dining al fresco. Restaurants in town are always bustling for breakfast, lunch, and dinner-yet the night is also lively with many cozy cocktail bars, lounges, and hangout spots, where you can sit back and enjoy the evening after a long day of sightseeing.
Transportation
In regards to public transportation, Island Explorer is a shuttle system that features eight bus routes linking hotels, inns, and campgrounds with destinations in Acadia National Park and neighboring village centers of Bar Harbor.
There are also a few local taxi services like At Your Service, Inc. and Bar Harbor Coastal Cab.
By air, the nearest airport is Hancock County-Bar Harbor Airport, located 12 miles from Bar Harbor with a daily scheduled airline service to and from Boston. Bangor International Airport is located about 50 miles from Bar Harbor and is serviced by Delta Air Lines, US Airways, and Allegiant Air.
By car from Boston, follow I-95 through to Bangor (exit 182-A, 395), then pick up Route 1A to Ellsworth and follow Route 3 to Bar Harbor.
Related:
Looking for a
party hostel in Hawaii
or
Miami
? Traveling alone to
LA
or
New Orleans
? Want a budget hostel in
NYC
?