Kennebunkport On a Budget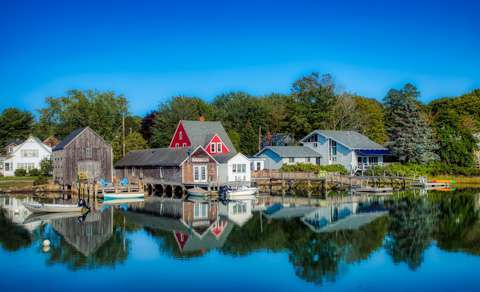 Kennebunkport is a beautiful coastal town in southern Maine that attracts a number of tourists who enjoy it's quaint atmosphere, upscale shopping, and great restaurants. While the town's history is grounded in the shipbuilding and fishing industries, it long ago became a summer holiday destination for wealthy New Englanders. The town is now one of the wealthiest areas in the state of Maine. It's also notable as the location of Walker's Point, which is a vacation estate for the Bush Family.
Sights
People head to Kennebunkport in large part to enjoy the area's beaches. Some of the most popular publicly accessible beaches include
Kennebunk Beach, Gooch's Beach, Mother's Beach
, and
Parson's Beach
. Other popular sights in the area include the Franciscan Monastery, The Kennebunkport History Center, and the Seashore Trolley Museum.
Neighborhoods
At the heart of Kennebunkport's town center is
Dock Square
. This area sits along the Kennebunk River about a mile from where it meets the Atlantic Ocean. The area is where you'll find the highest concentration of art galleries, seafood restaurants, and souvenir shops. There are also a number of bed and breakfast in the town center.
Nearby
Cape Porpoise
was the original town center and today it manages to hold on to some of its historic fishing harbor charm. This village has a few restaurants, a church, a grocery store, library, art gallery, and coffee shop.
Burbank Hill
is another nearby historic town center that has a few historic buildings such as a schoolhouse and jail.
You can head along Ocean Avenue from Dock Square to explore the Cape Arundel Summer Colony Historic District. This area has a number of early 20th century cottages that are impressive. You'll end the trip at the famed Walker's Point.
Activities
People explore Kennebunkport to soak up the town's atmosphere. There's plenty of high end shopping to enjoy as well as several historical buildings and homes that you can visit. If you want to get out on the water, whale watching is a fun activity, but the sightings can be hit or miss. Golf lovers will appreciate Cape Arundel Golf Course and Webhannet Golf Club.
Food and Dining
Kennebunkport has a number of great seafood restaurants that include fine dining options and more casual fares. Head to Dock Square for a high concentration of local restaurants that you can choose from. Lobster, oysters, clams, mussels, and fish are all fresh, delicious, and prepared in a number of ways.
Head to the water for restaurants with the best views. Many have patios that let you enjoy mild temperatures while you look out on the beautiful landscapes.
Transportation
Kennebunkport's town center is best explored on foot. The area is very pedestrian friendly with wide sidewalks and plenty of shops that you can pop into. You really need a car to travel between towns in the area as once you reach the edge of the town center, the area isn't as pedestrian friendly.
If you're driving to a nearby beach, you usually have to purchase a permit to park right by the beach during the summer months. There are a number of parking options a short distance away from the beach though, so if you don't mind a short stroll, these are a good option.
Cyclists will enjoy the Eastern Trail and Bridal Path. These bike paths are popular with bikers and walkers alike.