Woodstock On a Budget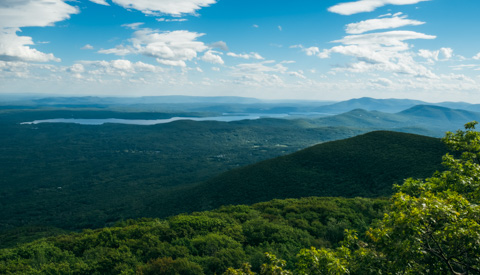 While this town does lend its name to the 1969 Woodstock Festival, the legendary event was actually held on a dairy farm almost 60 miles away in Bethel, NY. So if you are looking to see the field where it all happened and a museum dedicated to its history, you will need to take a day trip outside of town.
Woodstock, New York, however, does stay true to the spirit of the arts. Since 1903, the place lay home to Byrdcliffe Art Colony, the oldest of its kind in the nation, and even attracted artists of the Hudson River School during the late 1800s. Today, artists from all disciplines-visual, ceramic, music, fiction, nonfiction, screenwriting, playwriting, and poetry-take up residence at the colony and have works displayed in galleries open in the main part of town.
Tinker Street and Mill Hill Road are lined with a mix of restaurants and shops all teeming with the essence of hippie living, arts, and spirituality. From shops selling Woodstock paraphernalia, incense, and Himalayan products, to yoga studios, vegan restaurants, and local art galleries-the town of Woodstock is one dedicated to keeping the spirit of the Woodstock Festival and the arts alive.
Sights
The main part of town is an attraction in itself with eccentric shops and quirky shopkeepers to match. From odd consignment shops, toy stores, and used book sales to those loaded with your hippie needs and souvenirs, the stores of Woodstock can keep one busy for an entire day.
Just up the mountain, however, on Woodstock's outskirts lay some breathtaking sights as well. At the center of town, take Rock City Road to Meads Mountain Road all the way to the very top. Here you will find the Karma Triyana Dharmachakra Tibetan Buddhist Monastery. It is an active monastery for worship and is open to visitors during certain hours. Bright colors and glimmering prayer lanterns decorate the inside of the monastery as well as a giant golden Buddha and cushions for meditation. Visitors are required to remove their shoes before entering.
Also located at the top of this road is the entrance to the Overlook Mountain Trail. Views of the surrounding mountains are a beautiful backdrop for the colorful monastery, but the trail has even more to offer. The hike is about 5 miles round-trip, usually taking about 3 hours to complete. It will bring you past a fire tower open for climbing, jaw-dropping cliff views, and even the ruins of an abandoned Mountain House hotel.
Neighborhoods
The center of town lies at the Village Green where Tinker Street and Mill Hill Road meet with Rock City Road. As mentioned before, this area is the hub for shops and restaurants. A public parking lot and seasonal restrooms are located just off the main drag on Rock City Road. From here, the town is walkable. Most shops and restaurants are located on the main road, however, be sure to keep an eye out for the gems set back a ways. Each shop has its treasures waiting for the right buyer to come in. Things like incense, candles, Himalayan prayers flags and tapestries, knick knacks, shoes, clothing, antiques, books, toys, teas, musical instruments, and just about everything tie dye can be found at the shops of Woodstock. The Woodstock Chamber of Commerce, courthouse, CVS pharmacy, grocery stores, and plenty of restaurants are also located in the main part of town.
Activities
Beyond shopping and dining, the town of Woodstock is also home to a handful of local art galleries. The Center for Photography at Woodstock often holds exhibitions, workshops, and lecture series, featuring the works of contemporary photographers. The headquarters of the Byrdcliffe Guild, also located on Tinker Street, provides artist residencies and holds events like exhibitions and workshops (listed on their website). The Woodstock Artists Association and Museum is located just next door and is committed to exhibiting and collecting work by local artists, and supporting the tradition of Woodstock as a "Colony of the Arts." The town even has a theater called the Woodstock Playhouse, which has staged plays, musicals, concerts & other artistic performances since 1938.
Other activities in the area include exploring the great outdoors, hiking on trails like that of Overlook Mountain or the Shawankgunk Mountains, located about 30 miles south of Woodstock. Being a town of the Catskills, Woodstock sits in a valley of mountain scenery, making it a landscape of breathtaking views as well as a playground for outdoor activities.
Food and Dining
Again, Tinker Street and Mill Hill Road are dotted with shopping and dining opportunities. If you are looking for a quick bite or a sandwich to take along your hike, you can pick up something at a local deli or enjoy a sit down sandwich at a place like Provisions, rated number one restaurant in Woodstock on TripAdvisor. Other top restaurants include Oriole 9, a casual organic cafe, and Garden Cafe which serves a completely Vegan menu. Being a town of the hippie living Woodstock festival spirit, many of the restaurants and groceries have organic and vegan food readily available. Other cuisine options include Mexican, Chinese, Indian, pizza, bakeries, and ice cream.
Transportation
Adirondack Trailways provides a bus service between Woodstock and NYC's Port Authority five times daily (check website for schedule details). The stop is located at the Village Green on Tinker Street.
By car, Woodstock can be reached via the NYC Thruway 84. Take exit onto NY-28, then a right onto NY-375, and a slight left onto NY-212.
Related:
Looking for a
party hostel in Hawaii
or
Miami
? Traveling alone to
LA
or
New Orleans
? Want a budget hostel in
NYC
?