Olympic National Park On a Budget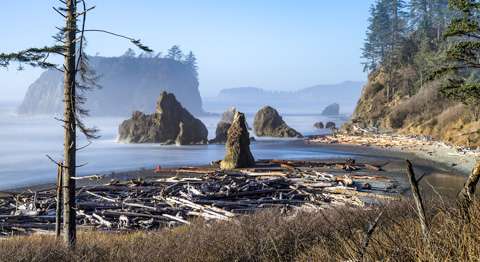 Olympic National Park is in Washington State and was originally established as a national monument in 1909. The area is known for its large Sitka spice and Douglas fir trees, which can be found in the Hoh and Queets rainforest valleys on the western side of the park. The area's temperate rainforest climate creates lush thick moss and dense vegetation that gives the setting a fairytale quality.
The summers are typically mild during the summer months with wet winters being common. If you want to see the sun, your best best is during the months of July and August. During the winter months snowfall can be heavy in the mountains.
Sights
Like with most national parks,
Olympic National Park
is all about the unexpected experiences and wildlife sightings. In Hoh Rainforest it's not uncommon to see herds of elk and other wildlife.
Plenty of family-friendly activities can be found here too, so check out this
list of things to do with kids in Olympic NP
. There are also a number of beaches, usually designated simply by a number. Sol Duc Hot Springs are also another popular place to visit. There's also a swimming pool where you can take a dip.
Regions
Olympic National Park can be divided into several different regions that each have their own habitats and landscapes.
Hoh Rainforest
has a moss covered forest where it's not uncommon to spot herds of elk. From there it's an 18 milk hike that leaves from the Hoh Visitor Center and climbs to the summit of Mt. Olympus.
Hurricane Ridge is another area that has a diversity of hiking trails. This is a great area to see wildflowers in the summer and views of the surrounding Olympic mountain range.
Lake Crescent is a glacial lake that has a striking blue color and clear water. The Lyre River flows out of it and it's fed by nearby creeks. The area has a number of great trails.
The Coastal Strip is the natural coastline with dramatic views. It can be reached from Kalaloch, La Push, Ozette, and Neah Bay.
Lake Quinault is another glacial lake that's created by Quinault River and surrounded by lush rainforest.
Cape Flattery, which is actually outside of the park on the Makah Indian reservation. It offers spectacular views of sea caves and a dramatic coastline.
Activities
Olympic National Park is all about outdoor activities. Hiking, kayaking, camping, and backpacking are all common in the park.
Food and Dining
Most decent restaurant options are found in hotels and lodges around the park. Some of the more popular options include Salmon House Restaurant and Lounge (Rain Forest Resort Village), Kalaloch's Creekside Restaurant (Kalaloch Lodge), Lake Crescent Lodge Dining Room, Sol Duc Hot Springs Restaurant, and Roosevelt Dining Room (Lake Quinault).
Alternatively, many visitors prefer to pack their own food and enjoy picnics within the park.
Transportation
You really have no option but to drive in Olympic National Park. US-10 loops around the Olympic Peninsula with roads that offshoot into different parts of the park. To get further into the interior you must backpack as there are no roads.
Popular parts of the park include the beach area which can be reached from US-101 between Forks and Aberdeen. Hurricane Ridge is accessible from a road near Port Angeles.
If you want to visit the less popular eastern side of the park, then head to Staircase or Quilcene.