Colorado Springs On a Budget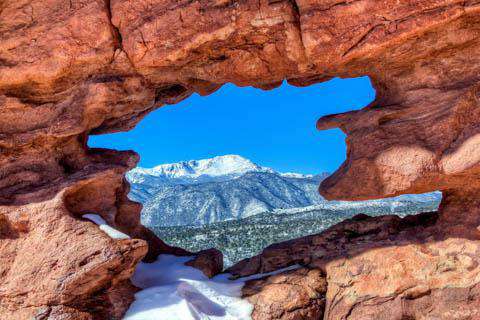 Colorado Springs is the second largest city in the state of Colorado. It is located in the northeastern tip of the south central region of the state and is in a beautiful area surrounded by mountains and alpine trees. It is also referred to as "America's Olympic City" because it is the location of the United States Olympic Training Center.
Colorado Springs is at an elevation of 6,035 feet, or 1,839 meters above sea level but the actual elevation within the city can vary dramatically. The city is located at the base of Pikes Peak, which is over 14,000 feet high and one of the most famous mountains in the country.
The city's climate is semi-arid and daily temperatures can vary dramatically. There are, on average, 243 sunny days a year. Winters can be somewhat cold with December temperatures averaging about 30 degrees Fahrenheit. Snow is common but melts quite quickly from the sun. March is the snowiest month in the area. Summer temperatures can climb into the 90s, but typically stay in the 80s Fahrenheit.
Sights
The highlight of visiting Colorado Springs is the natural beauty. Pikes Peak is the probably the most famous destination in the area. You can drive to the top or hike up up Barr Trail. Wild flowers are in bloom during the summer so it's a beautiful time to visit. Garden of the Gods is also a must-see sight. It is a city park that has incredibly dramatic sandstone formations. Cave of the Winds offers unique cave tours that are interesting to experience and Seven Falls is a set of privately owned waterfalls and hiking trails. Other places worth visiting in the area include Cheyenne Mountain Zoo, The Broadmoor Hotel, and Helen Hunt Falls.
Museums in the area include May Natural History Museum, ProRodeo Hall of Fame and Museum of the American Cowboy, Colorado Springs Pioneers Museum, and the Ghost Town Museum.
Another fascinating place to visit is United States Olympic Training Center, which has free tours daily.
Neighborhoods
The Old North End is north of downtown. It has a historic vibe and large, residential homes with a lot of character. In the southwest is the Broadmoor neighborhood. This is where you'll find the five-diamond Broadmoor hotel and resort. The area has many old mansions that date back to the 1920s, 1930s, and 1940s. The West Side and Old Colorado City areas are in the oldest and most eclectic parts of town. They are just outside of downtown and have quaint residential homes and interesting shops that appeal to tourists.
Colorado Springs has plenty of hotels. The cheaper options are usually the chain motels on the edge of town. Another affordable and fun option is to camp. This allows you to experience first hand the beautiful natural setting in this area.
Activities
Colorado Springs is the place to be if you're interested in outdoor sports. You'll find everything here, from rock climbing and whitewater rafting, to bicycling, hiking, and horseback riding.
If you have access to a car and you're looking to get outside of town then there are some great day and weekend trips in the area. Perhaps the most popular is to head over to Great Sand Dunes National Park, which is about a two hour drive southwest of the city. Other options include the pleasant and quaint town of Manitou Springs or a visit to the Arkansas River where you can enjoy an afternoon of rafting or fishing.
Food and Dining
Colorado Springs has a wide variety of restaurants for every budget and dining style. There are diners, cafes, pizzerias, breweries, and high end restaurants. There's also a range of cuisine types including Mexican, Italian, Japanese, Irish, and German food, among many others.
If you want to grab a drink, there are plenty of bars around town as well and beer is often a cheap option for an evening of drinking with friends.
Transportation
Most people arrive in Colorado Springs by car. A private vehicle is essential to explore the city and its surrounding area. There are many beautiful areas outside of town that are worth a visit including Pikes Peak.
Colorado Springs Municipal Airport is a full-service airport that is still quite small. Denver International Airport is the largest nearby airport, 80 miles north of the city. Pueblo Memorial Airport is also about 40 miles south of the city.
Related:
Looking for a
party hostel in Hawaii
or
Miami
? Traveling alone to
LA
or
New Orleans
? Want a budget hostel in
NYC
?