Arles On a Budget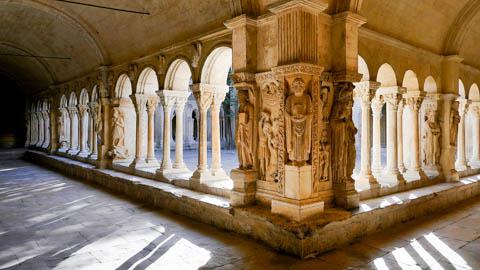 Arles is a city (and commune) in the south of France, in the Bouches-du-Rhone department. A large part of the Camargue is located on the territory of the commune, making it the largest commune in Metropolitan France in terms of territory. The city has a long history, and was considerably important in the Roman province of Gallia Narbonensis. The Roman and Romanesque Monuments of Arles were listed as UNESCO World Heritage Sites in 1981. The Dutch post-Impressionist painter Vincent van Gogh lived in Arles from 1888 to 1889 and produced over 300 paintings and drawings during his time there. The Arles area is full of culture and rich in history. It has many treasures, points of interest, and colorful sunbaked houses and is a great introduction into the Camarguais culture.
Sights
There are many sights in Arles, all of them interesting and exciting, but one of the most popular is Les Arenes, which is a large Roman style coliseum where gladiators fought to the death and many animals shared that fate. Few coliseums have survived this long, but Arles has managed to preserve theirs and keep it mostly intact since around AD 90.
Another of the top sights is the Foundation Vincent van Gogh. This Van Gogh–themed gallery is a must-see, as much for its contemporary architecture and design, as for the art it showcases. It has no permanent collection; rather, it hosts one or two excellent exhibitions a year, always with a Van Gogh theme and always including at least one Van Gogh masterpiece. Architectural highlights include the rooftop terrace and the colored-glass bookshop ceiling.
Neighborhoods
Central Arles is full of history dating back to Roman times. There are the well-known tourist sights such as the Arena, Theatre Antique, and the Crypts, all of which are extremely interesting and worthwhile.
In old town you will find winding cobblestone streets and residences and buildings, with their colorful wooden shutters and matching heavy-duty doors, look as if they were created for a movie set; but this is true life in this historical city. The tiny shops and restaurants in these non-touristy areas are quite quaint and fun to visit.
Activities
There's lots to do in Arles. You can explore the many museums, check out ancient historical sights, take a boat tour, go for a Vincent van Gogh tour walk, and take in the amazing culture of the area.
Arles also has some great festivals that can make your visit even more exciting during those times. One festival, the Fete des Gardians on the first of May, features a parade of "guardians," the men of the Camargue region who herd wild horses. The guardians ride on horseback through the old town of Arles, while townspeople dress in beautiful traditional costumes. The festival also incorporates folk customs and music. One of the highlights of this event is when a new Reine d'Arles (Queen of Arles) is elected.
There is also the Fete du Costume festival, which is held on the first Sunday of July, this festival pays tribute to the costumes of Arles. In the morning, participants and spectators gather at the ancient theater to celebrate the Queen of Arles and her Bridesmaids. Later in the afternoon, the "Tribute to the Queen" event entertains spectators with traditional Provencal bullfighting and dancing.
Another festival, La Pegoulado in July, is traditional festival that draws thousands of participants. It is an evening of vibrant celebration. The event features the ancient customs of Provence and a night parade illuminated by lanterns. Townspeople wear traditional costumes, and school children perform classic dances taught to them by their elders. This festival takes place in July on the Friday before the Fete du Costume.
Food and Dining
With all the things to see and do in Arles, your bound to work up an appetite, and there are plenty of restaurants to chose from. Here are a few restaurants to give you some ideas of what's available. Le Criquet is a great place to go for some classic French cuisine. If you want something completely different, try L'Apsara for some of the best Asian cuisine around. And if you can't make up your mind on the style of food, try La Fee Gourmande, which offers a varied menu with great flavors.
Transportation
The closest airport is Aeroport Marseille Provence, which has frequent connections to many cities in Europe. From there, it is a 50-minute drive to Arles. Alternatively, you can take a shuttle bus to Vitrolles train station, and take the train from there (approx. 45 minutes). Arles also has direct train routes to certain cities and some bus lines also offer service into Arles. The old town center is very small and can easily be explored on foot. Some other attractions are slightly further away, so you might consider taking a bus for that. Going by bike is equally possible, or of course renting a car is another possibility and Arles has good parking availability, much of which is free.
Train and Bus Prices
The best prices for buses and trains in France
can be found on Omio
(formerly
GoEuro
). They let you search across all train, bus, and plane routes throughout the region.