Carcassonne On a Budget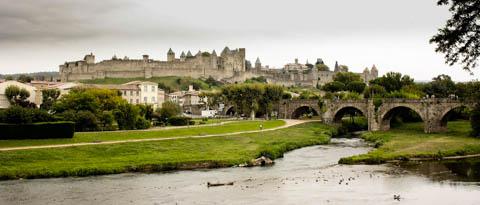 Carcassonne is a hilltop town in southern France. Inhabited since the Neolithic period, Carcassonne is located in the Aude plain between historic trade routes, linking the Atlantic to the Mediterranean sea and the Massif Central to the Pyrenees. The Romans recognized its strategic importance and occupied its hilltop until the demise of the Western Roman Empire and was later taken over in the fifth century by the Visigoths who founded the city. Its desirable location led successive rulers to expand its fortifications until the Treaty of the Pyrenees in 1659. It is famous for its medieval citadel, La Cite, which has numerous watchtowers and double-walled fortifications. The first walls were built in Gallo-Roman times, with major additions made in the 13th and 14th centuries. With its position on a rocky hilltop, zigzag battlements, stout walls and spiky turrets, the fortified city of Carcassonne looks like something out of a children's storybook when it's seen from afar. A Unesco World Heritage Site since 1997, it's most people's idea of the perfect medieval castle. It attracts over four million visitors every year, peaking in high summer. Time your visit for late in the day (or even better in spring or fall) to truly appreciate the old town's medieval charm.
Sights
The main sight here is the city itself. Built on a steep spur of rock, Carcassonne's rampart-ringed fortress dates back over two millennia. The town is encircled by two sets of battlements and 52 stone towers, topped by distinctive 'witch's hat' roofs, which were added by architect Viollet-le-Duc during 19th-century restorations. A drawbridge can still be seen in the main gate of Porte Narbonnaise, which leads into the citadel's interior, a maze of cobbled lanes and courtyards, now mostly lined by shops and restaurants.
You could also check out the Pont-Vieux, a bridge in Carcassonne. Though it's only one of several bridges spanning the Aude River, the Pont-Vieux is by far the oldest and prettiest. It's one of the few surviving medieval bridges in France, prized for its graceful arches and compact dimensions, and is only open to pedestrians.
Carcassonne's basilica, the Basilique St-Nazaire, is worth a peek for its soaring Gothic transept and vivid rose windows. Often, traditional plain chant can be heard inside.
Neighborhoods
Carcassonne's main neighborhood is La Cite, a doubly walled neighborhood declared a World Heritage site of Humanity by UNESCO. Located on the right side of the Aude river, the neighborhood includes all the features of a Medieval town as it has been described by kids' tales: turrets, narrow cobbled streets, towers, massive walls. Enjoy strolling along the winding streets and find those hidden spots and restaurants and cute stores. La Cite is small and packed with one tourist shop after another.
Carcassonne has a new neighborhood called La Bastide Saint Louis, also called the Lower Town (La Cite is on a hill). La Bastide owns a more daily local life ambience so it is a good alternative to more tourist-oriented Cite (although there are generations who have lived inside the walls). It is a good idea to stroll across the Place Carnot and sit at one of the cafes to enjoy the tranquil dynamics of a French country town. Don't miss the Saturday market where you can buy local produces.
Activities
To actually walk on La Cite's ramparts, you have to pay to enter the Chateau Comtal, a keep built for the viscounts of Carcassonne during the 12th century. Admission includes access to the keep's rooms and a section of the battlements, with fabulous views over the surrounding countryside and the distant Pyrenees. Tours in several languages are available in summer; check with the tourist office for schedules. It sometimes has free days, so check ahead before visiting to save on admission.
Carcassonne also has almost a month long festival every summer. It is the most lively time to visit with almost one hundred concerts and shows, including French and international variety shows, theatre, circus, dance, jazz, opera and classical, 80 of which are free, in prestigious venues around the city.
Food and Dining
The most famous native dish to Carcassonne is the Cassoulet. It is a rich, slow-cooked casserole originating in the south of France, containing meat (typically pork sausages, goose, duck and sometimes mutton), pork skin and white beans. The dish is named after its traditional cooking vessel, the cassole, a deep, round, earthenware pot with slanting sides.
There are many restaurants to choose from but a few ideas include: Brasserie Le DonJon, a restaurant serving regional fare, Lr Jardin de l'Eveque, serving traditional French cuisine, and Brasserie Le Dome, which serves a variety of food options from seafood to Australian burgers.
Transportation
Carcassonne has a small airport that receives regional flights from places like London or Dublin, but the closest major airport is in Lyon. You can catch a train in Lyon that can get you to Carcassonne, and there are also some bus options. Carcassonne is connected to other cities as well through train and bus, so it is possible to get there from most places in France on public transit. Within the city, public transit is not the greatest, but most of the tourist areas are better accessed by foot.
Train and Bus Prices
The best prices for buses and trains in France
can be found on Omio
(formerly
GoEuro
). They let you search across all train, bus, and plane routes throughout the region.