Who doesn't enjoy a little bit of retail therapy now and then?
Delhi
, with its multitude of street markets and shopping malls, is a dream destination for any shopping enthusiast. When you're in Delhi, the numerous local markets will leave you spoilt for choice. Every market offers a unique range of products and street food specialties.
Picking a favorite among Delhi's markets is a herculean task. However, one place that shines above the rest is Dilli Haat. The unique concept of bringing together local artistic traditions from different parts of India makes it a shoppers' paradise. It is not surprising that Dilli Haat is one of the best
spots to visit in South Delhi
.
It is one place that every person visiting Delhi will have on their bucket list. Apart from being a haven for shopaholics, Dilli Haat equally delights art enthusiasts. It is a great place to get acquainted with the diverse artistic traditions and impeccable craftsmanship of India.
If you've ever been to Dilli Haat, you know that the sheer variety and choice can be overwhelming. Take a look at our comprehensive guide to make the most of your time at Dilli Haat.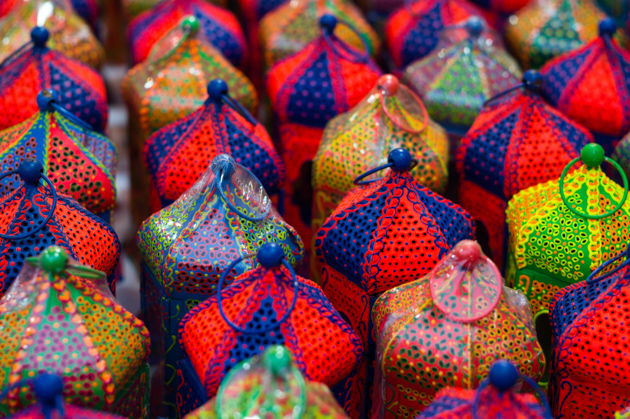 Getting There
The first thing you should know about Dilli Haat is that Delhi is home to not one, but three such vibrant markets. The first one was established in 1994 near INA Metro Station (South Delhi). In recent years, two more Dilli Haats have been established in Pitampura (North Delhi) and Janakpuri (West Delhi).
While the original Dilli Haat is built on an area of 6 acres, the one at Janakpuri spans over 7.2 acres. It even has a spice market and art gallery. The largest Dilli Haat, spread across 9.8 acres, includes a large amphitheater, auditorium, and exhibition hall. However, both of the new Dilli Haats continue to remain underutilized with many empty stalls.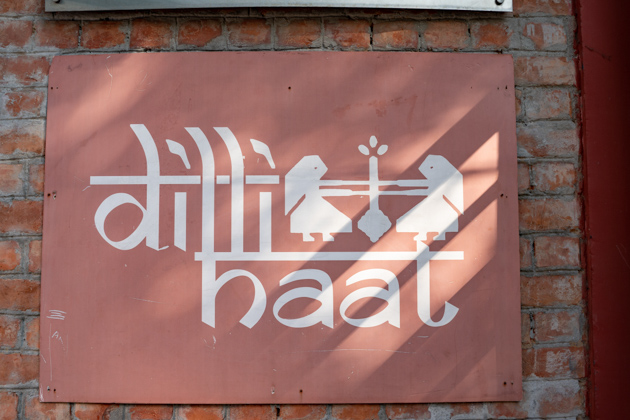 The original Dilli Haat still retains its charm and is the best place to experience the essence of shopping in Delhi. So, when anyone talks about shopping at Dilli Haat, they're likely referring to the one near INA. It is here that you can get a glimpse of the cultural extravaganza that is India.
The best way to reach this place is to take the
metro
. Board a train on the Pink or Yellow line of Delhi metro and get down at Dilli Haat INA. A short walk from the metro station will take you to the mecca of shopping in Delhi. Dilli Haat also has a dedicated parking area; however, it remains quite crowded, especially during the weekends.
Retail Therapy at Dilli Haat
It would be an understatement to say that Dilli Haat offers an eclectic amalgamation of traditional fabrics, dress materials, vibrant accessories, and much more. Such is the charm of this place that it would even put the
finest markets in Jaipur
to shame. Every stall at Dilli Haat showcases the unique craftsmanship and artistic techniques of local artisans from different Indian states. While some stalls are permanent, others are allotted on a rotational basis.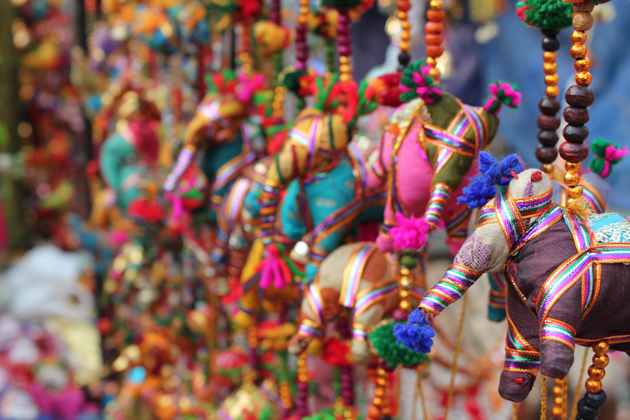 This means you will be surprised with something new every time you visit Dilli Haat. Many of these stalls sell similar products. So, make sure you look around and negotiate the prices to get a good deal. Moreover, there are a few signature products that you must look for.
The Best Fabrics in Town
Let's start with the gorgeous phulkari fabric from Punjab. The delicate and masterful threadwork is one of the most popular forms of Indian embroidery. It is extremely time-consuming, taking up to six months to finish just one dupatta. These dupattas are perfect for mixing and matching with plain kurtas and even Indo-western clothes.
Dilli Haat is home to a plethora of stalls selling vibrant phulkari dupattas. Some vendors also have a decent collection of sarees, kurtas, and dress materials. These are a wardrobe staple for the festive season and wedding functions. However, make sure you negotiate the prices and look around a few stalls before making a purchase. While a kurta will cost you between INR 300 and 1000, the intricate dupattas come for INR 1500 to 2000.
If you have a penchant for sarees, don't forget to check out the stalls from West Bengal. These shops offer an impressive collection of kantha stitch sarees, a traditional embroidery work from Bengal. Since there aren't many stalls selling these gorgeous sarees, it might be difficult to get a good bargain. Nevertheless, the intricate threadwork of kantha stitch sarees is worth the price.
You will also find a few stalls selling kurtas, shawls, jackets, and ponchos with vibrant Kashmiri embroidery. They are ideal for adding some color to your wardrobe during the harsh Delhi winters. While all the vendors claim that their products are made of original pashmina, it isn't always the case. Make sure to check the quality of these products and judge their authenticity before buying them. Prices start at INR 1200 for stoles and INR 1500 for shawls.
Another big attraction at Dilli Haat is the wide range of Lucknow's signature chikankari fabric and clothing. From elegant salwar suits and dupattas to pastel-toned sarees and dress materials - you will find everything to revamp your wardrobe. Don't miss out on the vast collection of stylish cotton kurtas. They are perfect for pairing with jeans and leather jackets.
You will also find charming chikankari dresses and tunics that are ideal for Delhi's notorious summers. If you aren't fond of readymade clothing, take a few of these fabrics to your favorite tailor, and get customized dresses. Chikankari stalls are abundant at Dilli Haat; make sure you check all of them out to get a good bargain. Prices start at INR 500 (for kurtas and fabrics).
If handloom textiles easily sway you, watch out for the rustic khadi kurtas and Nehru jackets. They are available in various colors and prints and are ideal for the sultry summer months. The best part is that the prices are lower compared to branded showrooms and handloom emporiums. A simple kurta would cost you between INR 350 and INR 500.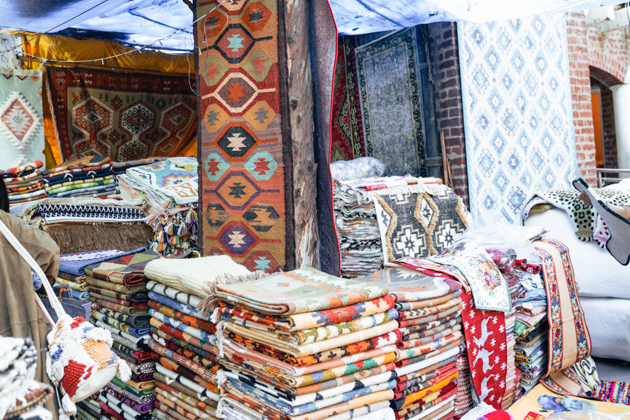 The Kerala and Tamil Nadu stalls also feature a wide range of traditional apparel, including the ethereal kasavu sarees. You will also find a few shops selling colorful bandhej dupattas and sarees. Don't forget to check out the stalls selling gorgeous silk sarees, including Benarasi and raw silk. These are a must-have for festive occasions.
The only thing you should keep in mind while shopping at Dilli Haat is that many of the stalls have similar collections. Therefore, you must walk around to scout for the right products and get the best deals. While the prices are still higher than other street markets in Delhi, the quality of products at Dilli Haat is far superior. All you have to do is wear your bargaining skills on your sleeves and negotiate with the utmost aplomb.
Accessories Galore
Shopping at Dilli Haat is incomplete without buying matching jewelry and accessories for your newly purchased clothes. The first thing that will grab your attention is the bedazzling collection of jootis and kolhapuri sandals. You can choose from a variety of plain, colorful, and embellished sandals. Prices start at INR 350.
You will also find a variety of ethnic bags, purses, and clutches to go with your sarees and suits. Apart from this, you will find an impressive range of jewelry, including colorful bangles, neckpieces, and anklets. Don't miss out on the eye-catching collection of earrings, including embellished jhumkas and chandbaalis. These accessories are perfect to compliment your festive outfits.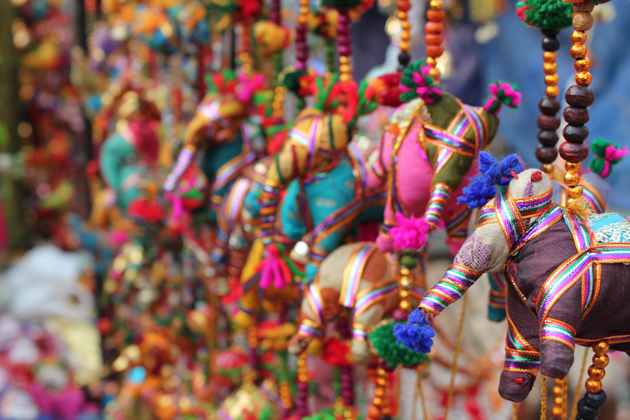 Dilli Haat is also home to various stalls selling tribal jewelry, including embossed brass pendants and trinkets. They offer a sharp contrast to the glitter and bling of festive accessories.
You will also find a decent collection of antique accessories, including chains, bracelets, and rings. However, if you're looking for junk jewelry at throwaway prices, you might be better off visiting Janpath or Sarojini Nagar. Dilli Haat's jewelry collection is priced on the steeper side and tends to lean towards the ethnic and festive side.
While you're here, don't miss out on the vast collection of leather bags, wallets, totes, and satchels. These look best when paired with denim jackets or Indo-western kurtas. While the wallets are priced at INR 500 onward, the bags come for INR 1000 and more. Some of the shops can even make customized leather satchels for you.
Revamp Your Home
If you enjoy decorating your home with artsy collectibles and showpieces, Dilli Haat has many surprises in store for you. From bright-hued papier-mache lampshades to handmade Tanjore and Madhubani paintings - Dilli Haat has a stunning collection of home decor products. You will also find other items such as cushion covers, table runners, flower vases, wind chimes, jewelry boxes, and much more.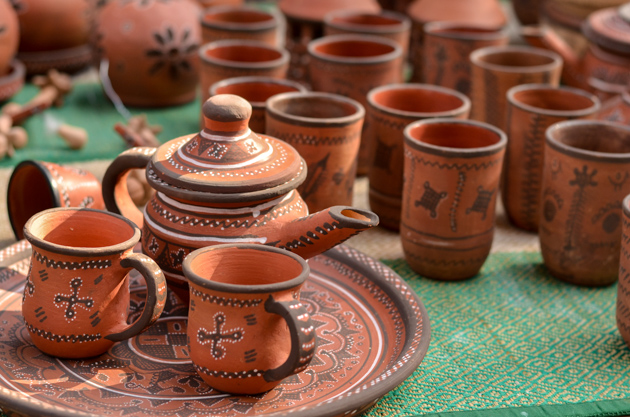 Moreover, Dilli Haat boasts an exquisite collection of wrought iron and intricately carved wooden furniture. From elegant sofa sets and divans to vintage coffee tables and chairs - you will find various products to give you home a new look. While you are here, don't forget to check out the stalls selling antique showpieces and curios.
Another thing that will grab your attention is the wide array of jute baskets available in different shapes, sizes, and hues. Take them home to add a pop of color to your living space. You will also find an impressive range of jute bags in various prints. While the bags will cost you around INR 400, prices for the baskets start at INR 500.
The collection of home decor items at Dilli Haat becomes particularly stunning when you before Diwali. As the city prepares to embrace the Festival of Lights, Dilli Haat is replete with an impressive array of handmade diyas in different shapes and designs. You will also find a variety of decorative lamps, antique lanterns, candle stands, and festive lights.
Satiate Those Hunger Pangs
Dilli Haat isn't just a place to indulge your inner shopaholic. The one-of-a-kind crafts emporium is just as much of a foodies' paradise. Moreover, it is only natural that you'll feel hungry after a day of frantic shopping. That is why it is a great place for a fun outing with your friends and family.
Dilli Haat features a huge open-air food court that is home to stalls from various Indian states. It gives you the perfect opportunity to get a taste of India's diverse culinary traditions. While the Bengali stall serves delicious tea, the Sikkimese stall dishes out lip-smacking momos and thukpa. Don't forget to wash down the spicy dumplings with a glass of chilled fruit beer.
If you are fond of pork delicacies, head straight to the Nagaland stall. The double-fried chili pork is a must-have. For a more filling meal, try the Awadhi biryani and chicken curry at the Uttar Pradesh stall. While you're here, make sure you order the succulent galouti kebabs. Dilli Haat is a great place to satiate your hunger pangs without burning a hole in your pocket.
Conclude your outing on a sweet note with some drool-worthy phirni. Don't miss out on the stalls selling delicious aam papad, churan, dry amla, paan, etc. You will also find stalls selling a variety of pickles from different parts of India. The next time you miss your grandma's homemade pickles, you know how to quench that homesickness.
Wrapping Up
Dilli Haat isn't just a shopaholic's haven. It is a unique cultural melting pot that serves as the perfect place to spend quality time with your loved ones. Even if you're not in the mood for retail therapy, you can enjoy the delightful cuisine and learn about artistic traditions across India.
Quick Overview
Timings / Opening Hours:
10:30 am to 10:00 pm
Best way to reach:
Dilli Haat INA - Take the metro to Dilli Haat INA and walk from there
Dilli Haat Janakpuri - Take the metro to Janakpuri East and take an auto or metro shuttle from there
Dilli Haat Pitampura - Take the metro to Netaji Subhash Place and walk from there
Entry fee:
INR 30 (for Indian adults) | INR 100 (for Foreigners) | INR 20 (for children)
Key attractions:
Handloom textiles, traditional fabric, ethnic wear, accessories, home decor products, food