Dharamsala On a Budget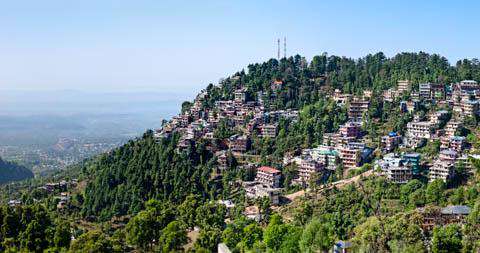 With a name that literally means "a spiritual dwelling," Dharamsala roughly translates as a shelter or rest house for pilgrims and travelers. Home to the Dalai Lama and the Tibetan Government in Exile, Dharamsala is today a popular destination for foreigners on vacation, backpackers seeking the surrounding mountains, as well as students of Buddhism.
Sights
The monastery of the Dalai Lama, Tsuglagkhang Complex, is the largest Tibetan temple outside of Tibet. The complex has a large meditation hall with a number of beautiful statues and thangkas, as well as a Kalachakra temple with stunning murals of intricate design. The Tibet Museum is another place significant to Tibetan culture with a display on the history of Tibet and its people. The Tibetan Library, near the Tibetan Government in Exile, also has a small museum, while the Tibetan Institute of Performing Arts occasionally holds performances of traditional Tibetan dance, music, and theatre.
As far as natural scenery goes, Dharamsala is situated amidst the Himalayan region of northern India. The mountainous terrain makes for stunning landscapes at every turn. Triund Hill, for example, just beyond Dharamkot, provides a beautiful view of the peaks of the Himalayas and a vast view over the plains as well. Bhagsu Waterfall and Dal Lake are also significant natural attractions of the region, amongst others.
Neighborhoods
The town is divided into two areas, separated by about 9 kilometers. Lower Dharamsala consists of mostly of the government offices, schools, hospital, and commercial areas. Aside from a few tea gardens and the bus station, it is usually of little interest to tourists. Upper Dharamsala, known more commonly as McLeod Ganj (after Sir Donald Friell McLeod, a British Lieutenant-Governor of Punjab), is home to the Tibetan community and is the center of tourist activity. Bhagsu is another quiet urban area just 2 kilometers northeast with shops, restaurants, and a public pool. Dharamkot, about 3.5 kilometers north uphill, also has a number of restaurants and hostels. Divided into lower and upper Dharamkot, lower Dharamkot is similar to a smaller Bhagsu while upper Dharamkot is nestled in the woods for a quiet escape close to backpacking trails.
Activities
Trekking, walking, or backpacking are probably some of the most sought out activities of the region with hikes to some of the natural landmarks mentioned above - Triund Hill, Bhagsu waterfall, Dal Lake, and also Indrahar pass trek which meanders through the snowbound Dhauladhar Range in the Kangra valley and ends at Lamu. Many others also come to Dharamsala to meet, or at least see, the Dalai Lama. To meet "His Holiness" is a spiritual experience for Buddhists and memorable to all who respect the religion. It is not always easy to have this chance as the Dalai Lama travels frequently and private audiences are carefully chosen (applicants must supply detailed information about themselves and why they wish to see "His Holiness"). He does give scheduled public teachings, though they are often crowded.
Other activities in the immediate area include yoga, meditation, healing practices, paragliding, cooking classes, and thangka painting lessons.
Food and Dining
Cuisine in and around Dharamsala consists largely of chicken and mutton with vegetables which include pumpkins, potatoes, beans, and beetroots. Some staple meals of the region include thukpa (noodle soup usually with chicken and vegetables), skyu (thumb-sized pieces of kneaded dough cooked in a kind of soup), and momos (dumplings). Other specialties comprise of khambir (a whole wheat local bread baked into a pan shape), butter tea (salty tea churned with butter), and chang (a light local brew of beer). These dishes are common throughout the mountainous regions of the Himalayas. Momos are a popular street food, served in stalls by the Temple complex steamed or fried and stuffed with spiced potato, cabbage, spinach, radish, or carrot with chili sauce on the side. Any of the noodle dishes are also staples. Being a popular destination for visitors, McLeod Ganj is a great place for dining options - from cheap Punjabi dhabbas (roadside restaurants) to mid-range Tibetan and Western establishments.
Transportation
By plane, the nearest airport is Gaggal Airport located about 15 kilometers away. Daily flights are available from New Delhi by air liners Spice Jet & Air India. Best prices are available if tickets are booked a few months in advance.
By train, the nearest railhead is at Pathankot (Punjab,) around 90 kilometers away from Dharamsala. From here, a bus will take about 4 hours.
Many people come to Dharamsala by bus, with the main bus terminal in Lower Dharamsala.
Taxis from Pathankot or Delhi are also available.
Related:
Looking for a
hostel in Delhi
or
Goa
? Heading to
Kathmandu
or want a
party in Tel Aviv
?