Mysore On a Budget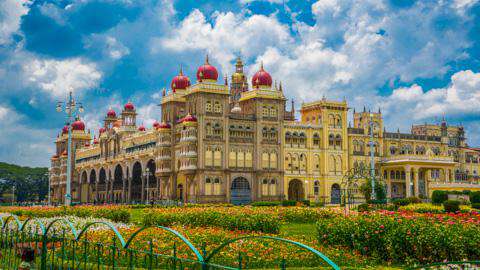 Also known as
Mysuru
, Mysore is the state of Karnataka's second biggest city behind Bangalore (also called Bengaluru) in southern India. Its landmark attraction is the Mysore Palace, though it also features memorable temples, markets, and a renowned annual festival in September-October.
Sights
One of the most iconic landmarks of the city is Mysore Palace, complete with marble sculptures, paintings of the royal family, intricately carved rosewood doors, and ceilings inlaid with ivory, all of which exhibit a time of wealth and extravagance. The Palace is also beautifully lit on Sunday evenings and on national holidays with nearly 100,000 bulbs, and the palace grounds are home to a number of Hindu temples and Mysore Palace Garden.
Within the city itself, there are a few other sites worth visiting, such as the 157-acre Mysore Zoo (one of the oldest and most popular in India) and the Neo-Gothic St. Philomena's Cathedral (with stained glass windows and towering spires). Additional locations include the art collections at Jaganmohan Palace, Karanji Lake and nature park with an aviary, butterfly garden, and museum, and plenty of other museums like Folk Lore Museum Mysore, Mysuru Sand Sculpture Museum, and the Railway Museum Mysore.
On the outskirts of Mysore, however, there are attractions as well. One of the most popular places to visit here is the Hindu Chamundeshwari Temple, located on top of Chamundi Hills with panoramic views of the city about 13 kilometers to the north. On the other side of the city, about 21 kilometers north, many people visit the Brindavan Gardens and Musical Fountain at the Krishna Raja Sagar Dam. The fountain puts on a music and light show in the evenings, and there is also an aquarium on site.
Neighborhoods
The attractions of the general area are spread both within and on the outskirts of Mysore city, making it easier to see the sights by public transportation rather than on foot. Frequent bus services are available to all major tourist and residential areas of the city, as well as Volvo air-conditioned buses to Chamundi Hills, Brindavan Garden, Zoo, and other areas and destinations. Taxis are also available as are car and motorcycle rentals, and auto-rickshaw transportation. For a break from the city bustle, Mysore has close to 200 parks and playgrounds scattered throughout. As far as neighborhoods go, you'll want to be familiar with Gokulam, Yadavagiri, and Agrahara. Mysore Palace, the Jaganmohan Gallery, and the city zoo are all located in the main historic neighborhood of Agrahara. Yadavagiri is centrally located and known for its many eateries, green spaces, and attractions like the Railway Museum. And finally, Gokulam is just north of the city center with access to many ashrams and yoga centers like the renowned Badri Yoga School.
Activities
Many visitors spend their time in Mysore exploring the major sights like the main palace and many temples in and around the city. Other than traveling at your own pace to see these attractions, it is also popular to book guided tours, from walking to cycling, to get a more informed overview of the city's history and mythology. Many people also come to experience Dasara, the state festival of Karnataka. It is a 10-day celebration in September and October and features elephant parades, floats, and firework displays. For an everyday taste of the local culture try taking a detour to the historic Devaraja Market, which features a bustling scene of about 800 vendors and stalls.
Food and Dining
South Indian cuisine largely consists of rice, flatbreads, chutneys, pickles, snack foods, and both vegetarian and meat dishes. Meals are prepared in a variety of ways from curry sauces based in coconut milk to red gravies or white gravies, all usually served with rice. Herbs and spices used in much of the cooking include items like garlic, onion, coriander leaves, ginger, curry leaves, green chili pepper, turmeric, mustard seeds, coriander, cumin, dried bay leaves, chili powder, cinnamon, cloves, black pepper, cardamon, and nutmeg. One local specialty that can be found all over the city is Mysore Pak-a sweet dish cut into rectangular pieces consisting of flour, sugar, and lots of ghee (clarified butter). Other popular items include idlis (savory rice cakes), sambars (lentil-based vegetable stew or chowder), and masala dosas (a kind of pancake made from rice, lentils, potato, methi, and curry leaves, and served with chutneys and sambar).
Transportation
The nearest major airport to Mysore is Bengaluru International Airport near Devanahalli, about 170 kilometers from Mysore. It is served by Air India, Jet Airways, IndiGo, and Spice Jet, as well as Air Arabia, Air France, Air Asia, British Airways, Qatar Airways, and Lufthansa, amongst others. Mysore itself has its own airport, located about 10 kilometers south of the city, but it only offers domestic connections to other major cities in India. One option is to fly into Bengaluru and arrange a connection to Mysore Airport. Mysore Junction also receives train routes from Bangalore (Bengaluru).