Lucknow On a Budget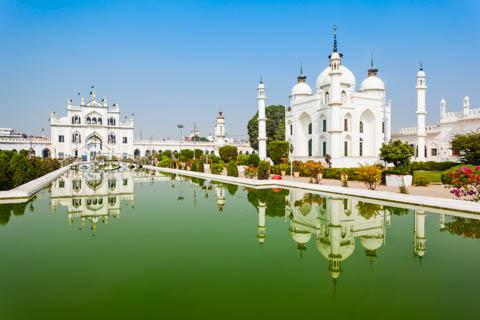 Lucknow, located in the central region of Awadh, is the capital city of the Indian state of Uttar Pradesh. With a very rich cultural and historical past, Lucknow has been at the heart of North Indian culture for many centuries. It thrives in areas of art, cuisine, dance, culture, music, and more.
Sights
The most impressive sight of Lucknow is the Baba Imambara tomb complex - a labyrinth of old Mughal architecture built in the late-eighteenth century. The complex consists of a large mosque, a step well with running water, and a complex labyrinth which attracts visitors daring to get lost in its maze. There is even a blocked passageway, which legend says leads through a mile-long underground passage to a location near the Gomti River. Other passages (now sealed) are rumored to lead to Faizabad (the former seat of power of the Nawabs), Allahabad, and even to Delhi. The Rumi Darwaza, an elaborately embellished portal that stands at 18 meters high, marks Imambara's west-facing entrance. The ticket for Bara Imambara is also good for admission to Chhota Imambara, an imposing mausoleum built by the third Nawab of Avadh in 1837. Admission will also be granted at the Husainabad Clock Tower, a British landmark set in a park with a lake great for watching sunsets.
The ruins of the Lucknow British Residency are also interesting, especially for those interested in the city's history. This place was the site of the 1857 First Battle for Independence, referred to by the British as "
The Indian Mutiny
", where you can still see canon ball marks in the ruined buildings.
Neighborhoods
The main hubs throughout the city are by far the markets - thriving with opportunities for bargain shopping, dining, and cultural exposure. Aminabad Market is one of the older markets, a good place for finding hand-embroidered clothing (locally called chikan), leather products, and chaat or sweet snacks. Some parts of the market are organized by what they sell, for example, there is an entire street dedicated to books while another section markets bangles and fashion jewelry. Chowk, in the old city, just south of the Imambara complex and the clock tower, is another lively market. It is a good place to find bargains, mingle with the locals, and is especially popular in the evenings. Hazratganj Market, on the other hand, is very upscale and trendy, mostly featuring recognizable Western brands. The Food Court at Sahara Ganj, near Hazratganj, is a hotspot for dining with plenty of fast food as well as other local delicacies available in the general area.
Activities
Most people who visit Lucknow come to experience the rich culture and heritage of Northern India as well as important landmarks like monuments, architecture, and ancient complexes. Exotic markets and bazaars are fun get lost in where you might wander the day away amidst the lively bargaining culture - perhaps walking away with a souvenir of your own. There are plenty of interesting neighborhoods in the city to explore, plenty of flavors to sample, and plenty of tours and museums for those interested in a more guided experience. There is even a 71.6-acre zoo located in the heart of the city, home to around 1000 animals of more than 100 species - mammals, birds, and reptiles included.
Food and Dining
Cuisine of Lucknow is of the variety common throughout the state of Uttar Pradesh, largely influenced by Mughal and Awadhi cooking. The state is known for its use of mutton (sheep meat), paneer (a kind of fresh cheese), and rich spices including cardamom and saffron. Some of the more popular dishes found in the region include kebabs (marinated and grilled meats), dum biryani (made with a mix of spices, rice, and meat), as well as a number of mutton dishes. Snacks like chaat (savory fried snacks), samosa (fried or bake snack with a savory filling), and pakora (anything deep fried) also originate from Uttar Pradesh. Lucknow is especially popular with food lovers due to the variety available. It is a good place to find refined Muslim Indian food, and is also famous for its tikkas and kebabs.
Transportation
By plane, Lucknow International Airport has direct flights to Dubai, Sharjah, Jeddah, and Muscat. From Amausi Airport, Lucknow is also directly connected with Delhi, Patna, Kolkata, Mumbai, Banglore, Indore, and Varanasi. Flights from Delhi, Mumbai, Banglore, Kolkata Indore, and Patna are in operation daily.
By train, India has one of the longest rail networks in the world. Operations are run by Indian Railways with stations located at just about every major destination. Lucknow is on the Delhi-Gorakhpur railway route, and connections can be made from Agra and Allahabad. Lucknow Charbagh and Lucknow Junction are the two main railway stations in the city.
Related:
Looking for a
hostel in Delhi
or
Goa
? Heading to
Kathmandu
or want a
party in Tel Aviv
?