Alicante On a Budget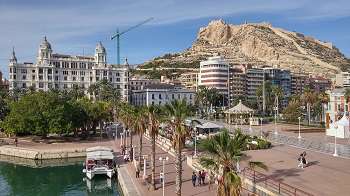 Alicante is a gorgeous coastal city in the Costa Blanca region, on the east coast of Spain. The region is famous for its white sandy beaches, the party-haven of Benidorm and the stunning palm tree-lined boulevard in the city of Alicante. I have been visiting Alicante for close to 20 years, so, it has become almost a second home to me. Here are my top tips to have the best vacation in Alicante.
Sights
In the city of Alicante, a must-see is the spectacular
Castillo de Santa Barbara
perched high above the city with awesome views of the city below. Admission to the Castillo is free. If you chose to walk to the Castillo from the city you will likely come across the quirky and colorful neighborhood of
El Barrio de Santa Cruz
. Make sure to take some photos here, and perhaps return in the evening for some pre-dinner drinks in the tavernas in the area.
Speaking of photogenic spots - the famed Explanada de Espana, the mosaic-tiled, palm tree-lined promenade is very popular with 'snap happy' tourists. There are a lot of cafeterias and restaurants lining the promenade, my tip is to search for one with locals hanging outside or within - these usually serve the most authentic tapas.
To escape the mid-day heat, why not step inside the Alicante Museum of Contemporary Art. Only re-opened in 2011 after a major renovation, the museum exhibits both contemporary and 20th century art. The museum is located in the Asegurada building, which is in fact the oldest civil building in the city.
One of the nicest beaches within the city is Playa del Postiguet a small golden sand beach next to the old town. From this beach you can even see the Castillo de Santa Barbara. Playa del Postiguet can get pretty busy with locals, so, I recommend visiting before mid-day or after 4pm to avoid over-crowding.
Alicante is also in a pefect location to escape into the countryside. For more info, check out this guide to
the best day trips from Alicante
.
Food and Dining
Alicante could certainly be described as a city for foodies with fresh seafood paella and Iberico meat platters being the most popular and recommended meals in this city. Below are some of the best restaurants in the city:
El Mercato Central - a huge covered market in the Alfonso el Sabio area of the city. Selling everything from fresh fruit and vegetables to fish and meat from the region. If you have a self-catering apartment or airbnb, El Mercato is the best place to get your food supplies. It's also an ideal place to interact with the locals.
Restaurante La Ereta
- if you're looking to splurge on fine dining with a fabulous view then, I highly recommend La Ereta, This restaurant enjoys a view of El Castillo, the dishes here are creative with a local twist.
D'Tablas Alicante - a fun environment, here waiters bring large plates of tapas to your table every couple of minutes. You pick which plates take your fancy and then pay at the end. A cheap option very popular with locals.
Restaurante Casa Pepe
- again, very popular with locals the food here is fresh with most ingredients purchased at El Mercato that day. You definitely need to book this one in advance.
Transportation
Alicante Car Rental Prices
Compare prices across all major rental companies:
Alicante is very popular with European tourists due to the cheap flights on offer here from budget airlines like Ryanair and EasyJet. Alicante International Airport is just 20 minutes from the city and the route is serviced by the C-6 bus which costs just €3.85.
A lot of visitors to Alicante chose to rent a car from the airport upon arrival. If you are comfortable driving on the right side of the road, then, I highly recommend driving in Alicante. The rental car prices are competitive (
compare prices here
) and a car offers you the freedom to explore the area's many hidden coves and some of the smaller towns in the region.
If you decide not to rent a car, luckily, the city is very easy to walk around given that it is quite compact. There are also quite a lot of shaded streets to escape from the hot Spanish sun.
Conclusion
Alicante is a fantastic city with plenty to see and do - there's gorgeous beaches, historic sites and great restaurants. Conveniently, it is easily and cheaply accessible from most major airports in Europe. I hope I've given you some inspiration for your vacation to Alicante and
Spain
.
-Aimee Horgan
Train and Bus Prices
The best prices for buses and trains in Spain
can be found on Omio
(formerly
GoEuro
). They let you search across all train, bus, and plane routes throughout Europe.