Vigo On a Budget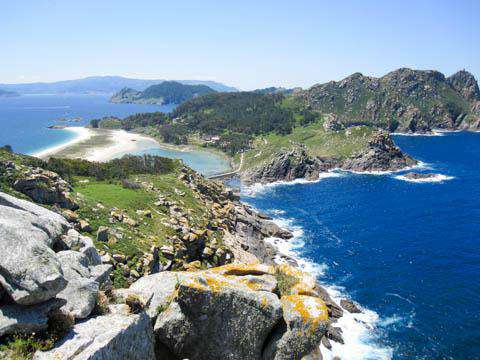 Originally a small fishing town, Vigo has grown to become the most populated municipality in the region of Galicia in northwestern Spain. Remnants of the old world still exist in its historic center architecture and plazas, while the commodities of a modern city have blended into its boundaries. The old center remains the hub of activity with plenty to see and do, shopping and dining included.
Sights
The historic center, Casco Vello, is probably the most scenic when it comes to old world architecture. It marks the original boundaries of the town as a fishing village centered on the Collegiate Church of Santa Maria. This is the oldest church in the city, though there are a number of other architectural examples throughout Vigo. The area surrounding the church is divided into four charming plazas amidst original architecture from the city's beginnings (more on this below). The old city center is also a hub for markets selling fresh fish and produce, while Rua do Principe is primarily a street for shopping.
Then there is the old town hall which now houses the Casa Galega da Cultura (Galician House of Culture). The center offers artistic and literary activities in relation to a museum collection based on the study of Galicia's current and historical reality.
Castro Park offers a little escape from the busyness of the city. It features a large stone cross as well as ruins of a pre-Roman settlement and an old fort once called San Sebastian. Built into a hill, there are some great views of and bay from the top. Another significant park on a hill is La Guia. Located just outside of the city, its hilltop chapel can be seen from anywhere in Vigo, making it an important landmark with excellent views.
Neighborhoods
The oldest quarter of the city is located down by the marina. This was the original town long before Vigo grew into a populated city. Remnants of the town still exist in many original buildings radiating out from the Collegiate church of Saint Maria at its center. The area is also home to the town's four original plazas which include plaza de Pedra, plaza Almeida, Plaza Princesa, and the plaza Constitucion which is the largest of the four. Though it is the oldest district of the city, it is always bustling with cafes and restaurants amongst the stone Galician buildings designed with arched walkways and balconies. It is a place dominated by old world charm. The areas skirting old town also have an impressive collection of turn of the century architecture with structures like the grand "Fraga Caixa Galicia Theatre" and the late 19th century "el Moderno" buildings. The rest of the city has a number of parks, gardens, and squares in addition to buildings and residential sections.
Activities
Beyond architectural sights, parks, and plazas, there are a few museums worth visiting within the city. Some of these include the Museo Do Mar De Galicia (or Sea Museum Galicia) and the local Museo Municipal de Vigo which has a collection of more than 1500 works of art, including paintings, sculptures, drawings, and applied arts.
Another activity is to visit the Illas Cies, a national park situated just off the coast. Boats to the islands run several times a day during the summer season. Once there, visitors will find opportunities for bird and wildlife watching and a number of nice beaches for swimming, snorkeling, and diving.
Food and Dining
The dining scene of Vigo is synonymous with that of Galicia region as a whole-with seafood being a dominating item on the menu. The Spanish word for seafood is "marisco," and fresh catches include things like clams, mussels, pod razors, cockles, crabs, barnacles, crayfish, snails, lobster, squid, sea bass, hake, scorpion fish, anchovies, sardines, and tuna. Pulpo a feira is a common seafood dish of octopus prepared with oil, salt, and hot paprika. Then there are empanadas-pies made with a traditional dough, filled with onion, pepper, and some meat, usually tuna, veal, or seafood. Another specialty of Galicia is a type of stew called Caldo Galego, which is simple but satisfying for warding off the damp chill of the region's climate. It is a common winter dish as is Lacón con grelos which consists of pork cooked with turnip, potatoes, and chorizo. Most dining options are concentrated in the old quarter of town near the waterfront and marina.
Transportation
By plane, Vigo-Peinador International Airport is located just 15 kilometers from the center of Vigo. It serves mainly national routes including flights with Air Europa (Madrid), Orbest (Lanzarote and Tenerife-South), Spanair Vueling (Barcelona), Iberia Airlines (Madrid), and Volotea (Ibiza, Seville).
By rail, there is direct train to/from
Porto, Portugal
twice daily as well as to several other Spanish cities including
Santiago de Compostela
(hourly), Madrid (twice per day),
Bilbao
(once per day), and
Pontevedra
(several times per day).
There are also local ferries that sail from neighboring villages like Cangas and Moana.
Related:
Looking for a party in
Barcelona
or
Madrid
?
Traveling alone to
Granada
or
Seville
?
Find a
Contiki tour
to Europe.
Train and Bus Prices
The best prices for buses and trains in Spain
can be found on Omio
(formerly
GoEuro
). They let you search across all train, bus, and plane routes throughout the region.