Gran Canaria On a Budget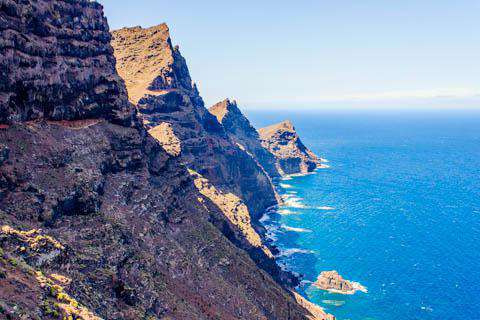 Gran Canaria is one of Spain's Canary Islands, located just off the coast of northwestern Africa. It is the third largest of the islands, and is known for its variety of volcanic beaches. This island is sometimes called a "Miniature Continent" due to the different climates and variety of landscapes found, which allow for a range of activities like hiking, biking, surfing, and scuba diving.
Sights
Gran Canaria is first and foremost known for its beaches, many located on the south end of the island. The longest beach is
Playa del Ingles
and Maspalomas, which caters to the majority of international visitors. Maspalomas, in particular, is known for its sand dunes. In the Mogan area there are also other famous beaches including Amadores, Anfi del Mar, Puerto Rico, and Playa de Mogan.
Palmitos Park, located at the edge of the island's National Park, has many animals, especially exotic birds, with shows that feature parrots, dolphins, and birds of prey. There are many natural habitats on the island that can make for a great day of hiking and enjoying the wilderness.
Valsequillo is another neat place to see. While the surrounding area is very green with impressive rock formations and steep ravines, the villages are home to pieces of history like the Church of Saint Michael Archangel, the former Cavalry barracks, and Flemish carvings.
Other sightseeing opportunities can be had in the city of Las Palmas with architectural examples like the Catedral de Santa Ana, as well as a number of museums dedicated to the island's history and culture as well as modern art and science.
Neighborhoods
Las Palmas
is the largest city on Gran Canaria, and one of the capitals of the Canary Islands. It is located in the northeast of the island with plenty to see and do from ocean-side activities on the beach to sightseeing museums, culture, and architecture. Food vendors and restaurants are abundant in the city, while the best shopping areas include a pedestrian street called Triana and Mesa y Lopez Street which houses two big department stores and many other shops. Vegueta, the historic district, is a hotspot for drinks and dining. The second largest city is Tilde and is situated between Las Palmas and the Gran Canaria Airport, while the hub in the south is Playa del Ingles. Translating to Englishman's Beach in English, Playa del Ingles is a resort built mainly to accommodate tourists around the world, especially from Europe.
Activities
Gran Canaria's variety of landscapes from long beaches and sand dunes to green ravines and picturesque villages, allows for a range of activities just as diverse. All over the island there are trails for hiking and mountain biking-past cave villages, lakes, mountain scenery, and flora and fauna native to the island. Down by the water, Gran Canaria's beaches are prime locations for activities like swimming, surfing, and scuba diving. With warm waters, tropical fish, and great surf, Gran Canaria is sometimes referred to as the "Hawaii of the Atlantic." There are a number of surf schools for beginners as well as instructors available for scuba excursions.
In the cities of Gran Canaria, especially Las Palmas, there are plenty of opportunities for shopping, dining, and sightseeing. There are also a number of golf courses, mostly located on the south part of the island.
Food and Dining
Cuisine of Gran Canaria is influenced by a combination of aboriginal flavors, Latin American cooking, as well as some African touches. Many small dishes or tapas are served around the island and are known locally as enyesques. They are often accompanied by a sauce called mojo made mainly of oil, garlic, vinegar, salt, red pepper, thyme, oregano, coriander, and several other spices. There are two varieties of mojo: rojo (or red, often served with meat) and verde (or green, often served with fish). Traditional Canarian meals usually start with soup and are followed by a main dish, consisting of local meat or fish. The ingredients of Gran Canarian cuisine are often simple but rich and flavorful, including desserts like bienmesabe-a paste of almonds, honey, and sugar often served with ice cream or cream. As far as drinks go, there are a number of local wines and liquors.
Transportation
Gran Canaria Airport, sometimes also known as Gando Airport or Las Palmas Airport, is the main way of entry to the island. The airport is located in the eastern part of Gran Canaria on the Bay of Gando (Bahía de Gando), about 12 miles south of the city center of Las Palmas de Gran Canaria, and 16 miles from the popular tourist areas in the south. Flights to and from international destinations are available.
Once on the island public transportation is available, organized, and affordable. There are regular buses that run all around Gran Canaria, and rental cars are available.
Other nearby islands can also be reached by ferry.
Related:
Looking for a party in
Barcelona
or
Madrid
?
Traveling alone to
Granada
or
Seville
?
Find a
Contiki tour
to Europe.