Santa Cruz de Tenerife On a Budget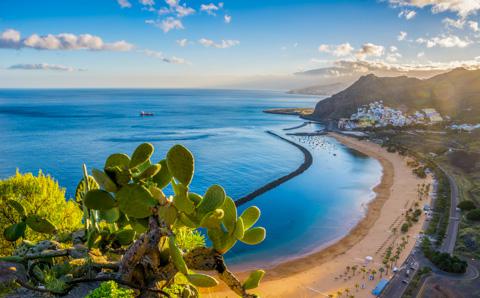 Not everyone traveling to Spain is looking to collapse on a beach somewhere. If you're in search of a bustling, vibrant and colorful Spanish capital city without the crowds of Barcelona, you might want to book a few days in Santa Cruz de Tenerife. Located on the eastern tip of the island of
Tenerife
on the Canary Island chain, Santa Cruz's bright buildings, charming shops and rich, green scenery are there to greet visitors from all over the world - including you.
Sights
Like much of this region, some of the most stunning site-seeing days include many visits to churches. You can start with the Iglesia de Nuestra Senora de la Concepcion. The city's oldest church is easily identified by the traditional Mudejar ceiling work. Inside, you'll find the silver altar that holds the Santa Cruz de la Conquista of 1494 - which is where Santa Cruz gets its name.
If the world of science and history is more your speed, spend a day at the Museo de la Naturaleza y el Hombre. This is Santa Cruz's number one tourist attraction, and one od the best museums on any of the Canary Islands. The setting itself is really interesting on its own - the former civil hospital. There are plenty of great exhibits in this museum, but the most fascinating is definitely the Guanche mummies and skulls. These disturbing remains have faces that are dried and left in some expressions that will stay with you well after you've left. There are brighter spots, however! There are wildlife, flora and geology displays and a multimedia presentation about the eruption of El Tiede. Many of the displays are only in Spanish, but laminated sheets in English are available.
And, of course, it wouldn't be a proper cultural roundup without an art museum. The Tenerife Espacio de las Artes has a permanent exhibit featuring paintings and multimedia pieces for the life of Oscar Dominguez - a Tenerife-born surrealist painter. Check the schedule to see which films are being screened at the cinema, or browse the large library and multimedia room.
For a little more than surrealism, check out the Museo de Bellas Artes. This museum is home to a more diverse collection of paintings by Spanish, Canarian and Flemish artists. There are sculptures and rotating, temporary exhibits. Take care to remember that this museum contains several flights of stairs and no elevator.
The Auditorio de Tenerife is a sight to see for any architecture or theatre lover. Designed by Santiago Calatrava, this amazing structure has the grandeur of the Sydney Opera House with some incredible acoustics. If you can't see a show here (you really should), at least have a drink in the cafe at the front of the building and simply enjoy the atmosphere.
Food and Dining
Santa Cruz is a popular destination and as such, restaurants and cafes are likely to cater to any and every taste that might wander in.
Many meals on the Canary Islands revolve around grilled meat, fish and a vegetable or salad. While in Santa Cruz, however, there are certain dishes you absolutely have to try.
Rancho canario is a soup full of chicken, pork, chickpeas, noodles, potatoes, cabbage and carrots. Papas arrugadas are small potatoes boiled in salted water and served as a side dish. Queso de cabra is a delicious smoked cheese made from goat's milk served in salads or with Serrano ham. Mojo is a piquant sauce that is either orange, red or green depending on the dish you're eating. Beware of the mojo picon - its main ingredient is hot chili peppers.
And, of course, don't forget to try as much local, fresh seafood as you can get your hands on.
Transportation
The best way to get around Santa Cruz is by bus. This is a pretty inexpensive way to travel, and the buses are fairly regular. Purchase a Bono card for discounts on fares and admission to certain museums. You can get them at the bus station and in some shops. Driving around town is inconsistent, and because of very narrow streets, driving your own car isn't recommended. Parking is also a problem, so if you're not a very skilled driver, the bus might be your best option.
Related:
Looking for a party in
Barcelona
or
Madrid
?
Traveling alone to
Granada
or
Seville
?
Find a
Contiki tour
to Europe.
Train and Bus Prices
The best prices for buses and trains in Spain
can be found on Omio
(formerly
GoEuro
). They let you search across all train, bus, and plane routes throughout the region.