Playa de las Americas On a Budget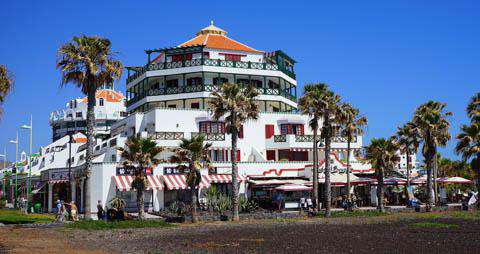 If you are looking to escape your life - to relax on a modern day pleasure island, then you need to book a trip to the Playa de las Americas resort. Located on the south coast of Tenerife, this party capital never goes to sleep. Packed with nightclubs, bars, live music, shops and restaurants, Playa de las Americas is the stuff Hollywood movies are made of.
At one time in the 1960s this area was all but abandoned. Luckily, many in the hotel industry saw the potential in an area that stays sunny and approximately 77 degrees Fahrenheit year round. The hotel boom started and it really never stopped. Many resorts are still being built in this dream destination.
One thing to note, however, is you may want to drink bottled water in this area. The water in the south of Tenerife is heavy. The north should be fine, but when in the south, stick to the bottle (or just beer?).
Sights
Like most travelers to this area, you are likely looking for nothing more than to sprawl out on a beach during the day. The beaches of Playa de las Americas will not disappoint. There is a beach for everyone here and all have easy access. Playa de Torviscas has fine grey sand with calm waters and a relaxing atmosphere. La Pinta is standard for this area - golden sand and calm waters. It is similar in look and feel to Playa del Bobo and El Camison. There are also beaches with a livelier energy and choppier waters for those looking to try out a bit of surfing.
If you would rather peel yourself off the sand for a bit more stimulation, head over to the Central Park of Arona - also known as Parque Central de Arona. This public park is over 40,000 square meters and full of squares, playgrounds and parking areas. Wander through and see a gorgeous collection of tropical and plants local to the region. Located in the center of Playa de las Americas, this beautiful park is surrounded by colleges, a court, homes and even a football stadium.
Activities
Some visitors want a good night's sleep because of their early tee times. Golf las Americas is an 18 hole golf course right in the center of the resort. The vibrant green of the ground mixed with the curving lakes offer gorgeous views while you're putting through.
For a fun filled family day, bring the kids in to the resort for some beach time. There are plenty of water activities to choose from. Spend the afternoon jet skiing, scuba diving, windsurfing and more. Pack a lunch and book a boat excursion to visit the whales and dolphins waiting just off the coast. Try out your best "Arg!" aboard a real pirate ship, or go to the bottom of the sea in your own yellow submarine. You can even spend a day in the area's most popular water park, Siam Park Tenerife. Here you can conquer waterslides and see an authentic floating river market.
Once the sun goes down and the kids go to bed, though, it's time to visit Las Veronicas. This area of Playa de las Americas is where the party goes all night. Walk around and enjoy the bars, discos, restaurants and shops and see all the entertainment surrounding you.
When it comes to passing the time in Playa de las Americas, the possibilities are endless.
Food and Dining
This resort caters to tastes from all over the world so you should have no problem finding whatever you're craving. There are a few dishes you should seek out while in Tenerife, however. Fresh, locally caught seafood is always encouraged with a bit of mojo sauce. Be careful some varieties of the mojo sauce can be very spicy. You will also want to try to the papas arrugadas which are small potatoes boiled in salted water and served as a side dish to most meals.
Transportation
One way of getting around Tenerife in general is the public bus system. If you buy a Bono card, you get discounts on fares and admission to many museums. The area is also full of taxis and renting your own car is certainly an option.
Related:
Looking for a party in
Barcelona
or
Madrid
?
Traveling alone to
Granada
or
Seville
?
Find a
Contiki tour
to Europe.
Train and Bus Prices
The best prices for buses and trains in Spain
can be found on Omio
(formerly
GoEuro
). They let you search across all train, bus, and plane routes throughout the region.