Huddersfield On a Budget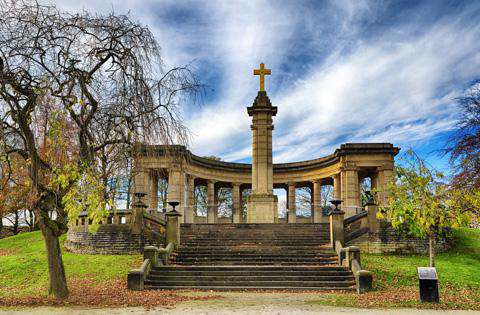 In West Yorkshire, England, Huddersfield is a historic textile town that in recent years has emerged as a tourist destination. The best way to arrive in Huddersfield is by train because the Huddersfield Railway Station is quite beautiful. Many of the buildings around town have historic architecture, making it an interesting place to visit. The town itself has a university vibe and the economy is sustained by the University of Huddersfield, which was previously known as Huddersfield Polytechnic.
The climate in Huddersfield is temperate oceanic. The temperatures are relatively mild for the city's latitude, similar to elsewhere in the region. The warming effects of the Gulf Stream keep the temperature from dropping to extreme lows, but summer is still a preferable time to visit.
Sights
There are a handful of interesting sights around Huddersfield. One of the most popular places to visit is Castle Hill. You can look up at it from the surrounding area and it overlooks the town and offers spectacular views in every direction. It's located just past the suburb of Almondbury and you'll need either a car or taxi to reach the hill. If you're there on a weekend during the summer months, the Victoria Tower at the top of the hill is opened to the public. The tower was built to commemorate Queen Victoria's silver jubilee.
Another popular area to visit is Marsden Moor Estate. It covers and area of 2400 hectares and includes many valleys, reservoirs, peaks and crags. There are also some archaeological ruins that date back to pre-Roman times. There's also a visitors' center near the Marsden rail station where you can get information about the area. You can reach the area by train and get of at the Marsden Station. You could also take buses 183, 184, or 185 from Huddersfield. There is also plenty of parking available if you decide to drive yourself.
The Marsden and Standedge Tunnel End has nice moorland scenery and some historic industrial archaeology. You can also take a boat ride into the country's longest canal tunnel here. The area is accessible by trains going to Marsden and Standedge.
The Rugby League Heritage Centre is the national rugby league's museum. It's located in the basement of the George Hotel.
Neighborhoods
The city is encircled by a ring road. Within this area it is possible to walk to many of the places of interest. The University of Huddersfield's main Queensgate campus is located just outside of the ring road.
Activities
If you can score tickets to see the Huddersfield Giants it's well worth it. The rugby team is part of the Super League, which is the highest level of competition in Europe. If you're interested in doing some shopping, a fun option is to head over to Huddersfield Open Market. There are some unique products for sale here but many of the handicrafts are actually from France.
Food and Dining
You'll find a wonderful diversity of restaurants around town. There is really something that works for every traveler's budget and culinary preference. Indian food is abundant and you'll find plenty of places offering curry dishes. Other options include Thai food, Mexican food, and traditional pub fare. One excellent restaurant is Gringo's. They serve excellent Mexican food and there is an early bird special that is usually a great deal. You just have to order before 7 pm. Drinks can be somewhat expensive. Gringo's is located at 8 Railway Arches Viaduct St.
If you're hoping to grab a drink, then there is no shortage of pubs and most of them stay open late into the night. They do tend to get quite crowded on Friday and Saturday nights though. There are also some great venues that offer live music for entertainment so you should easily be able to fill your evening while you're in town.
Transportation
Both the train and bus are popular ways to travel to Huddersfield, but many people also choose to drive themselves as this allows for greater flexibility once you arrive in the area. If you're planning to stay exclusively in Huddersfield then a car is not necessary as most of the central area is easily covered on foot and many of the shopping roads are pedestrian only anyway. If you do have a car then it is best to park outside of the city center where parking can be limited and difficult to find.
There are a decent number of bus routes that go from the central bus station to the nearby towns and villages. The bus station is on the north side of the town center just off Westgate. The buses usually run on repeating hourly timetables until 11 pm. If you decide to take a taxi then the best place to find one is just outside the train station.
Related:
Traveling
alone to London
or
Edinburgh
?
Looking for a party and need a
hostel in London
?
Find a
Contiki tour
to Europe.
Train and Bus Prices
The best prices for buses and trains in United Kingdom
can be found on Omio
(formerly
GoEuro
). They let you search across all train, bus, and plane routes throughout the region.