Myrtle Beach On a Budget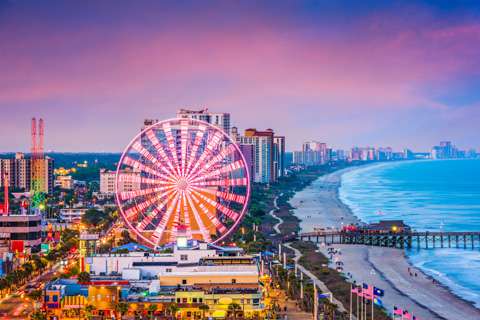 Myrtle Beach is one of the most popular and touristy beach destinations on the South Atlantic coast. It's a popular spring break destination for college kids and there is no shortage of hotels and entertainment options along the beach front. It's also well known as a golfing destination, and it has some wonderful seafood restaurants and shopping areas. If you're looking for a natural, relaxed beach destination, Myrtle Beach is not your best option, but if you're looking for the thrills of club hopping, wonderful food options, and souvenir shopping opportunities, then Myrtle Beach is where it's at.
Myrtle Beach and the surrounding areas are informally referred to as "The Grand Strand." It's easily the most visited beach in the area, and on a warm day you'll be hard pressed to find a place to put down your towel on the sand. If you want a little more peace and quiet, consider heading to the nearby Huntington Beach State Park. While you're not going to find yourself alone here, you will find the crowds are a little thinner. Summer months, holidays, and spring break can be particularly crowded. Winter is a calmer time to visit but many restaurants and entertainment venues close during the low season.
Warmed by the Gulf Stream, the water temperature is very comfortable from mid spring through late fall. It is even possible to take a pleasant dip in the ocean through most of October. Hurricane season can create unpredictable weather during the late summer and fall months, but if you're lucky with weather, then this can be a great time to visit when the crowds are less and the prices are lower.
Sights
The beach is the obvious attraction in the area. Many people choose to spend their time relaxing in the sand and soaking up some sun. If you've had your fill of the beach then there is no shortage of other entertainment options in the area. Broadway at the Beach has a high concentration of bars, clubs, shops and an aquarium. It is worth spending some time in this area, just to see all of the action.
Barefoot Landing runs along the Intracoastal Waterway between 48th Avenue South and Route 17. There are many shops, restaurants, and the Alabama Theatre and House of Blues in the area.
Other attractions in Myrtle Beach include Ripley's Aquarium and the Carolina Opry.
Neighborhoods
Central Myrtle Beach is one of the more crowded and older areas to visit. The hotels can be more run down and the crowds are often looking for a party and cheap entertainment. If you're looking for a more relaxed, family oriented setting then North Myrtle Beach has nice facilities and a more mellow setting. The communities of North Myrtle Beach include Cherry Grove, Crescent Beach, Ocean Drive and Windy Hill. Restaurant Row is on the northern part of Myrtle Beach and this is where you'll find some seafood buffets and a variety of dining options. U.S. 17, or Kings Highway is where most of the entertainment options are including minigolf courses and amusement parks. For high end shopping head to the Market Common at the southern end of Myrtle Beach past the Grand Strand Airport. There are also some nice parks and restaurants in this area. The southern part of the Grand Strand has a more relaxed and slower pace. Surfside Beach and Garden City both have a more residential setting and nice beaches.
Activities
There is no shortage of activities that you can enjoy in the Myrtle Beach area. In addition to relaxing on the beach, you can enjoy any number of water sports, visit Myrtle Beach State Park, go to a show, play minigolf, play a round of golf, or enjoy some top notch shopping.
Food and Dining
There is no shortage of restaurants in the Myrtle Beach area. You can grab yourself a quick slice of pizza or a hot dog for lunch for quite cheap. For dinner you can enjoy a wonderful all-you-can eat seafood buffet. The options abound, but generally speaking, the seafood restaurants near the water are usually the best, but also the most expensive.
Transportation
You really do need access to a car in Myrtle Beach. There may be a handful of restaurants and activities in walking distance to your hotel, but to really go anywhere else a car is essential. Traffic congestion, particularly during the peak seasons, can make driving in the area a real headache, so plan around heavy traffic and drive safely.
It's quite easy to
rent a car in Myrtle Beach
from multiple locations around town as well as the airport.
There is a city-wide bus system in the area that is called Lymo. It travels between several cities along the Grand Strand and there are 22 different routes that run year around. The hours of service can be limited, which makes the system somewhat difficult to use.
Taxis and Ubers are available but they can be expensive and hard to find when you actually need one. A trip across the Grand Strand could cost about $50.
Related
Looking for a
party hostel in Hawaii
or
Miami
? Traveling alone to
LA
or
New Orleans
? Want a budget hostel in
NYC
?